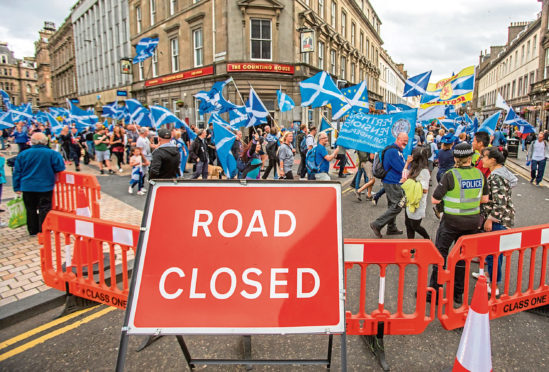 Sir, – Correspondent Martin Redfern (Letters, August 20) would have us believe that our place in this union of kingdoms is that of a vassal state and no independence referendum can take place without London's permission.
A refusal by Theresa May to grant a section 30 order will not stop a second referendum, no matter how much Mr Redfern or his autocratic leader wishes it so.
Holyrood has a majority of MSPs backing such a proposal.
Ruth Davidson stated that it would be improper to block a second referendum in the event of the Scottish electorate returning such a majority.
A position, like so many others, she has since backtracked on.
Scots have, once again, elected a majority of SNP MPs to represent them at Westminster.
This is a result Margaret Thatcher stated would constitute a vote for independence, no doubt confident in the belief that such a scenario would never exist.
Add to this the recent Westminster decision to acknowledge that sovereignty in Scotland lies with its people and it is plain, that by due democratic process, we have every right to follow a timetable of our own making.
Our English neighbours are pursuing their own agenda in regards to a Brexit many view as a push for independence.
They have every right to do so, and would no doubt be incensed at any autocratic instruction by an unrepresentative body that: "Now is not the time".
Ken Clark.
c/o 15 Thorter Way,
Dundee.
No flagging in Red Ensign row
Sir, – The Merchant Navy is the maritime register of the United Kingdom comprising the seagoing commercial interests of UK registered ships and their officers and crews and as such its vessels have the right to fly the Red Ensign.
King George V named the British merchant shipping fleets "The Merchant Navy" in respect of their service during World War 1.
Later King George VI issued the following statement in September 1939: "In these anxious days I would like to express to all Officers and Men (serving) in the British Merchant Navy and the British Fishing Fleets my confidence in their unfailing determination to play their vital part in defence. To each one I would say yours is a task no less essential by people's experience than the Navy, Army and Air force. Upon you the nation depends for much of the foodstuffs and raw materials and for the transport of troops overseas. You have a long and glorious history, and I am proud to bear the title of 'Master of the Merchant Navy and Fishing Fleets'."
These seafarers did not let us down whether it was in the Battle of the Atlantic, the Arctic Convoys, coastal shipping along the east and south coasts and troop carrying through the Mediterranean.
In subsequent campaigns such as the Falklands when the QE2, Canberra, Uganda, Norland, the ill-fated Atlantic Conveyor etc went off to war zones, Merchant Navy personnel were involved.
In today's more peaceful times one has only to look at foodstore fruit and vegetable shelves where a large percentage of produce comes by sea, either deep sea or cross-channel ferries crewed by merchant seafarers.
It took a long time and much lobbying to persuade officialdom to recognise the sacrifices made by UK seafarers in World War Two and for Merchant Navy Day to become an official Day of Remembrance on September 3.
It is against this backdrop that I would respectfully ask Angus Council to reconsider and fly the Red Ensign over Montrose this year.
John Aitken.
7 Graham Crescent,
Montrose.
No money, just managed debt
Sir, – Our First Minister uses the phrase "Tory austerity", but increasing levels of national debt and consumer debt, show that far from being austere, we are living well beyond our means.
In 1997 the UK National Debt was £375 billion, and in 2013 it was £1,200 billion, and now, in 2018, it is nearly £2,000 billion.
So there has not been any austerity for the past 21 years.
The interest on the National Debt is about £52 billion a year, and we seem able to afford that, so we continue to borrow.
UK Consumer debt is about the same amount, and for as long as individuals can pay the interest on credit cards, loans, and mortgages, that borrowing also continues.
So thanks to the banks – who create this money – it seems that we can carry on living beyond our means regardless, and to heck with austerity.
Perhaps our first minister could therefore concede that we have lived in a spendthrift economy for nearly a quarter of a century, when she is next tempted to use the word austerity.
She might also care to consider that there is now no such thing as actual money.
We are just managing debt.
Malcolm Parkin.
Gamekeepers Road,
Kinnesswood,
Kinross.
No truth in claims of bias
Sir, – There have been many complaints of late that the BBC is biased and that much of the Scottish press sides with the Union.
However, this reading of the situation is flawed.
What independence supporters fail to understand is that there is another side to the debate that needs a voice, much to the displeasure of the nationalists.
This is what the BBC and press do in a democratic society.
In reference to the marching, it is many of the same people going to these events with their painted faces, slogans and flags.
Do these people really think they can bully people into submission? All they are achieving is hardening the resolve of people they are trying to coerce.
I would not agree with Kenny MacAskill on too many things but he is absolutely right, there needs to be less marching and more engagement if you wish to persuade those who disagree with your message.
Unfortunately, many would be unable to articulate their vision for an independent Scotland, other than the usual grievance and division arguments, hence flags and marching.
James Y Lorimer.
Kenmuir,
Main Street,
Luthermuir.
Marchers must have strict diet
Sir, – Dyed-in-the-wool separatists could unwittingly be leading the drive to tackle Scotland's obesity crisis.
They are boycotting so many food producers, they must be on a severely restricted diet.
Tunnocks and Walkers are two brands famously under nationalist food police scrutiny.
The list is almost endless of businesses foolish enough to suggest Scotland is in the UK, or that haven't plastered their packaging with Saltires – meaning they are obviously Westminster lackeys.
Remember back in 2014 when some High Street supermarkets warned an independent Scotland's food prices could rise?
True separatists must surely boycott most supermarkets too.
I look forward to seeing only svelte All Under One Banner marchers in future.
Martin Redfern.
Woodcroft Road,
Edinburgh.
Odd analogy in burka defence
Sir, – Unsurprisingly Ruth Davidson recently attacked Boris Johnson over his burka "letter box" quip.
There are very serious issues to discuss about Islam and being a bit rude about an admittedly extreme form of attire doesn't help address them, though it might help puncture the protective membrane of political correctness which protects Islam from criticism.
As one would expect from an ardent feminist, Ms Davidson states that men shouldn't make weeping statements about what women wear.
Never mind the logic, just look at the gender.
Is a man not able to make a judgment on the desirability or otherwise of the burka and the philosophy behind it, just because he is a man?
Next from her rhetorical quiver comes a line so weak that it would draw scorn in a school debating competition.
Apparently, criticising the burka is like criticising Christians wearing crucifixes.
If Ms Davidson can't differentiate between a subtle item of jewellery and the obscuring of the whole body and face, well, I give up.
Richard Lucas.
Leader of the Scottish Family Party,
272 Bath Street,
Glasgow.