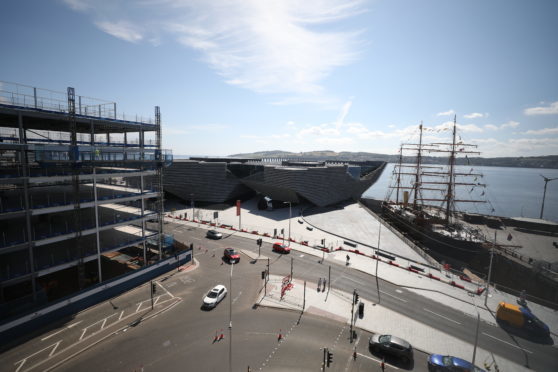 Sir, – It is quite refreshing to read your story in The Courier (August 28),"V&A invite is rejected in poverty protest ", in which Lochee Labour Councillor Charlie Malone rejects an official invite to attend the opening of the V&A.
Refreshing because Councillor Malone is quite rightly taking a principled stand against austerity and its consequences on his Lochee constituents.
With the cost of the museum at £80.1 million many individuals and anti-poverty groups have rightly pointed out that this amount could have gone a long way to alleviate hunger and homelessness in our city, and they are right to protest.
Dundee councillor turns down V&A invitation because of ward's "deprivation"
Councillor Malone wishes the V&A to prosper and hopes the waterfront project will succeed. How could it be otherwise, having now spent millions on this venture?
Socialists are not about trying to counterpose museums to other socially necessary projects. We recognise the importance of art and culture in our society as the working class are very much a part of the totality of our collective culture. Their labour provides the backbone for all the wealth that is created in this city.
Our current MacManus Gallery has many exhibits depicting the history of labour in Dundee. One such exhibit illustrates the collective labour and trade union efforts to defend and fight for the rights of workers at Dundee's Timex factory 25 years ago. We might now well ask the question about the continued status of this museum.
Did we really need a brand new building at the waterfront?
Of course the beauty of the new Dundee V&A building architecturally stands in stark contrast to many of the older buildings in our city.
Many Courier readers will remember the various multi-storey housing blocks that were dotted around our housing estates, now torn down. Not much architectural thought went into throwing them up.
So why can't the great intellectual design techniques of Kengo Kuma be put to designing and building socially necessary housing for Dundee's desperate homeless?
Jim Barlow.
St Nicholas Place,
Dundee.
Remembering our Rodin
Sir, – Councillor Bill Duff's derogatory and ignorant remarks regarding the Montrose sculptor William Lamb ARSA (1893-1951) in Tuesday's Courier deserve to be challenged.
William Lamb was one of the most acclaimed and influential sculptors working in Scotland during the first half of the 20th Century.
He regularly exhibited works at the Paris Salon, the Royal Academy in London and the Royal Scottish Academy (RSA) in Edinburgh during his life.
In 1929 he was awarded the Guthrie prize by the RSA for the best work by a young Scottish artist, and he was made an associate of the RSA in 1931.
His portrait sculptures include no fewer than four members of our royal family – the then princesses HRH Elizabeth (now our Queen), HRH Margaret Rose and two of HRH the Duchess of York (later Queen and the Queen Mother).
Both princesses' portraits were displayed in Clarence House at the christening of Prince George which demonstrates their importance to the royal family.
Lamb was so highly regarded that he was commissioned by Dr James Pittendreigh MacGillivray, sculptor to the King to sculpt his portrait. Many other portraits followed, but two stand out, the most important poets of the 20th Century, Christopher Murray Grieve or Hugh McDiarmid as he preferred, and our own Violet Jacob, of "Wild Geese" fame.
Work of this standard has deservedly earned him the title "the Scottish Rodin".
Lamb's skills in sculpture, etching and drawing were exceptional and we are so fortunate that he left his studio in Montrose with many of his works to the people of Montrose on his death in 1951.
Many of his sculptures adorn Montrose today, including the Seafarer in Wharf Street, the Minesweeper at the seafront, Bill the Smith in the High Street, and the Whisper at the library.
This modest, unassuming and talented artist is of international importance and deserves to be celebrated, not denigrated by those unable to appreciate his talents and achievements.
Norman Atkinson,
Chairman, Friends of William Lamb Studio.
Weaver's Croft,
Kingsmuir.
Voters' voices will be heard
Sir, – It would appear that councillor Bill Duff is hell-bent on trying to be as unpopular as he can in Montrose if his remarks over the past few days are anything to go by.
Firstly he objected to the flying of the Merchant Navy's Red Ensign for just one day in place of the Scottish flag on council buildings.
To my mind the reason for his objection is that the "Red Duster" incorporates a Union Jack, which of course is anathema to the SNP.
Secondly there is the report in The Courier of his snide remarks deprecating the William Lamb Studio and the artist himself, which to him is of no consequence and is not high on the list of Montrose's important assets.
It is high time Mr Duff gets his act together and be seen to support and promote various projects in his constituency like the Lamb Studio otherwise he might find to his detriment that his constituents have long memories when the next council elections come along.
John M Page.
Panter Crescent,
Montrose.
Crews deserve their day
Sir, – As an ex Merchant Navy electrical engineer, who has followed the debate on whether or not to fly the Red Ensign from the Ball House in Montrose on September 3, I would like to convey a few little known facts to Councillor Bill Duff.
During wartime when a ship was attacked and a "Mayday" signal was sent out, from the moment that signal reached the owners of the ship the wages of the crew were stopped, which also meant no monies for their families.
There was no compensation for any injuries or loss of personal belongings.
If the crew were lucky enough to be rescued and repatriated their wages did not start again until they signed on to another ship, but before they could do this they would have had to pay for replacement of discharge books and identity cards which were needed before they could sail again.
G Baird.
Double Dykes,
Brechin.
What's in a name?
Sir, – Eric Travers (Letters, August 28) claims police cars in Ireland display the word Poilini as well as Police on their sides. I doubt whether Mr Travers has ever visited Ireland, or he would know that police cars in the Republic have the word Garda on their sides.
As far as Mr Travers' general point is concerned, he answers his own question. Twenty per cent of people in Wales speak Welsh, 5% of people in the Irish Republic claim to speak some Irish. As Mr Travers rightly says only 1.1% of the Scottish population can speak Gaelic with many fewer actually using the language in everyday life. The dual branding of police cars is a pointless politically motivated gesture.
Robert Cairns.
Eastergate Cottage,
Harrietfield.
If the crime fighting cap fits
Sir, – The assistant chief constable of Police Scotland, Nelson Telfer, has floated the idea of every officer wearing the caps now worn by men.
The newly appointed Chief Constable Iain Livingstone should show his resolve and tell Nelson Telfer and all employees that fighting crime and keeping people safe is their purpose in life not hare-brained ideas like this and other time-wasting politically correct pursuits.
Clark Cross.
Springfield Road,
Linlithgow.
Please May we have some too?
Sir, – On a taxpayer-funded jolly to South Africa, Nigeria and Kenya, Theresa May has pledged £4 billion to African economies to help young people into employment.
This is completely ludicrous. We have enough youth unemployment in the UK without giving money to other countries.
With the corruption and dictatorship going on in those African countries it is like giving someone a blank cheque. How much of that money will actually help young people into employment and not get squandered and pilfered?
How many extra police, doctors, nurses and teachers would £4bn buy? Charity begins at home, yet she is wasting our money and ignoring the needs on her own doorstep.
Gordon Kennedy.
Simpson Square,
Perth.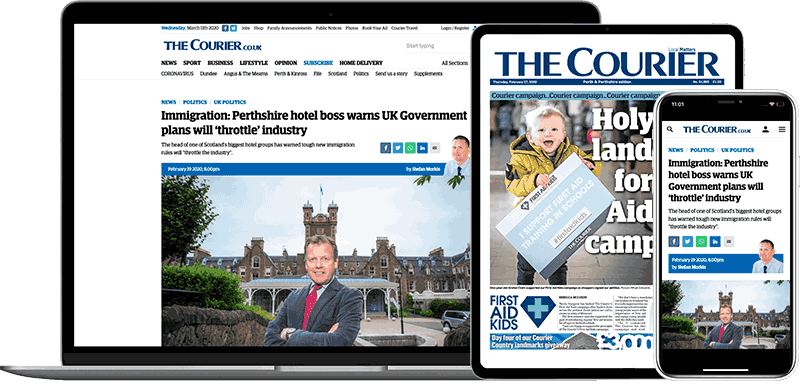 Help support quality local journalism … become a digital subscriber to The Courier
For as little as £5.99 a month you can access all of our content, including Premium articles.
Subscribe