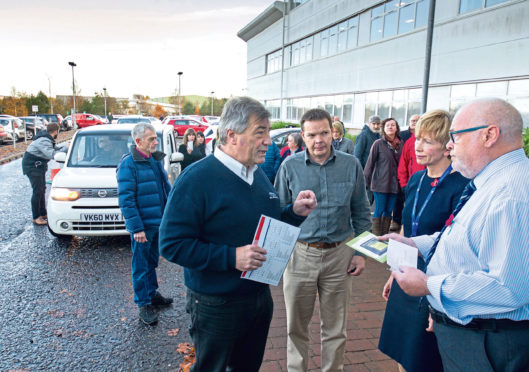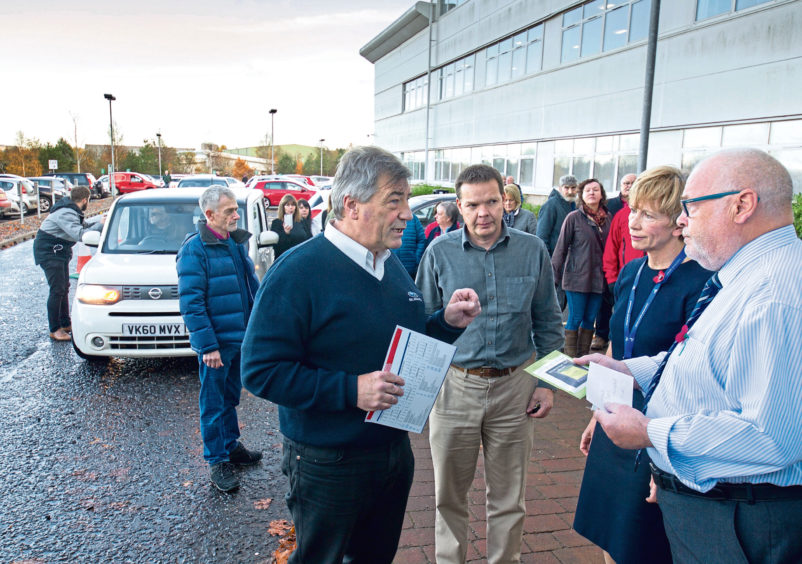 Sir, – I am a resident of Brechin and the town desperately needs regenerating.
Many shops already lie empty and unoccupied.
As a local resident, I use the Brechin City Road West Side car park.
The car park was always well used, with one or two spaces nearly always available during shopping hours.
It was a good example of an optimally used car park.
The car park, since the Angus Council parking charges began on November 1, is now almost always deserted, and has not reached half full to my knowledge.
There is already evidence of vandalism to the parking ticket machine at the car park, it having been daubed with wet soil.
Worse vandalism will only be a matter of time.
The parking charges will kill the businesses of many of the small independent shops in Brechin, as shoppers avoid parking charges.
The decision to charge for parking in the five towns of Angus is one of the worst council decisions I have ever come across.
The parking charges will be seen in the future as having contributed significantly to the death of the high street – the death of Brechin as a living, breathing town. The same may well apply to the other Angus towns.
Angus Council have created a "lose-lose" situation with the charges.
Better to admit error early on and scrap the parking charges, than to run with this disastrous decision and watch revenue dwindle as shops close.
Roy Tibbetts.
52 High Street,
Brechin.
Competence is sadly lacking
Sir, – I have been following the various machinations of the Angus parking fees row with interest.
There are many points to be made but I will confine myself to the issue of competence.
Competence is defined as having the requisite and sufficient ability and/or knowledge to make a judgment or take action.
For instance, I am competent to say what my experience of an event is. I cannot speak for others.
My competence is to speak only for me.
So when, Councillor Fairweather challenged the views of shop keepers that their footfall had fallen after the introduction of parking charges he is not competent to do so ("No shift on 'necessary evil' of parking fees", Courier, November 13).
Only those business owners who experienced the decline in customers are competent to know what went on in their shop.
Councillor Fairweather was not there and therefore is not competent to challenge the shopkeepers' experience.
There is also a definition of incompetence which is "actions that result in outcomes other than intended".
Clogged streets and empty car parks was hardly what the policy of Angus Council intended.
Neither is a projected £200,000 income shortfall.
So in these terms the car park policy could be described as an example of incompetence.
All of this, however, masks the wider problem facing local councils up and down the country.
It is the Conservative Government in Westminster that has deprived Scotland of tens of millions of pounds and resulted in cutbacks in services on which we all depend.
This failed and discredited policy of austerity is not over, as Theresa May claims – in fact there are many more cuts to come.
Meanwhile, I will drive around seeking a parking place on the streets while watching local businesses be adversely impacted by short sighted council policies forced on Scotland by an uncaring, blinkered and elitist Tory Government in Westminster.
Councillors should not be criticising local shopkeepers but should be condemning the Tories for their failed policy of austerity.
Brian Batson.
7 Lour Road,
Forfar.
Scotland is being ignored
Sir, – The Westminster Government is now considering a draft withdrawal agreement which is, of course, one of many options for leaving the EU.
This is called an outcome that is "Best for Britain".
Of course we in Scotland have enough information (if we care to look for it) that any Brexit option will be very bad for Scotland.
Both the Scottish Government's and indeed Westminster's assessments of the impact that Brexit will have disproportionately on Scotland have been clearly documented, and are large in terms of both jobs and economics.
It is to be regretted that Westminster tried to conceal this impact.
It is also to be regretted that all overtures by the Scottish Government to Westminster for better UK outcomes have been ignored for two years.
We await with trepidation the tortuous lobbying and spin over the next 48 hours, and the contortions of the "opposition" Labour Party, to see what will befall our country.
There is little evidence that Scotland's voice will be heard.
Dr Joe Toole.
Cowden Road,
Comrie.
Setting off on dangerous path
Sir, – The news that a form of agreement has been agreed over Brexit has drawn immediate attack from all sides, even before anyone has read the document.
A similar situation in Uruguayan history lead to almost making the country bankrupt.
Are we setting out on the same road?
A A Bullions.
6 Glencairn Crescent,
Leven.
Public must have final say
Sir, – The half-baked draft Brexit deal agreed by the Cabinet means that a UK-wide referendum on the deal, with the option to remain in the EU, is now the only credible way forward.
While it was agreed to by the cabinet, there is no chance of it passing through the Westminster Parliament given the deep divisions among the Tories.
These concerns have been raised by both Remainers and Leavers, and there has also been opposition from the DUP.
With the deal the UK would be relegated to being a rule taker from Brussels rather than a rule maker in the EU, which would be vastly worse than the benefits Scotland has as an integral part of the EU.
For example, access to European markets would be dependent on granting access to European fishing fleets.
As such the promises made to the fishing industry would be rendered null and void.
As David Davis, the former Brexit secretary and an ardent Leaver, pointed out before the most recent referendum: "If a democracy cannot change its mind, it ceases to be a democracy."
There are few I know who voted for Brexit in the belief it would make them poorer and it is up to the public to give its view on whether the deal, and more importantly its many and varied implications, are what it wants.
The Scottish Parliament has led the way in backing a People's Vote.
Now that we know the precise nature of the deal, it is up to the public to have its say.
Alex Orr.
Flat 3,
2 Marchmont Road,
Edinburgh.
Democracy is responsible
Sir, – This is the first time in history that a government has spent two years trying to make Britain worse off, for the sake of serving a 3.8% vote swing on an issue that nobody really understood.
If there was ever an illustration of the danger of democracy, this EU fiasco has been just that.
Malcolm Parkin.
Gamekeepers Road,
Kinnesswood,
Kinross.
Seeking some common sense
Sir, – It seems that we may, in the not too distant future, have "rice-grain sized" computer chips subcutaneously inserted into our bodies.
We may wish to trust that is nothing more sinister than a case of scientific progress leading toward improved medical services and life enhancement.
But can we really believe that these "grains" will not be used for other insidious purposes?
These could possibly include tracking, or the gathering of voice/vision and faith orientation information – all of which could also be used by terrorist organisations.
Perhaps it may even become possible for powerful criminals to manipulate people's minds for their own nefarious activities.
Perhaps what is really required above all else is a grain of common sense.
Kenneth Miln.
6 Swallow Apts,
Union Street,
Monifieth.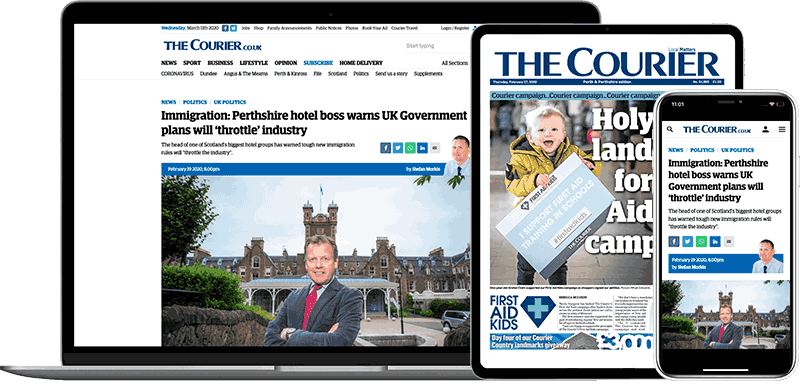 Help support quality local journalism … become a digital subscriber to The Courier
For as little as £5.99 a month you can access all of our content, including Premium articles.
Subscribe