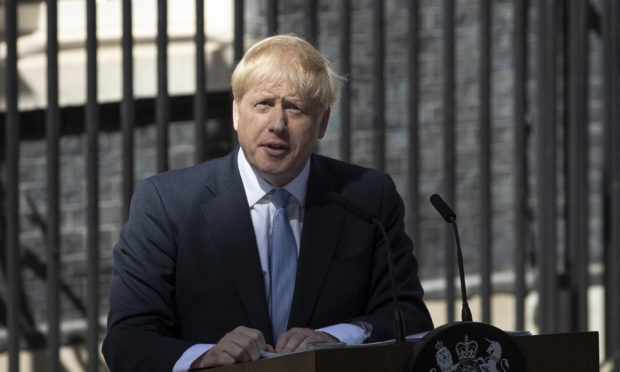 Madam, – Clearly Boris Johnson is determined that, whatever the cost, we will be taken out of the EU on October 31 (PM cancels speech after being spooked by noisy pro-EU demonstrators, Courier, September 17).
This will almost certainly be under No Deal terms and our Prime Minister is well aware from his own Yellowhammer survey that the consequences will be severe, especially for some of society's most vulnerable.
It is now accepted that medical supply problems are likely to result in otherwise avoidable deaths, but this does not deter our reckless leader even though no one voted for No Deal in the EU referendum.
Pro-leave Tory MP Owen Paterson said during the referendum campaign that ' only a madman would leave the single market ' but that is precisely what No Deal means.
We know from his efforts as an author that Boris Johnson is a huge admirer of Britain's wartime leader Winston Churchill.
It will be ironic indeed if the epithet Mr Johnson and his cabinet are remembered by is 'Never have so few done so much damage to so many'.
Alan Woodcock,.
23 Osborne Place,
Dundee.
Dictators deny democracy
Madam, – Our democracy and the electozrate have never witnessed such turbulent political timesand now have to differentiate between fake news, half truths, omissions and down right lies while polls, almost on a daily basis brainwash and browbeat with propogandists' predicitions.
Interestingly, the SNP government leadership are now demanding democracy and occupying the high moral ground.
May I remind them that in the 2014 Scottish referendum granted by Westminster the SNP were defated by 55% of the vote to 45%.
The SNP leadership dismissed the democractic will of the people to remain in the UK out of hand.
Democracy denied is dictatorship.
In the brexit debate, Nicola Sturgeon stated that "Scotland faces being draged out of Europe against its will, I consider this to be undemocratic." Really?
Nicola says she would like a better future for Scotland.
Please include England and resign.
David Balfour.
135 Strathearn Road,
Dundee.
Supremely hard task for judges
Madam, – The UK Supreme Court is hearing the ' proroguing of Parliament ' case with a full bench of eleven justices from the different UK jurisdictions.
It is unlikely that the verdict will be unanimous. How the various justices vote will be of great interest.
In the case of the Supreme Court's Scottish judges there is surely an added dimension.
Scotland's highest court, the Court of Session, has ruled the proroguing of parliament to be unlawful and that is now the settled constitutional position in Scotland.
It would be strange if the Scottish Supreme Court judges were then to decide their own Scottish 'Supreme' court got it wrong and sided with a decision to overrule that court.
They surely could not take the position the Court of Session's decisions can be easily overturned by a court in London with a majority of English Judges, and that some different legal reasoning can be applied now they are in England.
I am fairly confident however that the UK Supreme Court will recognise that we are in 'strange times'.
These strange times require it takes a hard look at some of the previous 'unwritten' constitutional norms that are being followed, applies a degree of modern honesty to their judgement, and agrees with the Court of Session's well argued decision.
Nick Dekker.
1, Nairn Way,
Cumbernauld.
Commitment doesn't help FM
Madam, – Hewlett Packard has committed to maintaining its base in Scotland irrespective of how the UK exits the EU.
I wonder how Nicola Sturgeon feels about this? She is focused not on Brexit itself but how she can use it to justify restaging the 2014 independence referendum.
Lately, despite her rhetoric to the contrary, events have been going her way.
Having spent months whipping up anti-Boris Johnson sentiment, she has achieved what she wanted – a Prime Minister who is generally unpopular in Scotland.
Then the chances of a No Deal Brexit have grown – again exactly what the SNP leader surely calculates will grow support for Scexit.
But without much chance of indyref2 happening this side of the 2021 Holyrood election, the nationalist leader needs serious and lasting Yellowhammer-type disruption to boost further support for her separatist agenda.
News that Hewlett Packard isn't terribly bothered about hard or soft Brexits won't be music to her ears.
If we do leave without a deal, and disruption is on a scale easily forgotten, then Ms Sturgeon's raison d'être won't be furthered one iota.
Martin Redfern.
Woodcroft Road,
Edinburgh.
Build turbines here or not at all
Madam, – We have a French company wanting to build a wind farm off the Fife coast.
For the good of Scotland? Not a bit.
It is all for the good of the French company.
Our government in Edinburgh when dealing with private companies are out of their depth.
The Parliament is a good example of incompetence.
A £50 million contract ended up costing us tens of millions more for an eyesore of a building.
We need a leader with the bottle to tell this French company you build here or not at all.
John G Phimister.
63 St Clair St.,
Kirkcaldy.
A thirst for knowledge
Madam, – What is really behind the search for extraterrestrial intelligence ?
With contemporary science unable to determine the nature of space-time, or anything beyond the event horizon of black holes, it seems extremely unlikely that "contact" with any form of alien, or extraterrestrial intelligence will, within our watch, be discovered.
However, scientists will continue developing technologies to push forward knowledge, some aspects of which may, hopefully, serve to justify mankind's presence on earth.
Kenneth Miln.
6 Swallow Apts,
Union St,
Monifieth.
Inappropriate TV backdrop
Madam, – I am writing regards the appalling choice of background music by BBC TV.
In all three episodes of Rise of the Nazis just shown on BBC2, extracts from Mozart's Requiem and Beethoven's Moonlight Sonata were used throughout, plus odd snatches of Wagner, a Viennese waltz, an operatic aria and piano music.
They were all used quite unnecessarily and to accompany scenes of storm troopers marching with fire torches, Hitler saluting them from a balcony, the Reichstag fire and its suspension, the book-burning obscenity and the murderous Night of the Long Knives.
Quite apart from the other nondescript banging of drums and cacophonous noises, does BBC Music approve of such prostitution of Europe's greatest music?
John Birkett.
12 Horseleys Park,
St. Andrews.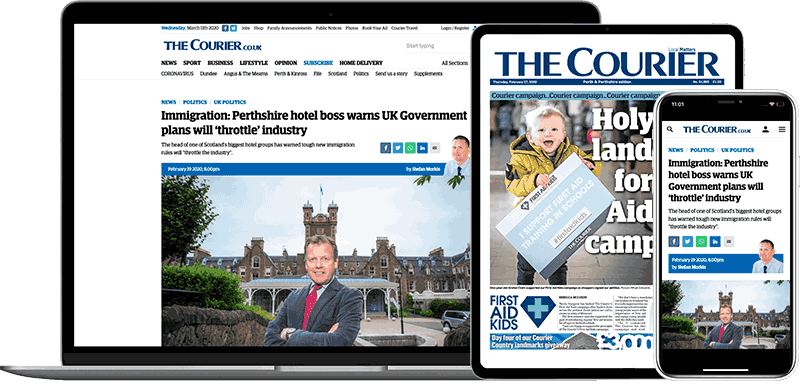 Help support quality local journalism … become a digital subscriber to The Courier
For as little as £5.99 a month you can access all of our content, including Premium articles.
Subscribe