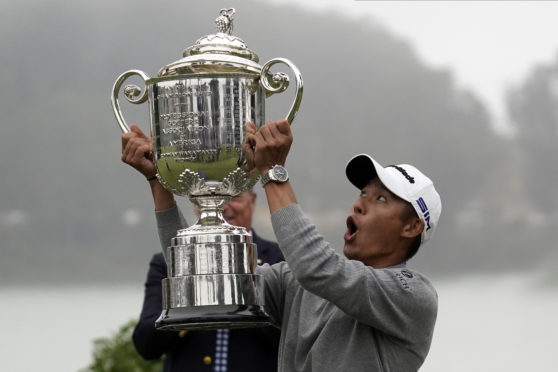 Collin Morikawa officially has as many majors as missed cuts in his fledgling professional career as the 23-year-old emerged from an eerie silence to win the PGA Championship at Harding Park.
The player from Sacramento just up the freeway only real mistake on a typically misty, cool San Francisco day was to be a little over-vigorous lifting the enormous Wanamaker Trophy so that the lid fell off.
His final round 64, for a 13-under aggregate of 267, was good enough in the end to win by two over Paul Casey and Dustin Johnson, but only the Englishman really had a shot at the title other the winner down the key closing stretch.
The new champion has three wins already, two of them since the re-start after lockdown.
"I'm on Cloud Nine," he said. "I've believed in myself since day one. I haven't let up from that.
"I feel very comfortable in this position. But it was going to take a very, very good round today, and I knew with the leaderboard the way it was looking and everyone out there, you just had to play well.
"I got off to a little shaky start, made a (par) putt on the first, and you know, went full steam from there."
Morikawa is modest almost to a fault, but he's always felt this was his place.
"When I woke up today, I was like, this is meant to be," he said. "This is where I want to be, and I'm not scared of it. I think if I was, the last few holes would have been a little different, but you want to being this position.
"And for me, it doesn't stop here. I've got a very good taste of what this is like, what a major championship is like. I really do miss the fans and when they do start coming back it's going to be an adjustment, but this is where I want to be."
The champion claimed the title by virtue of two marquee shots which will be remembered forever even in the unlikely event he doesn't win another major.
The first was on 14, when he got a fortunate bounce off a cypress tree into the fairway off the tee, underclubbed his approach to the green but chipped in from just over 50 feet for the birdie that gave him sole possession of the lead for the first time.
The second was on 16, a rare short par four "risk and reward" hole for a major championship that lived up to the billing, just after Casey had pulled level on the same hole getting up and down out of a bunker for birdie.
However barely had Casey left the putting surface than Morikawa's tee shot faded a glorious 280-yard tee shot to eight feet from the hole, and he made the eagle for his eventual margin of victory.
"Those are moments that you're always going to remember," he said. "It was 278 to the front and that's a good drive for me. I hit it, and JJ (his caddie) walked up the tee shouting at the ball, and in the end we were both screaming for it to get a good bounce.
"It did, and you've got to capitalise on these things."
Casey was on the 17th tee and saw the ball roll up to eight feet, saying to his caddie "Is that Morikawa?" and then giving a wry smile.
"I shot 66, and Collin shot 64," he said, shrugging his shoulder. "Brilliant shot. I love the fact we've got drivable par 4s, that we're given an opportunity, and then a guy like Collin steps up and shows you what's possible.
"Nothing I can do except tip my hat. It was a phenomenal shot."
All afternoon it seemed likely someone was going to turn this PGA into a career-changing event, with Dustin Johnson never really engaging the upper gears and becoming the first player in history to have the 54-hole lead at four separate majors and not win.
Johnson's final birdie at 18 backed him into yet another second place but his goose was cocked when, after being becalmed for nine holes and seeing the field move up around him, he bogeyed the 14th and another major chance was gone.
That confirmed Brooks Koepka's rather brutal assessment of his friend's record on Saturday night, but the Alpha Male of recent major golf was – for the first time at a major in two years – a complete non-factor on the day, fighting a hook on the front nine and long out of it by the time he bogeyed three in a row to turn in 39.
That left the opportunity for a swathe of hungry young players who had a free run with surely far less pressure in these undeniably special circumstances than they might have had.
Matthew Wolff's 65 featured four birdies in a row from the seventh and set a target at 10-under which always looked like being surpassed, but in the end only three players did. Cameron Champ, the third of the new trio fresh out of college, had a stab and was one of six players holding the lead on the front nine, but faded to a 70.
Bryson DeChambeau and Tony Finau both opened firing volleys and finished with four-under 66s, but DeChambeau's chances floundered after successive bogeys at eight and nine. When he missed a short birdie putt at the long 10th, where a five was as good as a bogey, he had too much to do.
Tommy Fleetwood's weekend turned out to be mudane, a 70 and a final round 73 meaning he didn't get close to the action. Justin Rose birdied three of the last four holes to edge into a top ten finish, but didn't ever frighten the leaders.
Tiger Woods shot a three-under 67 to finish on one-under, one behind Rory McIlroy, who was similarly underwhelming all week. In his US major debut, Scotland's Robert MacIntyre finished with a 69 for a three-over total.