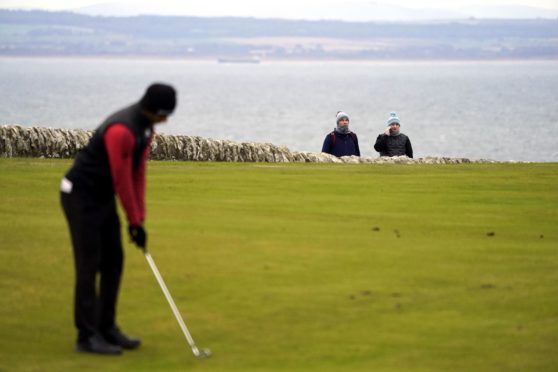 Aaron Rai's habit of wearing two gloves came in doubly handy in the piercing cold of a North East Fife morning at Fairmont St Andrews, but the new young European Tour star set a mark to strike out for a unique Scottish double.
The winner of the Aberdeen Standard Investments Scottish Open two weeks ago, Rai shot a six-under 66 on the Torrance to lie just off the lead after the first round of the Scottish Championship presented by AXA, impressing playing partner Lee Westwood.
Westwood is one shot behind after a 67 he counted as one of the most underwhelming five-under scors he'd had in recent times. The chances that were there were best illustrated by Spain Adrian Otaegui, who blitzed a ten-under 62 for just about the perfect round. He leads by three from Matt Wallace, who had a 65 in the afternoon wave on the first day.
Rai has always worn two gloves to play in all conditions, as it gives him a better feel. But with temperatures suitably frigid for mid-October – although mercifully little wind across the exposed site – even they needed some augmentation as the groups teed off yesterday morning.
"It was a day for two gloves and two hand warmers," said the 25-year-old from Wolverhampton, who defeated Tommy Fleetwood in a playoff at Renaissance. "It was really cold to start off with and actually hard to warm up, hard to feel your hands but after a few holes you kind of get into the round and it helps when you're playing well as well.
"The game has been pretty consistent over the last couple of months really, since we resumed after lockdown. The only difference is a couple of shots here and there, a couple of putts here and there, where you're saving one or two shots a round. Over the course of four days, that's four or eight shots, which is huge."
He hasn't even made a dent in his fat winner's cheque for his Scottish open win just yet, as it's all happening too fast.
"I haven't even thought about it," he said. "It was straight to Wentworth last week and then straight into this week, so I've tried not to let that enter my mind because I feel every tournament is just as important as the others."
Playing with Westwood for the first time was a thrill, and he was taking notes as well.
"I've watched him a little bit on the range over the years but seeing him up close and personal and watching him plot his way around the course, his shot selection, his putting, I think that's really underrated within his game.
"He rolls it really well, pace control is incredible and he's probably the most solid player I've seen."
Westwood returned the compliments – "What an advantage he has today with the two gloves! He obviously played well two weeks ago to win, but there don't look to be too many weaknesses in his game.
"Whenever I go on the range, he looks to be working hard so he's going to have a long time out here."
Westwood described the greens as "absolutely immaculate, some of best links greens I've ever seen", and thought the course was scoreable, hence his slight disappointment with five-under.
"I've shot five under par and I don't feel like I've had many good breaks," he said. "One double bogey, just little things like that can break your momentum. I'd just gone three under par and I went back to one and instead of shooting ten under I've shot five under."
Otaegui took one look at the difficult conditions for practice and decided nine holes a day and the warmth of the hotel was a better option, and it worked for him.
"Almost everything worked today, I putted really well," he said. I also played very well from tee to green, felt confident and relaxed. Almost everything went well today. 62 is really, really good.
"Even if the recent results were not very good, I was playing very well from tee to green and feeling good. But the putting wasn't there, until it was hot today."
Wallace blitzed the front nine in just 30 strokes but got becalmed on the tougher back nine, grinding eight pars and another birdie for his 65. Former Open champion Padraig Harrington continued his recent run of decent form with a 66.
It wasn't all easy for everyone, however. Going offline meant some brutally tangled rough and veteran Englishman Lee Slattery ended up 20 shots worse off than leader Otaegui.