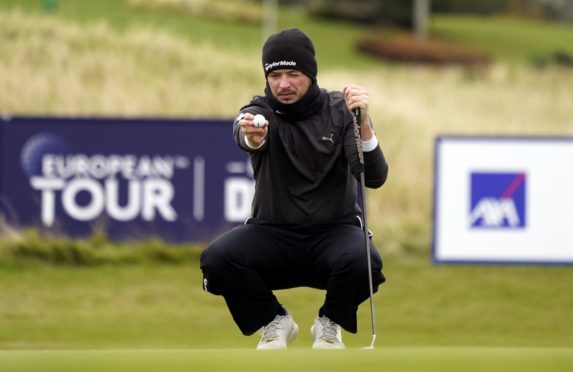 Ewen Ferguson will keep "rolling along" waiting for that real breakthrough but the young Scot continues to put himself into good positions and has done so again at the Scottish Championship.
The Bearsden boy was one of three of the 16 Scots starters at Fairmont St Andrews to shoot five-under 67s and lie five off the lead set at a sizzling pace by Spain's Adrian Otaegui.
The other two are Scott Jamieson and Marc Warren – like Ferguson, they're west coast boys and Rangers fans, but unlike the youngster they've held their cards year-on-year and have tour victories on their career list.
Ferguson hasn't yet got his card but playing the UK Swing has shown up well in places as diverse as Valderrama, Galgorm in North Ireland and now at Fairmont.
"After having one good week you have a bit of confidence, you realise `I can do it'," said the former Walker Cup hero, who played in the GB&I team that beat the USA – featuring one Bryson DeChambeau – in 2015.
"At Valderrama I got to play with Lee Westwood and played quite well," he continued. "Playing with some of these guys who have won on Tour gives you a bit of belief. You think, `you know what, I can hit these shots, I can do it.'
"I played well in Ireland and I got an invite to the Scottish Open, managed to post a solid result there as well. I'm just trying to roll along with it and see what I can do."
Playing with Westwood was a valuable lesson in so many ways, he added.
"You realise that you don't need to hit every shot perfect," he said. "Sometimes I think that playing on the European Tour you need to hit amazing shots all the time – but you don't.
"You just need to sometimes play the right shot, which can be 20 feet, 30 feet and you can still make a good score. Lee seems to be the ultimate professional at that. All the time he just seems to do the right thing and that's why he's up there every week."
Yesterday's round saw Ferguson do a lot of the right things; no bogeys, most of all. Jamieson had one on his last hole – the ninth hole – and also bogeyed one of the par fives, but they were the only squares on his scorecard.
"Standing on the first tee, my tenth, I was only level par so five-under's a good finish," he reasoned. "When it's so cold like it was early on the ball doesn't travel particularly far. The wind, being right next to the sea, it's real heavy air that just eats up the ball big time."
He's enjoying the course but the time of year makes it less of a links challenge.
"It's very soft tee to green, so not a proper inks test, but the back nine is a really tough challenge. You need to hit some good tee shots, it's tricky."
Warren, who played so well in challenging conditions at The Renaissance a fortnight ago recovered the form although he too bogeyed the par five 12th. David Drysdale's three-under 69 looked fairly mundane, but it was the opposite: he had just one par on the back nine, getting into a birdie-bogey sequence through the final seven holes.
Comeback of the day came from Connor Syme – as close as there is to a local with his base at Drumoig just 20 minutes away – who started on the tougher back nine and was three-over after four in the early morning chill.
He finally got the momentum going in the right direction with a birdie at 18 (his ninth) and then rattled off four more on the front nine to finish with a two-under 70. Calum Hill and Craig Howie also had 70s.
Robert MacIntyre toiled to a six-over 78 in the cold, but a niggle in his hip/back area required more intensive treatment than the tour physios can give under Covid-19 protocols and he was forced to withdraw from the tournament.