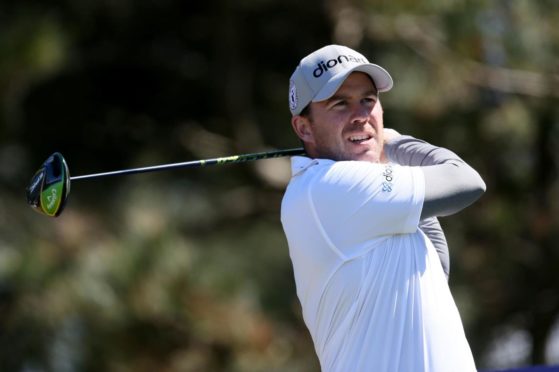 Scotland had three players in the lead of a European Tour event for the first time since 2007 in Tenerife but although they all ended the day two back it looks like a  big weekend ahead at the Canary Islands Championship.
The three-time tour winner and veteran Richie Ramsay and the much less travelled Connor Syme and Calum Hill are all on 12-under, just two behind Spain Adri Arnaus. The Scots share third on the second week at the Golf Costa Adeje course high on the clifftops over the Atlantic.
Garrick Higgo, the winner in Gran Canaria two weeks ago is one behind, but it was one of the best days of scoring as a collective for the Scots in recent times.
Syme's 64 was the best, capped off with a long chip in at the 18th for eagle, but Ramsay and Hill both doubled up with 65s over the first two days and are in good shape going into the weekend.
What a way to finish!

An 🦅 at the last for @connor_syme.#CanaryIslandsChampionship pic.twitter.com/SBwlD59R5G

— The European Tour (@EuropeanTour) May 7, 2021
'It's not like I'm holing a lot of putts'
Ramsay is the only player in the field to have completed two rounds without a bogey, and the frustrations of missed putts over last week's Tenerife Open on the same course have ebbed away – not that he's completely happy on the greens just yet.
"I feel like I'm rolling it well, my pace is really good," he said. "But it's not like I'm holing a whole lot of putts, I either hit it close or chip it close at the par fives or I'm being really accurate at the par threes.
"I think I've had four (putts) of 25 feet for eagle in the last couple of days. So I still feel with the putting I've got a little more to do, but overall it's been really steady.
"From 30 feet my pace has been really good, I pick the line and I just need a couple more to drop: I hit the edge on the last for a 64. It's very small margins."
Nice @CarbonFinancial friday here in Tenerife. Very steady play again in the black and orange. keep working hard and believing in the process. #canaryislands #carbon #europeantour pic.twitter.com/tedUokF3px

— Richie Ramsay (@RamsayGolf) May 7, 2021
The ever-accurate Scot is among the leaders in driving accuracy and greens in regulation again, and he does feel a fourth tour win might not be too far away.
'I believe fully in my process'
"It does feel close because I feel like I'm playing really well, and I believe fully in the process I'm going through," he said. "I'm doing the right gym work, the stretching in the morning and getting enough rest – really diligent about what I do when I'm away from the golf course.
"So if I believe in everything I'm doing, it's case of trying to stay patient and keeping working hard. You have to stay patient because there are chances every week – you'll lose many more than you'll win, but my aim is to get in contention in the back nine on Sunday because I love that, that's when the adrenalin gets going, you feel you can open the door and get No 4."
The best thing about Friday was not getting ahead of himself after his fast start on Thursday.
"I think when you got out in the first round and shoot a really good score, it's easy to let your mind race," he said. "You start thinking about winning and what you're going to do.
"The tough thing is to follow it up, so I think today was more impressive for me. I stayed in the present, didn't think about the future, just stuck to my guns and just thinking about picking up another shot."
'It's not exactly normal conditions for us'
Connor missed the cut on this course last week but felt he was still in the fine form that gave him a strong finish in Gran Canaria.
"I'm not sure why the Scots are doing so well, it's not exactly normal conditions for us," he said. "It's nice to see us all doing so well, for sure.
"I played well last week despite missing the cut. But I did some work with my caddie over the weekend, I've really been working hard since Dubai especially with my putting and it seems to be better.
"I felt I played really well today and it felt like something was going to happen. The chip at the last was nice, it was running maybe a little too fast, but it was really nice to see it drop."
HILL TOP…⛰⬆️

Back to back 65s (-6) at #CanaryIslandsChampionship and @CalumHill_golf sits on top of the leaderboard on -12 💥

Lunch always tastes good after 65s…😋🍽

⛳🇪🇦🏌🏼‍♂️😎 pic.twitter.com/qpeCJZTFCl

— Bounce (@bouncespmgt) May 7, 2021
'I just played really nice golf all day'
Hill followed up his first round 65 with another, a bogey at his 16th being the only blemish of the day.
"The best thing was that I didn't require as much luck today," said the 26-year-old from Crook of Devon. "Yesterday I had a few fortunate things happen, today I just played really nice golf all day."
Grant Forrest had a three-under 68 to lie on seven-under, which is only good enough for a share of 22nd. The fourth Scot in the field, Connor Syme, was playing in the afternoon wave and had a bright start of two birdies and an eagle on his first three holes.
Canary Islands Open: Richie Ramsay still frustrated despite improved form