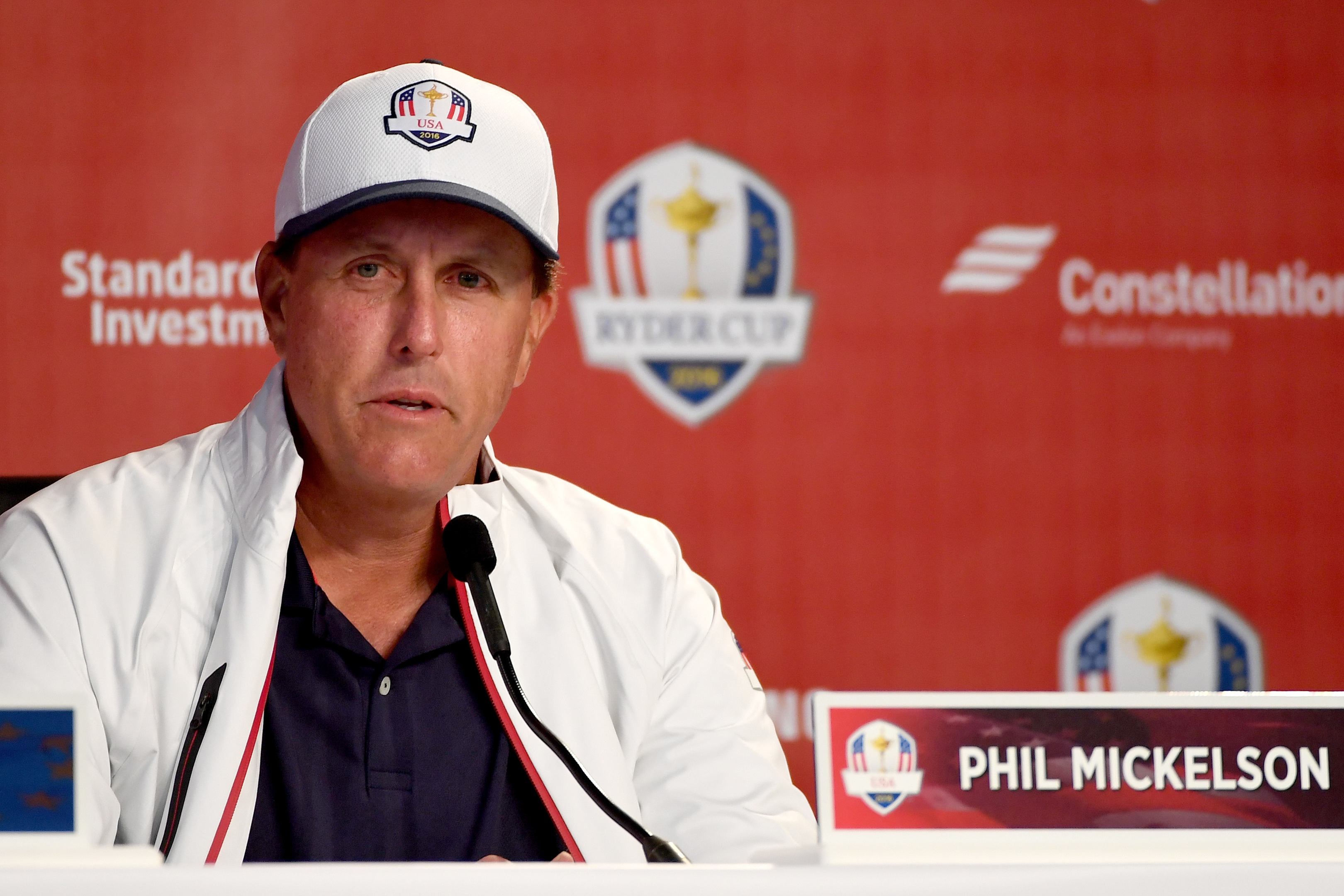 Phil Mickelson is sick of taking the blame for other people's decisions that mean the USA fail at the Ryder Cup – so he's taking "ownership" of the campaign at Hazeltine this week.
Not content with retreading his infamous criticism of Tom Watson from Gleneagles, Mickelson – the prime mover behind the USA'S Task Force aimed at reversing their Ryder Cup fortunes – displayed his continuing frustration with an infamous incident at the 2004 Ryder Cup at Oakland Hills, when US skipper Hal Sutton paired him with Tiger Woods and the pair failed to gel.
"Just a month ago there's an analyst on the Golf Channel accusing me of being a non-team player because of that," he said. "We didn't play well and maybe we were the problem. But we were told two days before that we were playing together, we had no time to prepare.
"Tiger plays a very different ball, a high-spin ball so I grabbed a couple of dozen and tried to learn his golf ball in a four to five hour session, but that cut into my own preparation.
"I've never ball-tested two days prior to a major. You'd never do that. I do my preparation which allows me to bring out my best golf.
"If we'd had known a month in advance, I think we could have made it work, but it was two days. That's an example of a captain who put us in a position to fail, and we failed monumentally.
"To say, well, you just need to play better (as Watson said at Gleneagles) is so misinformed – you will play how you prepare."
He expressed his frustration for being blamed for poor decisions at the Ryder Cup he didn't make.
"Can you imagine how frustrating it is to care so much about something like I do about the Ryder Cup and be held accountable for decisions you had no part in?" he asked.
Mickelson has been so much a part of changing the attitude and lack of continuity within the US Ryder Cup team that he surely will be held primarily accountable for another failure this week, but he's happy to take that on.
"In my 20 years this is the first time we (the players) have actually been involved in the decision-making process," he said. "This is a year that Captain Love has been putting us in a position to succeed.
"He's taken input from all parties. He's making decisions that have allowed us to prepare to play our best.
"It's very much like the model the Europeans have done with tremendous success, and I give them a lot of credit in their ability to lift each other to great heights and show that when you work as a team you can achieve so much greater success than you ever can as an individual."
The inclusive process has meant that he and Tiger Woods – brought in as a vice-captain – have been bouncing ideas off each other for months.
"We've been talking on the phone multiple times a day," he revealed. "It's really exciting for us because we've been on so many teams for so many years and to have this much input and involvement, this inclusive process Davis has implemented, it's so much fun for Tiger and I to be part of something like this.
"It's a very different feel. We feel we've been put in a position to succeed and often times, you tend to succeed when that happens."