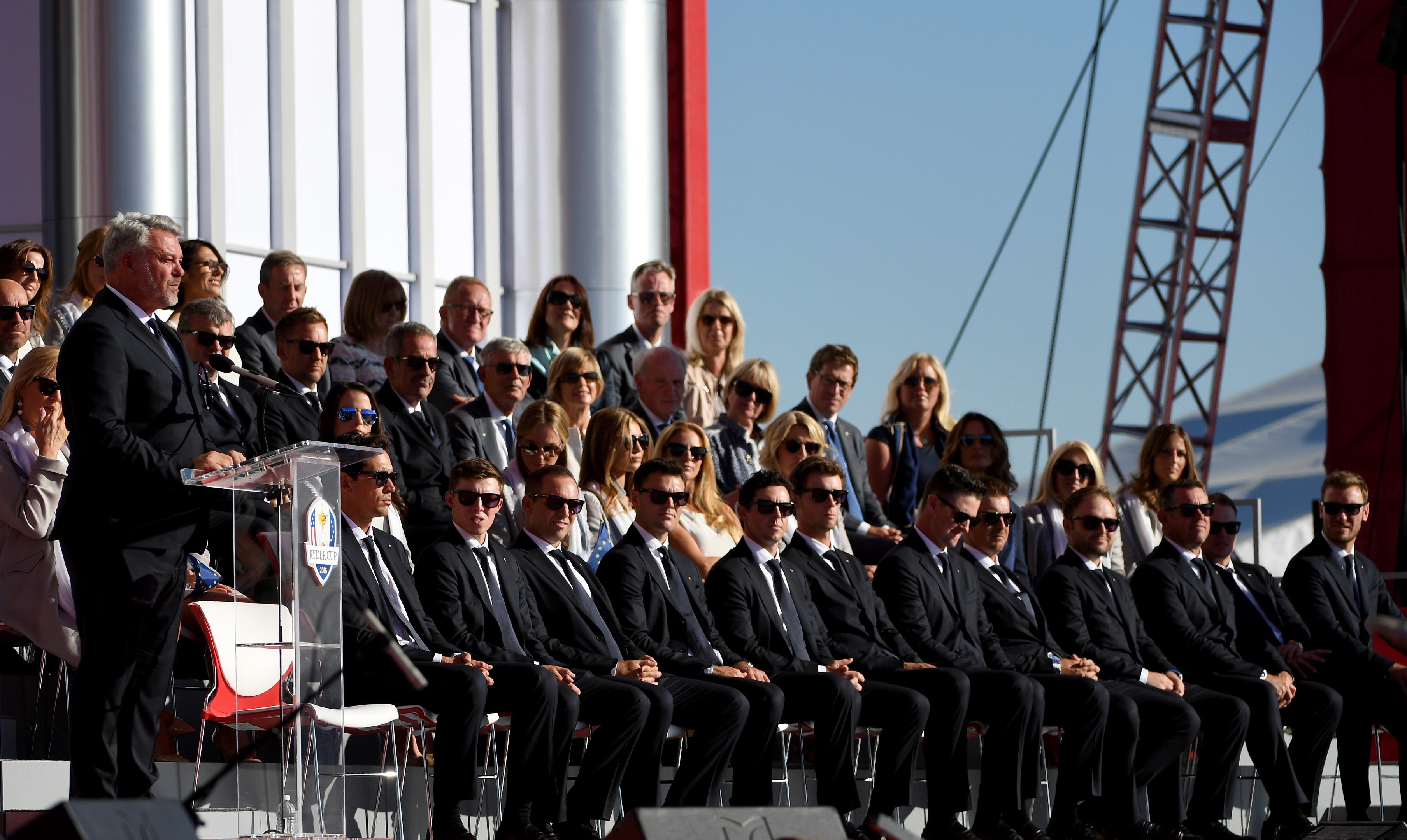 Something's got to give on the opening morning of the 41st Ryder Cup at Hazeltine National Golf Club with captains Davis Love III and Darren Clarke fielding unbeaten partnerships in the opening foursomes.
Justin Rose and Henrik Stenson, who won all three matches together at Gleneagles in Europe's victory in 2014, will take on Jordan Spieth and Patrick Reed, who were also unbeaten two years ago in three games together, in the first match out on the course at 7.35 am.
With six rookies in his team of 12, European captain Clarke has sat four of them but is forced to play two, pairing his top man Rory McIlroy with England's Andy Sullivan, a pairing that the new FedEx Cup and European No 1 champion reportedly requested.
They will take on Phil Mickelson and Rickie Fowler, a pairing putting together two of the USA's most charismatic players. Mickelson's controversial week continued with an apology for his comments about former captain Hal Sutton yesterday. Fowler has yet to win a Ryder Cup match in his two appearances so far, in 2010 and 2014.
The other rookie Clarke fields on the opening morning for Europe is Thomas Pieters, his final wildcard choice. The big-hitting Belgian is partnering another wildcard pick in Lee Westwood, who is going for Europe's all-time points record in this Ryder Cup.
This was a surprise as rumours from the Europe camp were that Masters champion Danny Willett would partner Westwood, but after the furore over his brother's article describing US fans as "cretins" it seems the Yorkshireman has been held over for the fourballs.
Clarke confirmed that Willett would play in the fourballs but that his pairings were partly "cat and mouse".
"I'm sure Davis knows who has been practising together on my team and I know who has been on his team," said the captain, adding that he wanted the talented Belgian in his first appearance to play with the experienced Englishman.
Westwood, in his tenth match, has specialised in partnerships with rookies in foursomes and fourballs in recent Ryder Cups, playing nine of his last 11 matches in the partner formats with debutants.
That pair are out in the anchor foursome against Dustin Johnson and Matt Kuchar, while in the third match Love counters Clarke's experienced pairing of Sergio Garcia and Martin Kaymer with new major champion Jimmy Walker and last year's Open champion, Zach Johnson.
Neither Garcia nor Kaymer has a strong recent record in foursomes and fourballs, Garcia winning just two out of his last nine matches since 2008 and Kaymer also just two out of seven, and none since his debut at Celtic Manor in 2010.
All the remaining European rookies – Rafa Cabrera-Bello, Matt Fitzpatrick, Willett and Chris Wood – are sat for the opening session, while Love has sat out both his debutants Brooks Koepka and Ryan Moore, as well as JB Holmes and Brandt Snedeker.
Arnold Palmer's memory was writ large over proceedings in a lengthy opening ceremony in front of a huge crowd gathered around the Hazeltine practice area.
Tributes were paid by both captains as well as by Palmer's great friend and rival Jack Nicklaus while a moment's silence was impeccably observed for the golfing great, who died at the age of 87 on Sunday.
Love said that "there was one more captain here, working for both teams" in Palmer, whose funeral was held in his home town of Latrobe earlier in the day.
Crieff professional David Murchie, current chairman of the PGA of Great Britain and Ireland, was among the introductory speakers as the 2016 Ryder Cup was finally launched.