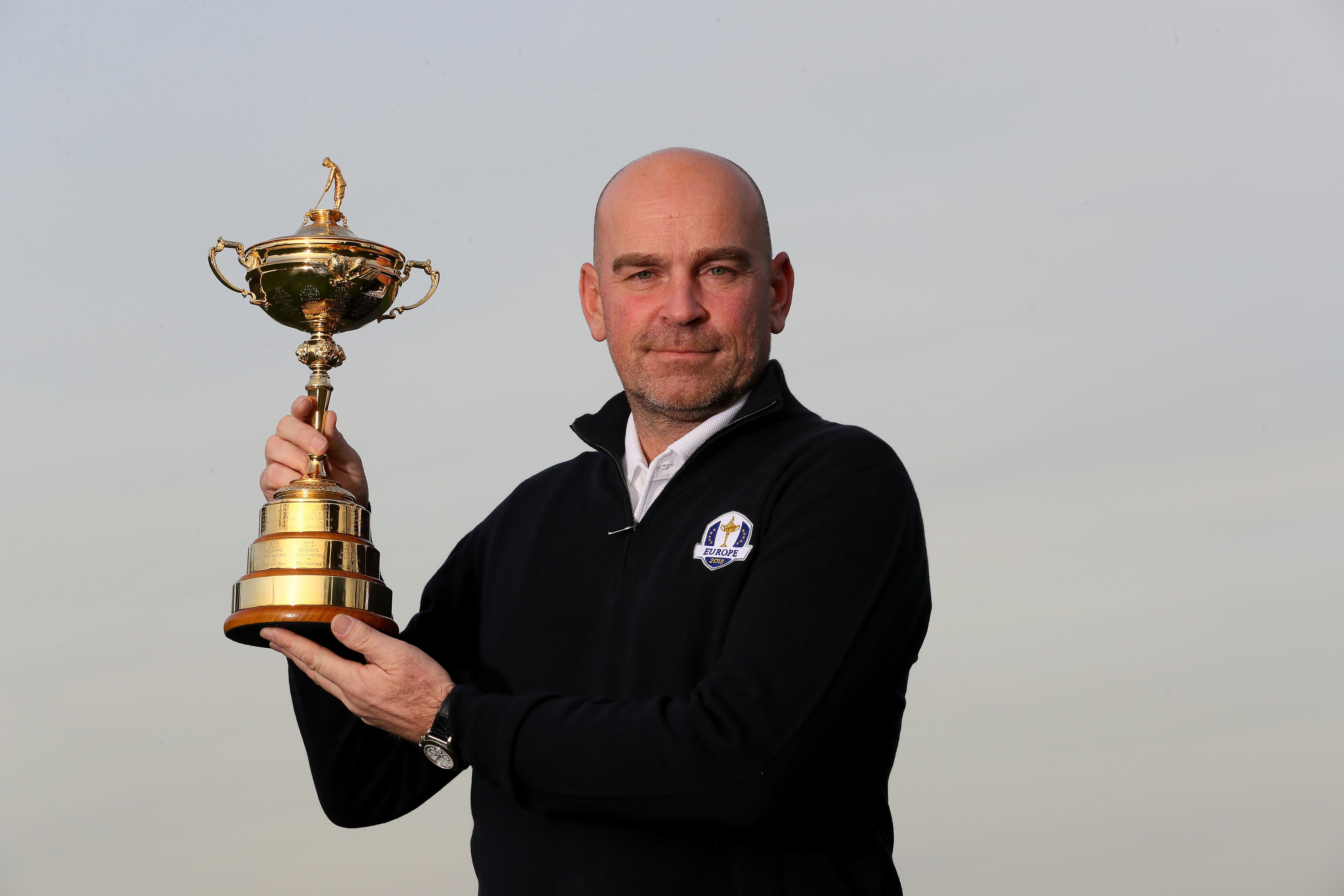 Thomas Bjorn, the ultimate behind-the-scenes man of the European Tour, will step to the forefront at last as Europe's captain for the 2018 Ryder Cup at Le Golf National, Paris.
The Dane, 45, has been involved in seven previous Ryder Cups, three as a player and four as vice-captain. A member of Darren Clarke's backroom team of vice-captains at Hazeltine earlier this year, it was the first time he had been involved in a losing campaign.
Bjorn was the much-expected choice of the five-man panel led by the three previous captains Jose Maria Olazabal, Paul McGinley and Darren Clarke. There was a perceived need for a captain from Continental Europe as the matches are held outside the Britain and Ireland on this side of the Atlantic for only the second time.
His only real challengers were Miguel Angel Jimenez, who has been overlooked a second time and is unlikely now to gain the captaincy, and Padraig Harrington, who reportedly removed himself from consideration but will be a heavy favourite for Whistling Straits in 2020.
Bjorn will certainly have the trust and respect of the rank and file of the European Tour, as he has been their senior representative as chairman of the Tournament Committee, the main decision making body of the tour, since 2007. He will now relinquish that influential role to concentrate on the captaincy.
He said: "It's a huge honour for me to be named European captain for The 2018 Ryder Cup in Paris. This is one of the greatest days in my career.
"I studied a lot of captains as a player and as a vice captain and always wondered what that feeling would be like to be the one leading out a team of 12 great players. Now it's my turn to do just that and it is an exciting moment for me.
"I have lived and breathed the European Tour for so long, and now I will do the same with The Ryder Cup for the next two years. I'm very much looking forward to taking on this task."
Bjorn was the first Dane to play in the Ryder Cup under Severiano Ballesteros in 1997. He also played in winning teams for Sam Torrance in 2002 and under McGinley at Gleneagles in 2014.
In addition Bjorn was vice-captain in 2004, 2010, 2012 and this year at Hazeltine.
As a player, Bjorn has won 15 times on the European Tour, has twice been silver-medalist at the Open Championship. He's played in 14 French Opens at Le Golf National, the host course for the 2018 matches.
The new captain has a close affinity with Scotland with two wins here in his career, including his debut victory in the Loch Lomond World Invitational in 1996. He also won the Johnnie Walker Championship at Gleneagles in 2011.
Bjorn has often been seen as a volatile character during his career, once nicknamed "Cyclone" by tour caddies. He famously and publicly castigated Ian Woosnam for not giving him a wildcard for the 2006 Ryder Cup – it went instead to Darren Clarke – and ended up paying the largest disciplinary fine ever handed out by the tour for his trouble.
In 2004 the Dane walked off the course during the European Open citing "demons" in his head, but after a lull in latter half of the last decade his career returned to the top order from 2010-14, six wins over that period earning him a recall to the Ryder Cup team.
Despite being an intimidating presence at times, Bjorn is one of the most popular figures in European golf, and certainly one of the most trusted. However there have been reports of less harmonious relationships with some European players now based in the USA.
He has never won a major championship – he came closest at the 2003 Open at Sandwich, famously taking three shots in a bunker at Royal St George's to hand the title to Ben Curtis – but then again neither had recent winning skippers Colin Montgomerie and McGinley.
As well as the former captains, European Tour chief executive Keith Pelley and Henrik Stenson – standing in for Bjorn as a representative of the Tour's Tournament Committee – made the decision.
Pelley said: "Thomas has many wonderful characteristics which he will bring to the role of captain.
Firstly, he is incredibly experienced having played in three winning Ryder Cup teams and having been a vice captain four times.
"He also has commitment, we have seen that over the last nine years as Tournament Committee chairman, so we know as Ryder Cup captain he will have the same unwavering commitment.
"Thirdly, he has passion. Not only for this wonderful game, but for the European Tour and Team Europe and he wants the Ryder Cup to be the greatest sporting event it can be. So when you look at these characteristics, I am convinced they will make him great Ryder Cup captain."