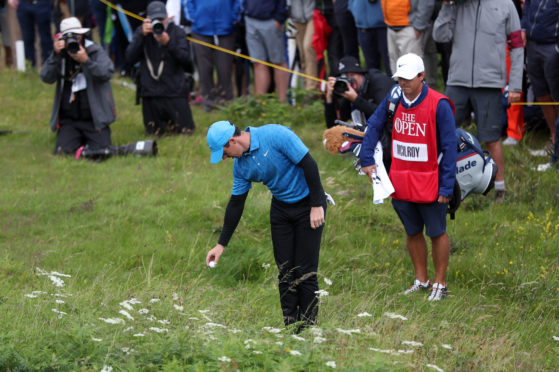 Even if you don't like Rory McIlroy – and I've always found it a bit strange that anyone doesn't like him – you couldn't have wished yesterday at Royal Portrush on him.
A historic first day, the greatest player that Northern Ireland has ever produced playing as the greatest championship returned to his homeland for the first time in 68 years. "I'll just try to enjoy it, smell the roses" he kept saying.
Instead, it was excruciating for everyone. Needless to say, in an eight-over 79 there are going to multiple bad decisions and poor shots, and Rory was responsible for them all.
However, given the historic nature of this particular round, one wondered if it could be entirely fair that it was quite this bad.
It started immediately, a two-iron off the first tee that found the internal out of bounds on the left, a patch of land in the middle of the course that used to belong to someone else and has just been kept OB for traditions' sake. Some don't like internal OB, but it's not like everyone, and especially Portrush veterans like Rory, doesn't know it's there.
Three off the tee, then a poor fourth into heavy rough, a penalty drop, a decent chip and a poor putt, and it was an eight.
In all the hundreds of times he's played the first hole of the Dunluce Links, you couldn't imagine he'd played it worse; four-over, and with his old friend Shane Lowry heading to a 67 up ahead, surely out of the tournament in one bound.
He ground it out a bit after that, but four putts at the 16th and two hacks in the rough on the 18th resulting in a triple bogey seven undid his minor repair work.
Afterwards some who listened to him seemed offended he wasn't crumbling or raging at what had happened.
"I'm disappointed, but at the end of the day I'm still the same person," he reasoned. "I'm going to go back and see my family, see my friends, and hopefully they don't think any less of me after a performance like that today.
"And I'll dust myself off and come back out tomorrow and try to do better."
What else was he going to say? I hate everything? Asked if he thought there was a way back after this, he quipped "a way back to Florida, for sure".
This is not to absolve him of plain error, however. The two-iron was a strange choice – playing partner Paul Casey later said he hadn't recognised it, but added it was the club with which Rory missed his shot on both 1 and 18 and at various other points.
Who, in a championship like the Open, tries a completely new strategy on a course you've played since you were 13? Rory said before the championship he hadn't been freaked by the course changes, but this is evidence he maybe was.
He admitted the four-putt on 16 was "inexcusable."
"Tee shots like the first happen, you can get one riding on the wind a little too much, that's fine. But lapses of concentration like that, I feel like I've done a really good job over the last few years of being more with it.
"If I look back at today, it's probably the shot I'm disappointed about the most."
Rather unconvincingly, he said that he'd be equally disappointed with such a performance at St Andrews or Birkdale. That wasn't quite what the Irish wanted to hear.
Was he nervous with the expectation?
"I'm pretty truthful with you guys," he said. "Look, I was nervous because it's an Open Championship. I usually get nervous on the first tee anyway. Maybe a little more so today than other places.
"But I don't think it was that. It was a bit of a tentative golf swing with a hard wind off to the right and the ball just got going left on me."
There was a feeling that the Irish here – media and fans – are more upset with all this than Rory was. And when the fans visibly care more than the player, the reaction can be scathing. Hopefully not.