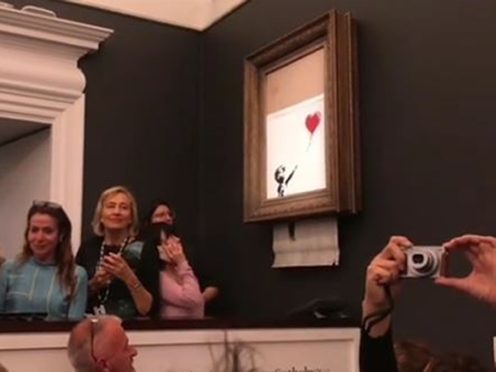 Banksy has appeared to suggest that a £1 million painting which was partially shredded immediately after it was sold at auction was supposed to have been cut up completely.
The secretive street artist posted a video to his website on Tuesday night which showed the prank unfold at a Sotheby's sale on October 5.
His Girl With Balloon was bought for £1.04 million by a European art collector – but almost as soon as the hammer fell, the canvas was passed through a secret shredder hidden in the large Victorian-style frame, leaving the bottom half in tatters and only a solitary red balloon left on a white background in the frame.
In the video, entitled Shred the Love, the Director's Cut, Banksy reveals that "in rehearsals" the shredding had worked "every time", with footage of a test run showing a print passing through the shredder completely, so that none of the canvas remained intact.
The anonymous artist also confirmed the auction house had not been let into the secret, posting on Instagram: "Some people think it didn't really shred. It did. Some people think the auction house were in on it, they weren't."
The three-minute-long video shows a hooded figure constructing the shredder in a workshop, before cutting to the auction, where a pair of hands presses a button in a black box to set off the destruction as soon as the artwork is sold.
After the prank, the piece was granted certification by Pest Control, Banksy's authentication body, and was given the new title Love Is In The Bin.
Sotheby's confirmed that the buyer, a long-standing female client of the prestigious auction house, had agreed to buy the work for the price agreed at auction.
Girl With Balloon appeared on a wall in Great Eastern Street, London.
The framed, stencil spray painting shows a girl reaching towards a heart-shaped balloon. The gallery version featured spray paint and acrylic on canvas, mounted on a board.
The lot was estimated to sell for £200,000 to £300,000 before the auction.
Banksy rose to prominence through a series of graffiti pieces that appeared on buildings across the country, marked by deeply satirical undertones.
The self-destruction was the latest in a long history of anti-establishment statements by the street artist.
Other recent works included the opening of Dismaland, his dystopian, Disneyland-esque theme park in 2015, which he described as a "family theme park unsuitable for children".