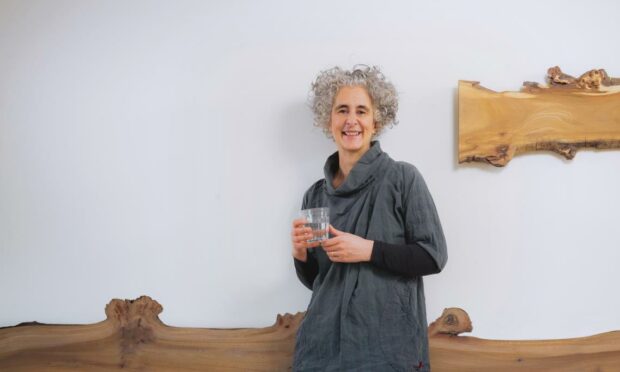 Victoria Bruce-Winkler is regenerating her family's 700-year-old estate in Clackmannanshire with the focus on eco-tourism, history and the environment. Gayle Ritchie finds out more.
Light drizzle kinks my hair as I stroll down a recently discovered "hidden" avenue of trees, some dating back 300 years.
I'm in the heart of Brucefield Estate, an absolute haven for walkers and nature lovers with a variety of stunning trails and habitats just waiting to be explored.
A walk up to a ridge of "Granny Scots" pines along the Bluther Burn, another leading to the "Witch's Stone" (legend has it that a witch dropped a frog from her apron and it turned into this stone), and a meander past 300-year-old beech trees and a circle of rowans are just some of the highlights.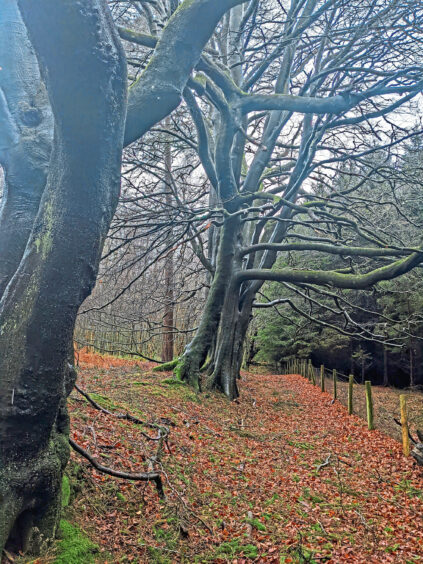 Victoria, who can trace her ancestry back to Robert the Bruce, inherited her family's 700-year-old estate in 2012, and returned to live here recently.
A biologist and medical writer who previously worked for a pharmaceutical company in Copenhagen, she's brought some "hygge" to Brucefield, establishing her plan to regenerate its 420 hectares of land.
Her regeneration programme focuses on eco-tourism, a 10-year wildlife plan (put together by Caledonian Conservation, an independent ecological consultancy), heritage and history (inspired by working with renowned Forres-based conservation architect Andrew PK Wright) and has luxury accommodation at its heart, with some of the estate's historic buildings being restored, revitalised and brought back into use.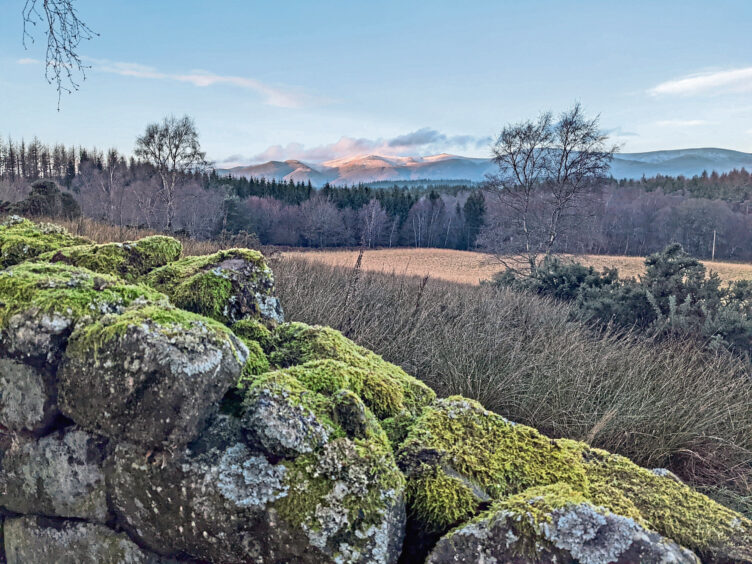 "It's early days but it's all very exciting," Victoria tells me, as we gaze up at knobbly growths on the trunk of an old oak tree.
"The variety of wildlife at Brucefield is vast, and we share the estate with so many different animals, birds and species of plant.
"There are red squirrels, badgers, pine martens, roe deer, bats, owls, and many different invertebrate species (130 species of beetles and 91 species of spider no less), and as part of our conservation project, we want to protect and enhance the habitats that so many creatures call their home.
"There's everything from peatland, wetland, woodland, lowland heather heath that's a Natural Scotland site of special scientific interest, mature Scots pine and semi-ancient oak woods, arable and pasture farmland and mossy old drystane dyke walls. Our 10-year plan is to help the estate regenerate and thrive with the spotlight on wildlife, history and eco-tourism."
Transformation
Mum-of-two Victoria and her team recently renovated and transformed an old forester's cottage, Slackbrae, into stunning self-catering accommodation.
It's a joy to see, its bright yellow exterior a pleasant contrast against the greens and browns of the surrounding landscape.
Victoria, who says she was "inspired by the cheery colours of Culross and Copenhagen", had a no-holds barred approach to doing it up – a lot of TLC went into refurbishing the 18th-Century two-bedroom cottage, which was once owned by Stirling and Dunfermline Railway.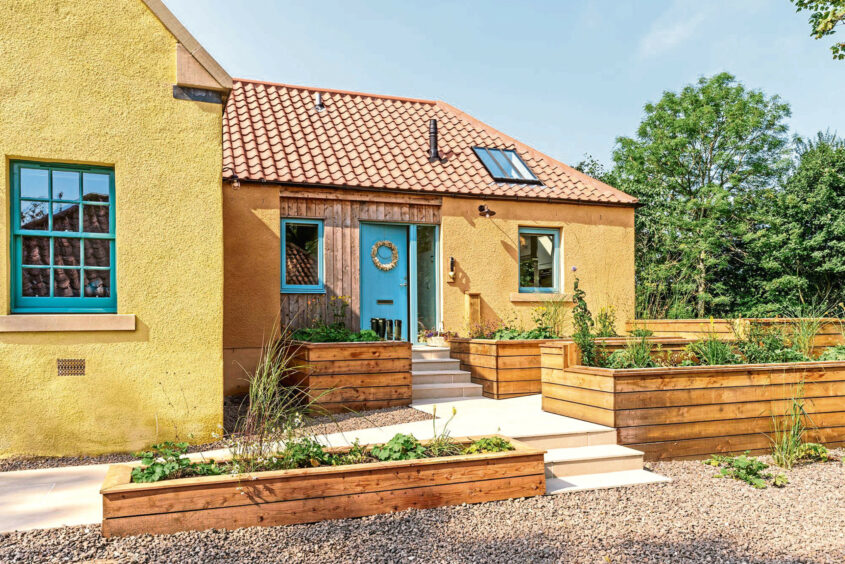 A traditional approach to renovation on the outside with coloured lime render and clay pantiles, and insulated using sustainable, breathable wood fibre on the inside, light floods into the property from every angle.
The gardens are planted with herbs that guests can use in the kitchen and are inspired by each of the counties the cottage is or has been in – the Knight's Garden for Fife, the Forester's Garden for Clackmannanshire, and the Lamb's Garden for Perthshire.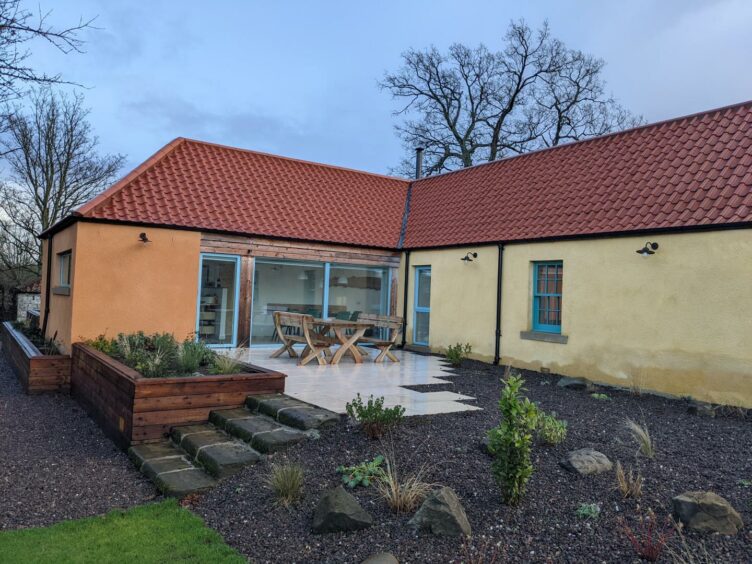 There's even an on-site concierge, Dawid Nowak, who can advise visitors on the best places to walk, cycle and wild swim. (Apparently Peppermill Dam in nearby Devilla Woods is a great spot for a splash-around.)
He spent more than a decade working for Gleneagles, and really knows his stuff.
Ambitions
Next on Victoria's agenda is creating three eco-bothies deep in the woods, each with their own wet-room and built and insulated with timber, and she hopes they will be open for spring.
One of her major ambitions is to continue the journey of families who've owned the estate over the last 700 years and provide a "solid foundation" for its revitalisation and regeneration.
"I love it when I see people getting excited when they come here," she enthuses.
"It's a rather hidden area in the middle of Scotland and maybe because it's on the cusp of three counties – Clackmannanshire, Perthshire and Fife – it's an unknown corner. A lot of people have very little idea about how much there is to explore here on the estate and close by.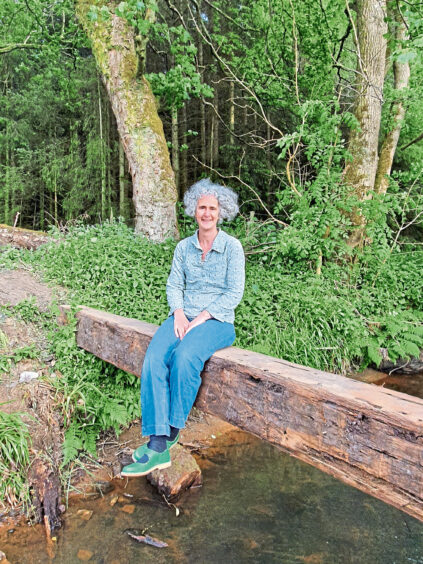 "It's only 15 minutes to Culross, for example, or roughly the same distance to the Pineapple folly at Dunmore.
"Fifteen minutes in the other direction is Dollar and its glen in the Ochils leading to Castle Campbell. And nearby are the recently rejuvenated Japanese Gardens.
"We're in a very special location with easy access to Stirling, Perth, Glasgow and Edinburgh. Brucefield really is a hidden gem, and we like it that way, but we do really want to share it with others.
"It's a rather hidden area in the middle of Scotland and maybe because it's on the cusp of three counties – Clackmannanshire, Perthshire and Fife – it's an unknown corner."

Victoria Bruce-Winkler
"We've spent several years collecting data for our 10-year wildlife plan, renovating our historic buildings, working with conservationists, ecologists and those with a profound knowledge of the area. We really want to share that."
Natural beauty
I, for one, can tell you it's an amazing place to discover. A highlight during my visit is a guided tour of the "Scaurs Walk", where Victoria points out a strip of 300-year-old beech trees, which was only recently discovered, and a trio of beeches that have melded into one big clump.
A circle of rowan trees on a "raised viewing platform" slightly bamboozles Victoria.
She says: "I'm not too sure what people would've been viewing, but that's how archaeologists viewed it. Perhaps it was a type of 19th-Century forest bathing?"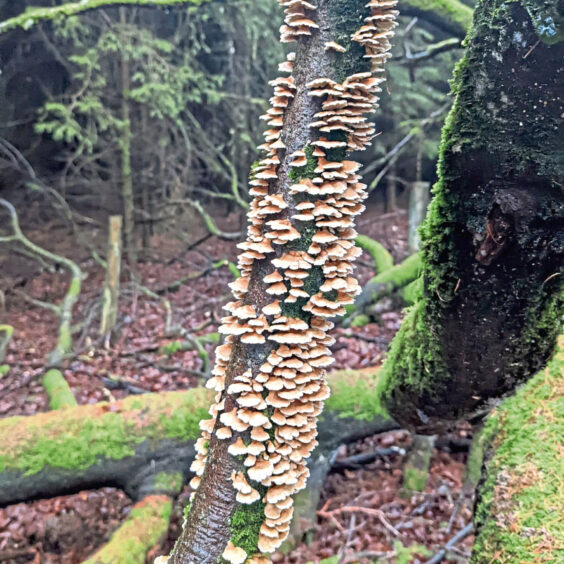 The hope is that alongside guided tours of the estate there'll be hands-on wildlife workshops (possibly bat walks and geese-watching), and other environment-themed events. Bikes are available to hire, and there are various traffic-free cycle routes to enjoy.
The estate also hopes to offer intimate weddings and family celebrations in a rustic barn.
Links to Robert the Bruce
Of course, one of the most fascinating aspects of Brucefield – a part of Clackmannanshire I'd never been aware of – is its history. And its links with Robert the Bruce.
The estate can trace its roots back 700 years to when it formed part of the Barony of Schenbothy, a name you'll no longer find on any maps.
It was originally owned by the Stewarts of Rosyth, who welcomed Mary Queen of Scots as she returned from France to rule Scotland.
As we stroll, Victoria points out an armorial panel in the wall of a farm building dating from 1574 boasting the Stewart of Rosyth's coat of arms. It's thought to have come from Hartshaw Tower, which seems to have been demolished to build a farm steading and corn mill in the early 1700s.
"The oldest map of this area is from the 1640s and it's got Hartshaw on it (not Brucefield)," Victoria explains.
"Brucefield was a rebranding in the 1700s after the Stewarts of Rosyth sold their property here."
Big project
Looking to the future, Victoria says she hadn't expected Brucefield to be "such a big project", but she's excited about sharing that with people from across the globe.
"I thought I'd carry on doing medical writing but this project has so many arms and legs because of the different habitats, whether wet woodlands, heath or buildings," she says.
"Certainly Brucefield provides an all-encompassing prism into the wildlife and history of Scotland.
"There's no such thing as a typical day. The project covers everything from reviewing beetle and pollinator assessments, checking historic maps, ensuring the chimney sweep is booked, wondering why the lime render has or hasn't cured, working with the forester to extract timber, or setting up hibernation areas for rescue hedgehogs!
"We've done a lot of work with ecologists to understand the rich mosaic of diverse habitats here, from mossy woodlands and meadows to pine martens and pollinators. There's also a historic doocot and a corn mill from the 1700s, arable farming, pasture and woodland management, so we have our work cut out."
Beginning of the journey
While it might seem like the project is well underway, Victoria insists she is really only at the beginning of the journey.
She adds: "There's just so much to do! A great many farms, woodlands, small-holdings, and estates all over Scotland have altered their practices compared to say 20 or 30 years ago, providing beautiful accommodation in stunning natural settings.
British winter breaks including the new self-catering cottage and the woodland eco bothies at Brucefield Estate in Scotland via @timestravel#Scotland #TravelPR #winterbreak https://t.co/WOxH9osFSx pic.twitter.com/32cDfEDBAE

— Cath Couzens (@CathCouzens) November 18, 2021
"We've put ourselves on the map for this type of increasingly asked-for destination: for those wishing to completely unplug from it all with high quality, luxurious, accommodation and if guests wish, to participate in our wildlife plan and get away from daily distractions.
"People become immersed in Brucefield when they visit and feel very connected to its landscape framework with woodlands and historic buildings and with links to a great many characters in Scottish history, and its unique ever-evolving story.
"Essentially, we want to share the historic estate with a new generation of visitors."
---
Stay at Slackbrae Cottage
Originally a forester's cottage, Slackbrae been renovated using a conservation approach with sustainable materials to achieve a low energy house.
Inside, specially-commissioned kitchen and bathroom tiles tell the heritage of the cottage and the estate through the centuries.
Slackbrae has vaulted ceilings, day-long sunlight and stunning views of the fields and woodlands, allowing guests to immerse themselves in nature and reconnect with the land.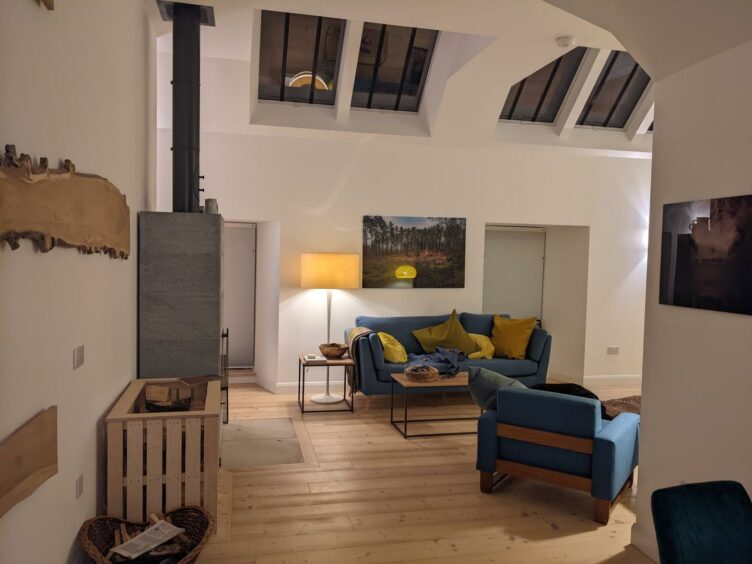 The gardens have been rejuvenated with a new planting scheme providing a blaze of colour and herbs throughout the year.
The fully-accessible cottage contains two bedrooms and two bathrooms – a master bedroom with en-suite and a double bedroom which converts into a twin room.
A welcome breakfast hamper is included for the first morning. It contains Wild Hearth bakery sourdough, locally made jams and honey, a date and walnut loaf, granola, yoghurt, sausages, eggs and other goodies.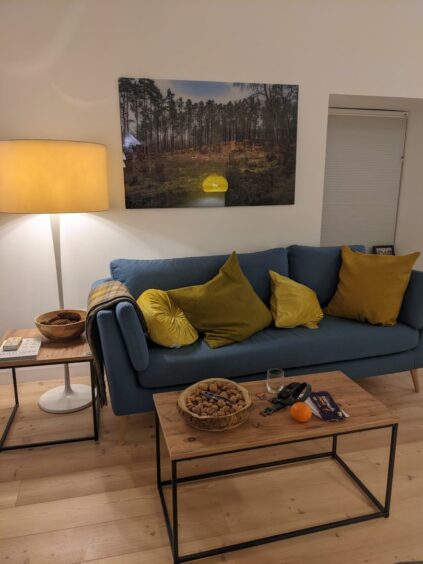 Jumbo marshmallows – in case you want to light up the firepit on the patio – are also included.
Brucefield can also lay on a dinner hamper for a fee. Additional groceries and local artisan produce can be pre-ordered.