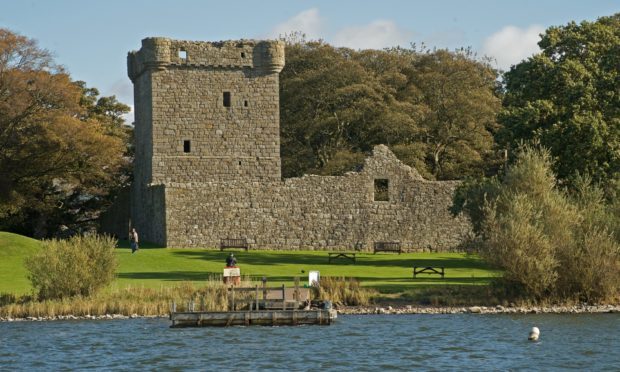 The guardians of a famous castle believe a glitzy new film about Mary, Queen of Scots could trigger a fresh influx of visitors.
Mary was famously held captive at Lochleven Castle, near Kinross, in 1567. The tower where she was imprisoned is believed to be the oldest of its kind in Scotland, dating back to the 1300s.
Now a new movie starring Oscar-nominated actors Saoirse Ronanis and Margot Robbie is expected to re-ignite interest in the ancient ruin.
And Historic Environment Scotland, which maintains and promotes the landmark, is getting ready for the new wave of tourists with the creation of a Mary Queen of Scots trail.
The guide will highlight historic hotspots for those who want to visit locations featured in the film, as well as giving further insight into Mary's turbulent rise and fall.
Lochleven Castle will be closed for the season when Mary Queen of Scots premieres at the AFI Festival in London on November 15, but it is expected to be extra busy when it re-opens next spring.
A Historic Environment Scotland spokesman said: "Productions such as Mary, Queen of Scots offer a great opportunity to showcase Scottish history and heritage, and open up our historic sites to a whole new audience.
"Our properties provide awe-inspiring backdrops for all kinds of filming and there has been increased interest in many of our sites thanks to associations with popular films and TV series. We are delighted that our historic sites can come alive to new audiences and generations."
The spokesman continued: "Lochleven Castle is linked to many colourful events and famous characters – royal visitors and royal prisoners alike. But the island stronghold is best known as the place where Mary Queen of Scots was held prisoner for almost a year.
"We are developing a 'Mary, Queen of Scots trail' that will map the adventures of Mary and inspire visitors to follow in her footsteps. The structure of this will be similar to our existing Outlander trails and Movie Maps, which not only feature filming locations, but other HES properties linked to history."
He added: "Loch Leven is already closely managed for capacity, due to a limited number of boat spaces each day to transport visitors to the island.
"We strongly advise visitors to book online in advance of their visit in order to guarantee a space on one of our boats. Lochleven Castle closes for the season at the end of October, and will reopen again in April 2019."
Last year, pop star Justin Bieber took a trip to the castle during a whirlwind visit to Scotland.