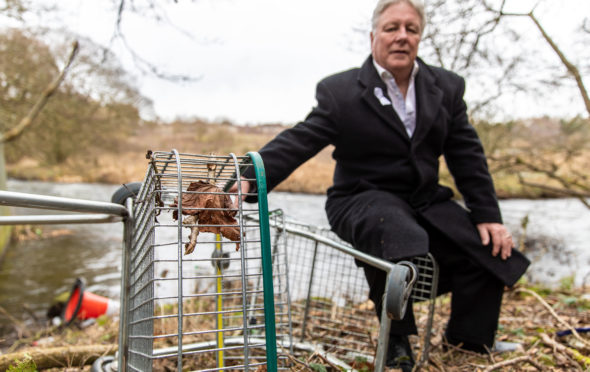 Lazy Fifers have been slammed after 27 shopping trolleys were found dumped in a half-mile stretch of river.
The unbelievable discovery was made in a section of the River Leven where it snakes through Riverside Park in Glenrothes.
Firefighters have been asked if they can help remove the haul of metal carts as part of a training exercise, amid warnings it is too dangerous for members of the public to try to retrieve them themselves.
Local supermarkets will also be approached to see if they can do more to prevent shoppers from removing trolleys from their premises.
David Cooper, chairman of the Friends of Riverside Park group, said he had been approached by a shocked park user who had noticed the large number of trolleys in the water and on the riverbank.
"He counted 27 trolleys in the half mile between the town centre end of the park and the higher pond," he said.
"I walked round the whole park with council officials on Monday and we found a total of 34 trolleys all within less than a mile. It's a lot."
He added: "We're told it's quite dangerous to go into rivers but the fire service may be prepared, once the water levels reduce, to go in to remove them.
"At that stage we can find out who they belong to."
Mr Cooper described the situation as "unbelievable", adding: "The people who do this have no idea at all how dangerous it is to get these things out.
"It ruins what is otherwise a lovely park."
Damien Woods, Fife Council's parks, streets and open spaces service manager, said: "Fife Council is working with the Friends of Riverside and the fire service, which are putting in place a plan to remove these trolleys as part of a training exercise.
"We are all working together to remove these hazards, not only to anyone trying to retrieve them but also to wildlife.
"We will also be communicating with the local supermarkets to look at prevention methods so that their trolleys cannot be removed from their shops."