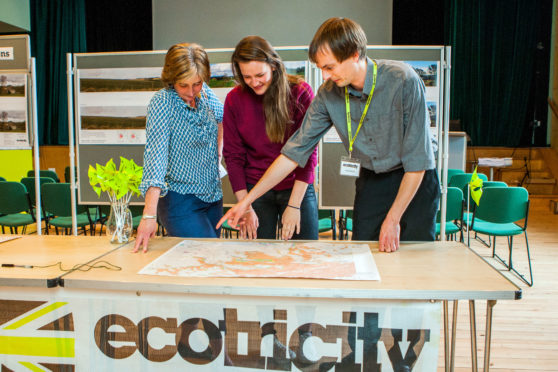 The Scottish Government has knocked back plans for a major wind farm in Highland Perthshire following a lengthy appeal.
The application for Dulater Hill Wind Park was initially lodged with Perth and Kinross Council in the summer of 2014.
Developer Ecotricity wanted to build 17 turbines at a site just outside Butterstone, near Dunkeld.
Each tower would have stood twice the height of the Scott Monument and the scheme would have covered an area of land the size of 16 football pitches.
Gloucestershire-based Ecotricity said the project would bring jobs to the Dunkeld area, as well as creating  enough green energy to power almost 30,000 houses and saving more than 50,000 tonnes of carbon dioxide each year.
The plans were rejected after a large number of objections were raised by local residents.
Councillors said the 125m turbines would lead to "unacceptable adverse visual impacts" which would "erode the experience from popular viewpoints within the River Tay National Scenic Area."
Following the refusal, Ecotricity took the case to the Scottish Governments Planning and Environmental Appeals Division.
Ministers were provided with information gathered at a public inquiry held in March and April 2017, and were expected to make a decision before the end of the year.
However the ruling was only delivered this week.
Ministers announced they had chosen to uphold the refusal, highlighting concerns about "the desirability of preserving the natural beauty of the countryside".
They also said it was important that they conserve the local flora, fauna and geological  features of special interest and protect sites of architectural, historic or archaeological interest.
The Scottish Government's reporter acknowledged the development would make a "valuable" contribution towards green energy targets but said the proposals were not suitable for the area in question.
Strathtay SNP councillor Grant Laing welcomed the ruling.
He said: "While it is important that we work towards using more green energy, we have to be careful that it is where the advantages outweigh the disadvantages.
"I feel that this isn't the case for this project and am glad that Scottish Ministers have upheld the decision."
The Courier contacted Ecotricity, however the firm did not respond to a request for a comment.