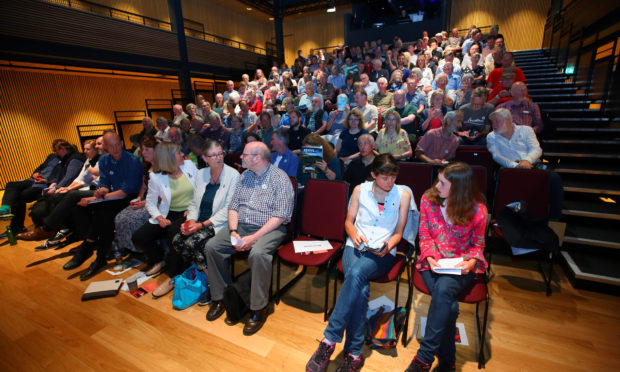 Hundreds of campaigners flooded into Perth Theatre on Saturday demanding radical reform of Scotland's grouse moors.
The Revive Coalition, consisting of Common Weal, Raptor Persecution UK, Friends of the Earth Scotland, OneKind and League Against Cruel Sports (LACS) organised the inaugural event at the theatre's Joan Knight Studio.
Sparked by the ongoing blight of illegal persecution of birds of prey across Scotland, the group are calling on stringent legal changes to grouse moors across the country.
The group believe that almost a fifth of Scotland is grouse moor, and have called on the wider "circle of destruction" to be reigned in.
Amongst the coalition's demands are an end to government subsidies for grouse moors, fairer taxation, stricter policing and a requirement for full planning permission to build tracks on moorland.
Limitations on the amount of heather which can be burned and a ban on burning on peat reserves is also being sought by the group, along with bans on snares, medicating grouse.
TV conservationist Chris Packham addressed the audience with an video message before the speakers took to the stage.
With MSPs Alison Johnstone, Claudia Beamish and Andy Wightman all speaking at the event, the group already has plenty of political support.
Robbie Marsland, director of LACS, said: "It's so much bigger than just the shooting of the birds.
"To make sure there are enough to shoot, you're looking at a circle of destruction which includes unplanned tracks and roads which go across the moors, spoiling the countryside.
"There's also medicated grit trays which are supposed to control disease, but grouse pass on disease amongst themselves more frequently. This draws them together and they pass on the disease.
"If you want to make sure there as as many grouse as possible, you get rid of everything which predates on them and their eggs or chicks. In effect, these foxes and crows and weasels are just animals."
A reform is hoped would help clamp down on the number of birds of prey being killed or going missing over moorland, but Mr Marlsand's organisation hopes that a reform could tackle wider issues relating to social justice and the environment.
Mr Marsland claimed that the grouse shooting industry is worth around £36m to Scotland, what he says is about the same annual income as two supermarkets, and employs less than 3,000 people with an average income of under £12,000.
Following this weekend's event, Revive are looking to hold a parliamentary reception later in the year to further case.