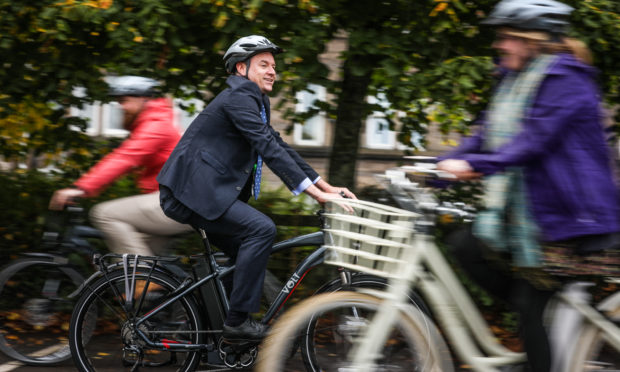 An environmental group wants to build "active travel" measures built into some of Perth's busiest areas.
Perth Active Travel Hub (PATH) has welcomed a £6.45m funding allocation from Sustrans, which will go towards transforming Dunkeld Road to make it safer for drivers, cyclists and pedestrians alike.
With the project set to make more effective use of the stretch between the city's Inveralmond and Crieff Road roundabouts, PATH hope this is just the foundations for a city centre built around lower emission transport.
It would like to see similar proposals developed for Glasgow Road and Tay Street.
The group want to see Dutch-style kerbed cycle paths installed to fully separate cars from cyclists, claiming making cycling safer will reduce congestion and improve air quality.
Speaking at the launch of PATH Way to Work, which explains the funding, training and guidance available to support employers and staff to make sustainable transport choices to and from work, group convener Sam Bird said they want this to be the start of a travel revolution.
He said: "When you look outside, you notice congestion and pollution, and young people don't have the opportunity to counter that safely.
"We set up PATH as a group of parents who thought there must be a better way. We're campaigning for more dedicated infrastructure like protected cycle lanes to make cycling safe for all ages and abilities.
"To create a culture around active travel, we need to interlink plans across the city, and we'd like to see areas like Tay Street and Glasgow Road, particularly at the roundabout next to be upgraded.
"If you build the infrastructure and the culture, people will come."
Perth and Kinross Council's former active travel ambassador councillor Lewis Simpson has praised PATH for pushing for significant environmental change, feeling that elected politicians aren't doing enough.
The Liberal Democrat added: "I applaud PATH and everything they stand for. Senior politicians in both the largest parties are terrified of the backlash from motorists and are failing to take meaningful steps to fight the climate change emergency.
"Just earlier this week, councillors here voted against plans for a new school meals project which would have been more environmentally friendly."