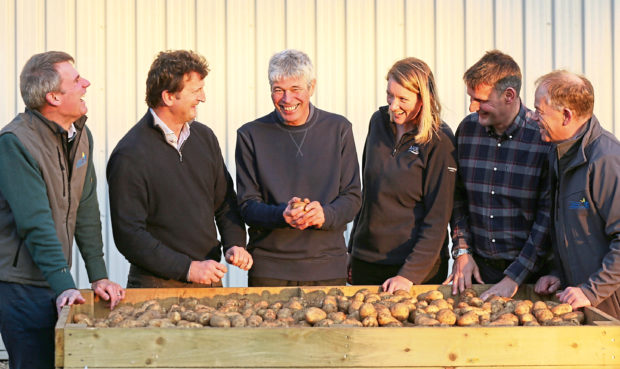 St Cyrus seed tattie growers James Reid & Partners have been selected as Scotland's next potato monitor farmers in partnership with Scottish Agronomy and McCain Potatoes.
The announcement was made at an industry overview of the findings from the four-year programme which has just ended at Bruce Farms, Meigle.
The new Strategic Potato Farm, or SPot as it is known, is run by Jim Reid and his brother Ron and father Curly at Milton of Mathers.
They grow 200 acres of seed potatoes for McCain's ware growers in England, together with malting barley, winter barley and oilseed rape.
Colin Herron, general manager of McCain at Montrose, said his company had a long association with the Reids spanning three generations and has had a seed business in Montrose since 1986, with a storage and grading facility for 10,000 tonnes of harvested seed.
Mr Herron added: "It's an important part of our overall business, fully integrated from mini-tuber production in Dundee through to high-grade growers and commercial growers to ensure we have the volume and quality of seed to allow us to grow the processing crops in England."
Looking ahead to the next few years of trials at Milton of Mathers, Mr Herron said biosecurity and industry health and safety would be key areas of research.
He added: "However, the industry has many challenges including soils, viral health, new variety development and sustainable production."
nnicolson@thecourier.co.uk