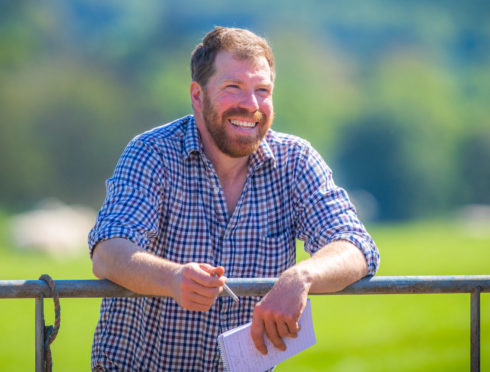 As I write this I'm looking east out of the living room window, a mile off a B road and over towards the Sidlaw Hills, and everything would appear to be as normal, although I do see a ewe "self-isolating" in the corner of the field, never a good sign.
I wasn't even going to mention the C-word but its dominating everything just now and other news doesn't get a look in.
I feel for the recently deceased singer Kenny Rogers who only got a snippet of an obituary at the end of each news bulletin last weekend. A man of that calibre deserved more.
Even North Korea fired two missiles into the sea like a naughty schoolboy trying to get some attention, yet nobody batted an eyelid.
And as for Brexit –well, what was all that about again?
I'm fairly upbeat today as the Tesco van has just delivered some much needed supplies which included a 12 pack of loo roll, bringing much relief as we were down to half a roll between two households.
The driver got a welcome similar to that of a United Nations soldier dropping off a food parcel in a war zone. I couldn't hug him, of course, but gave him a massive thumbs up and a virtual high five.
I can now look forward to treating myself to five sheets at my next visit to the loo instead of the rationed two.
I know some readers may question what on Earth there is to laugh about during this crisis and my heart goes out to anyone whose health is suffering due to the virus, or parent who is cooped up with energetic kids in the middle of a town.
But in these dark times a bit of humour is essential and the internet, for all its flaws, has really come into its own.
There has been some very funny stuff online including this tweet a week ago: "It's crazy to think that some boy in China ate a bat and because of that Elgin versus Brechin is now postponed''.
And of course Facebook has been full of various memes and videos, the funniest one being a farmer ridging a drill and the wife following him planting seed loo rolls six inches apart.
Even my girlfriend's father has got in on the act now and is doing a nightly blog on his Facebook page entitled Sandy's Social Distance Diaries. They're well worth a read.
As well as making us laugh, social media is also providing a platform for out-of-work creative types.
Fitness guru Joe Wicks is streaming daily exercise classes, Carol Vorderman is teaching maths, David Walliams is reading stories, Jamie Oliver is cooking lunch, various bands are playing music and even the Stand comedy club in Edinburgh is streaming comedy on a Saturday night.
It has also encouraged local communities to communicate together for the better to make sure elderly and vulnerable people are getting the care and attention they deserve.
In fact it really is ironic that during this time, when we are all self-isolating and keeping ourselves to ourselves the population seems to have become closer, almost recapturing a kind of wartime spirit.
I wish everyone out there all the best – and keep laughing if you can.
I'm just away to check on that ewe.