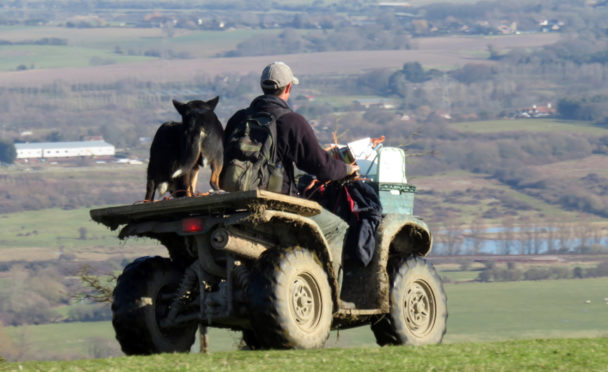 A spate of thefts of new utility terrain vehicles (UTVs) across the UK is leading to fears that criminals plan to use them to enable other crimes on rough rural land.
General crime levels may have fallen in the last few weeks, but organised gangs are focusing instead on stealing farm machinery in an even quieter than usual countryside, and the industry's leading insurer, NFU Mutual, has called on farmers to review security as UTVs, tractors, telehandlers, horse boxes and trailers are taken from properties.
In Aberdeenshire and the Lothians, quads and other small portable equipment have topped the thieves' wish list.
Police Scotland rural crime co-ordinator Inspector Alan Dron reminded farmers, landowners and workers that criminals have no respect for the current travel restrictions.
He said: "Please remain vigilant and if you observe an individual(s) or vehicle(s) acting suspiciously, please note any relevant details, a description and any relevant vehicle registration number, then pass the information on to Police Scotland via 101 or if a crime is ongoing, 999.
"Alternatively, contact Crimestoppers anonymously on 0800 555 111 or through the non-traceable Anonymous Online Form at www.crimestoppers-uk.org."
Scott Carruthers from NFU Mutual said: "We're urging farmers and rural communities to take all possible steps to secure their property.
"Many tractors and other farm vehicles now have so-called smart keys with electronic information needed to start the machine, so it's vital that keys are removed from machines and stored securely in a remote location to prevent thieves using keys to start machinery and drive it away from farms."
Other security advice includes: Keep your machine locked up and out of sight as thieves often stake out a farm before they raid, so where possible store machinery in a locked building or where it can't be seen from the road; use the CESAR marking and registration system; install immobilisers and trackers on tractors and loaders; take pictures of your vehicle and record serial numbers; join local Rural Watch or social media security groups to keep in touch with rural crime trends in your area; and encourage farm staff to be vigilant and report any suspicious behaviour or vehicles to the police.