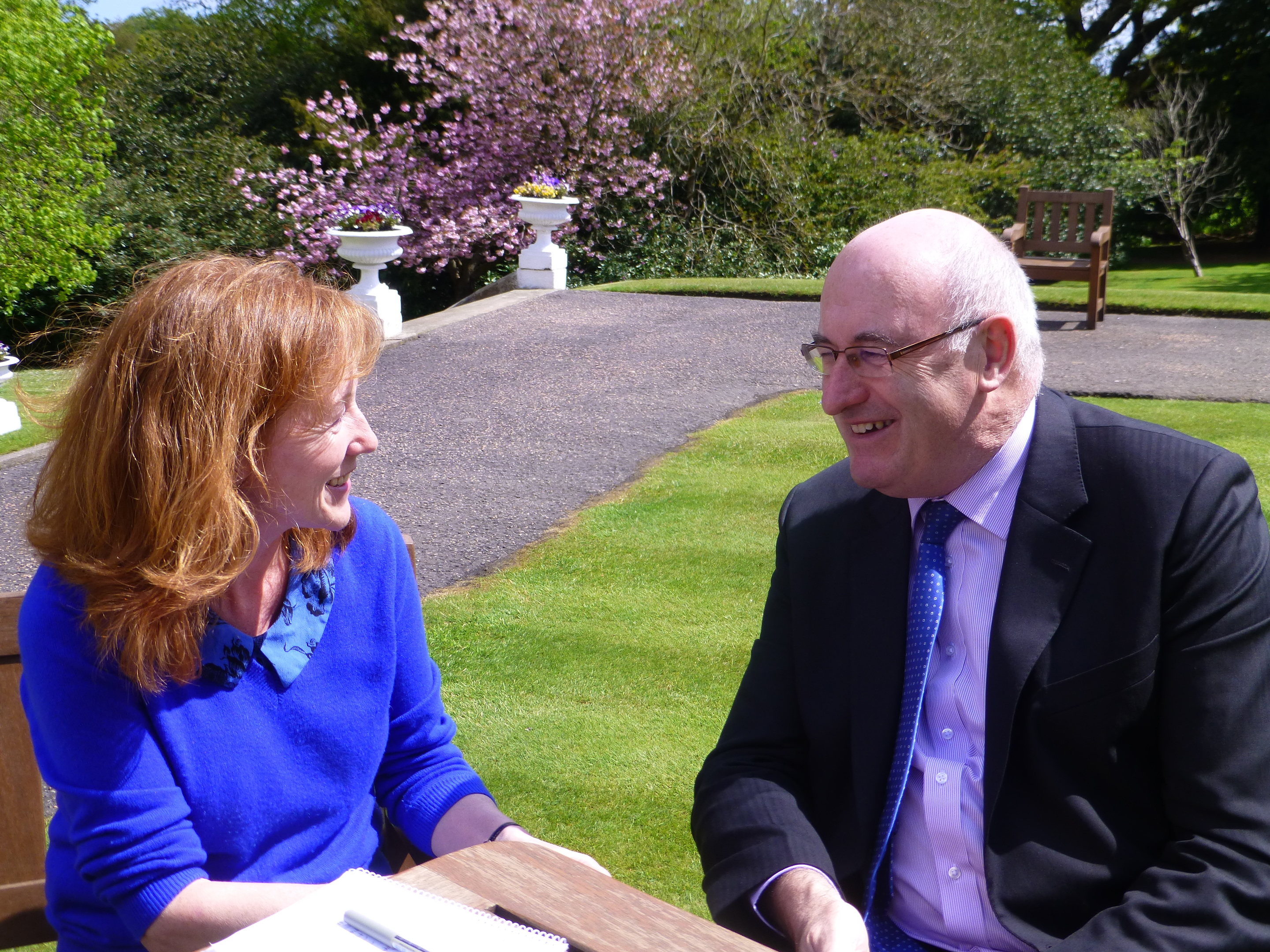 EU Farm Commissioner, Phil Hogan made a flying 24 hour visit to Scotland this week, during which time he passionately argued the case for the UK to remain in Europe and met First Minister Nicola Sturgeon and new Rural Affairs cabinet secretary, Fergus Ewing.
He also took time to give Courier Farming Editor, Nancy Nicolson an exclusive interview.
She began by asking Mr Hogan about the simplification of the CAP, the promise of less red tape, and his commitment to introduce more proportionate penalties for minor mistakes in form filling.
A You're already seeing them this year. I've reduced the penalties by 50%, which is particularly helpful for small and medium sized farmers. We've introduced a new measure of helping farmers to be able to comply with schemes by having the help of officials,to prevent a preliminary check. When they lodge their application they can be checked and minor errors can be corrected before they're formalised on the system. The yellow card system to prevent a preliminary check and the reduction of penalties are following though what I committed to do at the Royal Highland Show last year.
Q At the Royal Highland Show last year you said you were happy with way Scottish farmers were farming environmentally, yet we seem to be seeing more and more environmental requirements.
A The CAP is an economic, environmental and social policy, so a balance needs to be struck and the environment is very important and no one knows that better than farmers.
Q But it is a mixed message, is it not?
A No, it is not a mixed message because farmers are the custodians of the environment and we have to pay them for services to society and protecting our landscapes and environment and they're doing a very good job. We have to extend the role and remit of the farming community in doing more.
Q This week we've seen another delay in approval for glyphosate in Europe. And farmers' access to neonics is being reduced. Are arable farmers going to have the tools to do what want to do their work in future?
A Arable farmers will be in a position to do what they want to do but it needs to be science based and there's a political dimension at the Council of Ministers. These matters will be resolved to the satisfaction of arable farmers in due course, but it is an issue which is sensitive in some members states, not necessarily in Scotland, but in countries like France.The Minister of Environment there has a particular difficulty with the re-approval of this product but other member states will have their say as well.
Q The EU seems preoccupied with getting farmers to be market orientated. Meanwhile we're seeing huge disruption in commodity markets, farmers going to the wall, particularly dairy farmers. What hope can you give them that it's worth hanging on?
A The European Commission can't do anything without the approval of Member States Ministers of Agriculture, or the Members of the European Parliament and we have to implement the legislation they approve. So in the market area , back in far as 1992, we decided we were going in market orientation. We give an income safety net, an average of £27,000 to each farmer in Scotland, to work them through this very difficult situation . And I have invoked a lot of new measures like private storage aid, increasing intervention levels and new financial products to help the dairy sector.
But of course we need to continue to get new markets. They are increasing at at rate of 13% this year, but we need more markets. We have 5million tonnes of surplus milk in EU at moment and we have to create a situation where we find a balance between supply and demand. It will take time.
Q Some farmers don't have time. How long do they need to wait?
A I think if farmers froze production and applied for financial incentives to do so through the Government, and collectively if cooperative look at the scheme we introduced, that would be one step. I will look at the interviention levels to put more product off the market and into storage and find new markets for them. But we have to work through this issue as we did in 2009 when we had milk quotas.
Q Is there anything that's good or rewarding about your job at the moment, Commissioner? Or is all doom and gloom? Are you beleaguered by all the problems?
A No. But when I became a member of the Commission, the first thing that hit us was the Russian ban on food products which wiped out at stroke of a pen 5.3Bn euros of export. Global overproduction of milk, a Russian embargo are two difficult issues to overcome early in my term. But I'm enjoying the job. I'm working with farmers, for farmers.