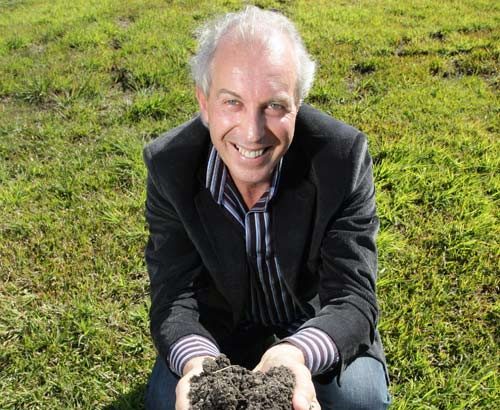 An Australian soil health evangelist with a global following will be in Dundee next week to deliver his first seminar to Scottish farmers.
Graeme Sait, who has addressed governments, retailers and farmers in 33 countries in the last 12 months, is a soil guru who believes that increasing the humus content in agricultural land would improve food quality, cut fertiliser use and help reverse climate change.
He says his mission is to help farmers put the taste back into food and, in so doing, build soil humus and become more profitable.
"Everything comes back to the soil," he said ahead of a seminar in Cheshire.
"We've taken and taken from the soil and we're knocking it out with toxic chemicals which we're increasing every year. Yet every year the pest and disease pressure is increasing. We need to waken up to what we're doing."
Mr Sait, who has been on a 30-year mission to change thinking on soil and nutrition, said Scotland was uniquely placed to benefit from a move towards what he described as 'regenerative' agriculture.
"Despite a steady decline in organic matter over recent decades, Scottish soils still contain more humus than in many regions of the world," he said.
"There is a base level of fertility still present, where strategic sustainability initiatives could prove game-changers for food producers. The goal here is to produce food with forgotten flavours, extended shelf-life, less chemicals and greater nutrient density. Europe is crying out for better, cleaner food and Scotland is perfectly positioned to make the most of that. Farmers can reclaim their profitability and satisfaction while helping to counter climate change in the process."
Mr Sait said he had advised the Woolworths supermarket chain in South Africa on sourcing foods with 'forgotten flavour' which resulted in huge demand and a reduction in fresh fruit and vegetable waste from 17% to 7%.
"I'm now speaking to Marks&Spencer, Waitrose and Sainsburys about a move in that direction. I believe it's the path to go down," he said.
However Mr Sait emphasised he was not speaking about conventional organic farming.
"That's an old school concept which is based on less inputs and less yields. I'm talking about a hard science approach which involves soil testing so farmers do better even in the first year through using sound agronomy principles."
He condemned the widely-used agrochemical glyphosate and insisted that farmers needed to devise strategies for when it was no longer available.
And he said his approach was holistic and extended to helping farmers improve their own health.
The two-day course, soil health and your wealth takes place on November 15-16th at Piperdam, Dundee. Tickets cost £180 + VAT. For information contact pearl.baxter@kellyaccountants.co.uk