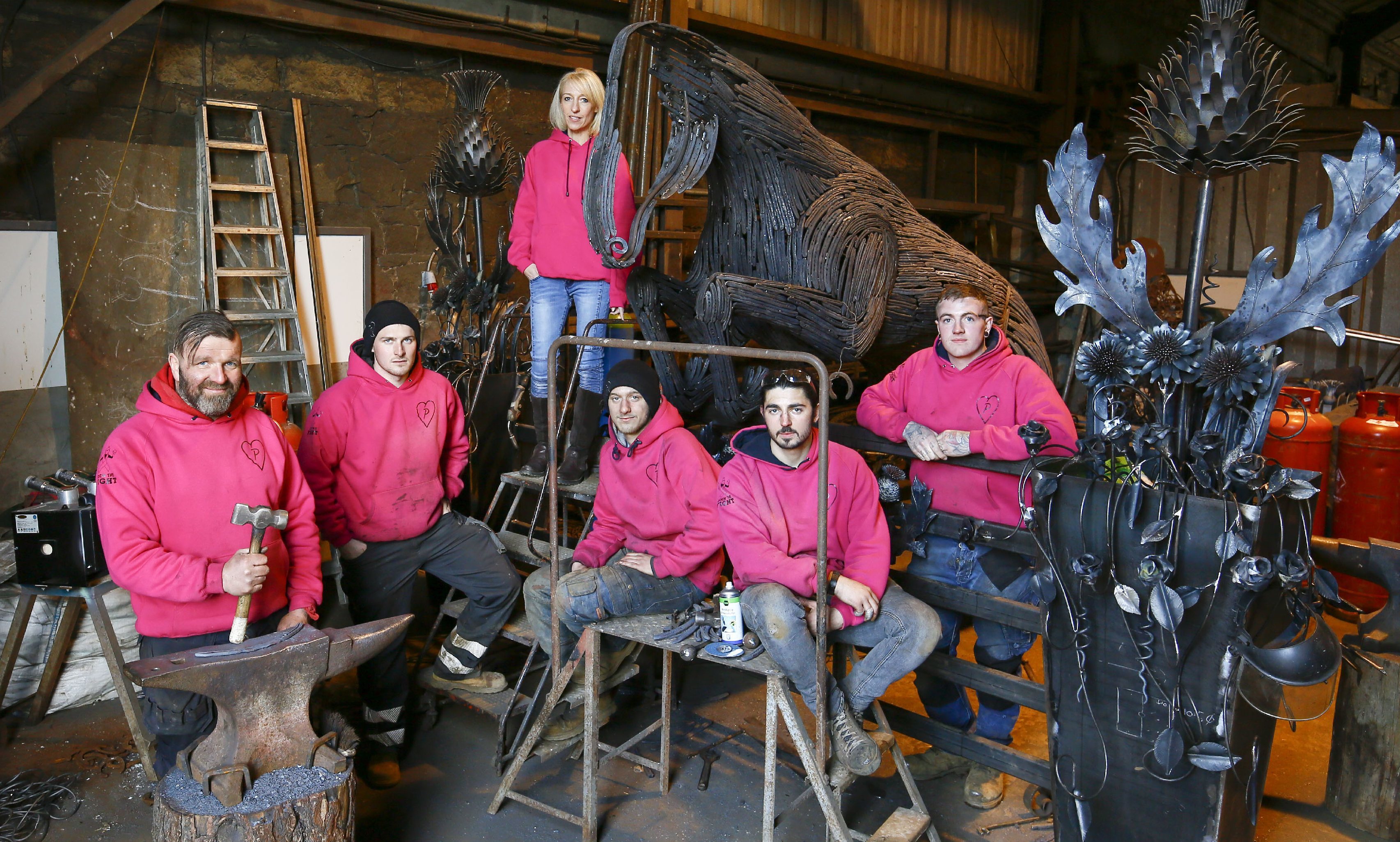 When William Wallace was hung, drawn and quartered, his remains were dispersed to Perth, Stirling, Newcastle and Berwick to spread fear among Scots and show the price of treason against the British monarchy.
King Edward believed the humiliating death would ensure Wallace was quickly forgotten, but the gruesome tale has since become enshrined in Scots history and was even the basis for the Hollywood blockbuster movie Braveheart during the 1990s.
Now, award winning blacksmith and metalwork artist Kevin Paxton has drawn inspiration from the legend to create his latest masterpiece.
It's easy to see why Kev has become a firm favourite among the farming community for his magnificent ArtFe animal sculptures – not least the herd of 175 Highland Cattle that he and his team crafted to commemorate the Royal Highland Society's recent anniversary – and his forge at Ransfield Farm is always alive with activity and banter.
But this latest double project – with one piece destined for a private buyer and the other for Kev and his team to keep and take on display around the country – is shaping up to be something even more special.
"After his grisly demise, William Wallace's remains were dispersed to areas in Scotland and northern England where agriculture was, and still is, the lifeblood of the local communities," Kev explained.
"So we set out on a mission to gather machinery that has been used to toil and work the land in those four areas and bring it back together to central Scotland to craft William and Wallace – two full scale Clydesdale horses that will be the centrepiece of a project we are literally just about to start on."
Thanks to farmers and landowners, Kev has now amassed enough ploughs, tines, mould boards and other scrap agricultural metal to get started and the Clydesdale sculptures will breathe new life into more than a tonne and a half of farm machinery parts.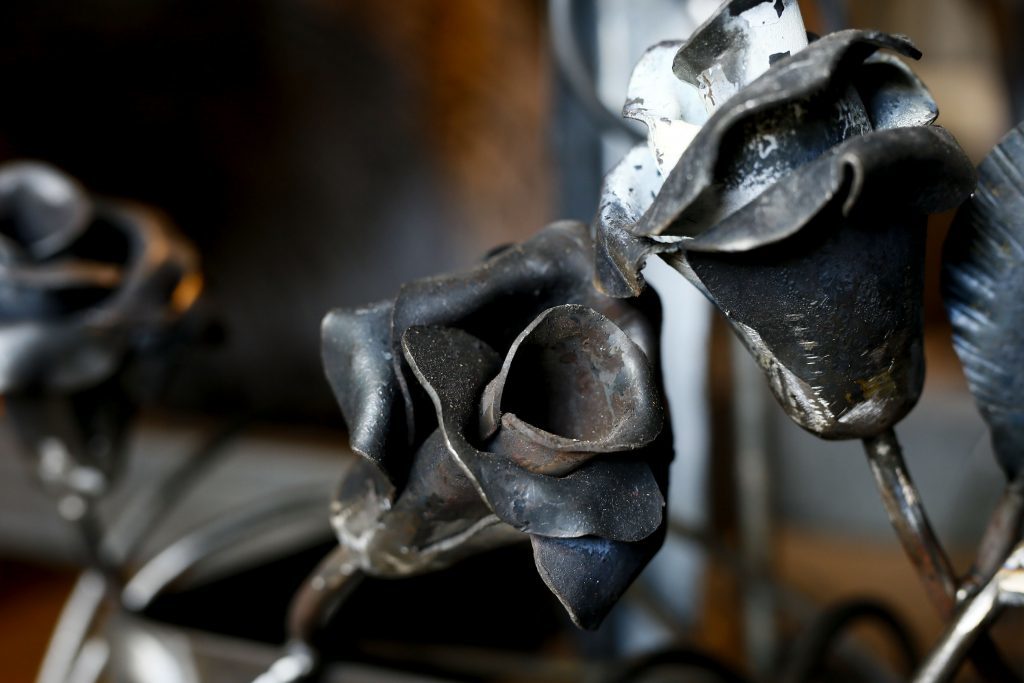 "Obviously I'm hugely passionate about all of the sculptures that evolve from the forge here, but these two really are going to be spectacular. Once they are complete they will each stand at around 20 hands high.
"They have been designed to really exaggerate the raw power and ability that a horse has and both will be shown as they would have been seen when traditionally working the land," Kev added.
"All the elements of the metalwork build have been intricately linked to everything that helps Mother Nature and the cycle of farming. The pieces will be crafted not just from agricultural parts but from metal topiary, leafs, bees and even butterflies."
The first of the two animals, William, which will be sculpted pulling a single furrow plough, is destined to become a centrepiece at one of Scotland's premier wedding venues. Wallace, which will be turned out drawing a traditional farm cart filled to the gunnels with real flora and fauna, will accompany Kev's ArtFe team on display to flower shows such as Chelsea and Hatton Park and will also make an appearance on their regular trade stand in the Outdoor Living Area at the Royal Highland's Ingliston showground.
With no agricultural background, Kev's route into the smiddy wasn't entirely conventional: "I wasn't remotely academic at school, in fact I was hardly ever there. I just wasn't interested in learning from a text book," Kev explained.
"I left as soon as I could when I was 16 and when I realised I needed some kind of employment, because I'd always been interested in metalwork and was pretty artistic, I walked into my local forge and asked if they would give me the chance of a job. I told them I would be willing to do pretty much anything.
"Everyone has a talent – but I feel I was exceptionally lucky that I found what I was good at. It's very hard graft, but it has come naturally to me and it doesn't feel so much like work when I enjoy it that much," Kev added.
Although Kev's career, initially as an apprentice and then when he set out on his own, was founded on traditional village blacksmithing – creating gates and ornate railings – over recent years his architectural and artistic flair meant his sculpture work also naturally gathered apace.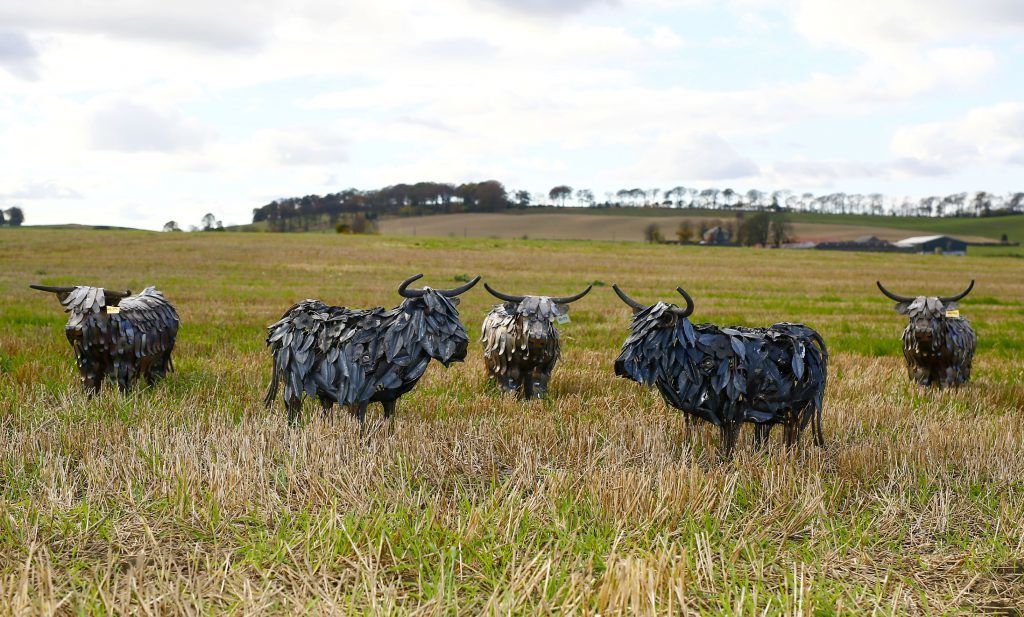 Life-size metalwork cattle, sheep, dogs, stags, lions, horses, unicorns and even giraffes will all have been born from the forge at Ratho – taking literally hundreds of man hours from Kev's team, which includes Cat Stops, Angus Megarry, Deek Barnett, Paul Cameron and the latest recruit Robbie Pollock, to mould, hammer, weld and galvanise.
"There's nothing more rewarding than seeing the metal sculptures evolve. I'm also pretty stubborn – if someone tells me you can't do something then I will always challenge myself to try. I always like to push the boundaries," Kev added.
Whilst the team have been involved in some pretty large projects – including the creation of two giant thistles to greet travellers coming and going from Edinburgh airport and a current project to forge a three-meter high monument of world number one and Scots sporting hero Scott Brash and his horse Hello Santos from Borders' horseshoes for the Bonnie Peebles town group – they also all take huge reward from small scale public involvement and from a sense of community spirit.
"I love public art, it makes me incredibly happy," Kev said.
"Not everyone will be able to buy one of our pieces and take it home but if something that we've made can even just raise a smile from a person when they see it in a public garden or at a show on display, that it makes it all the more worthwhile."