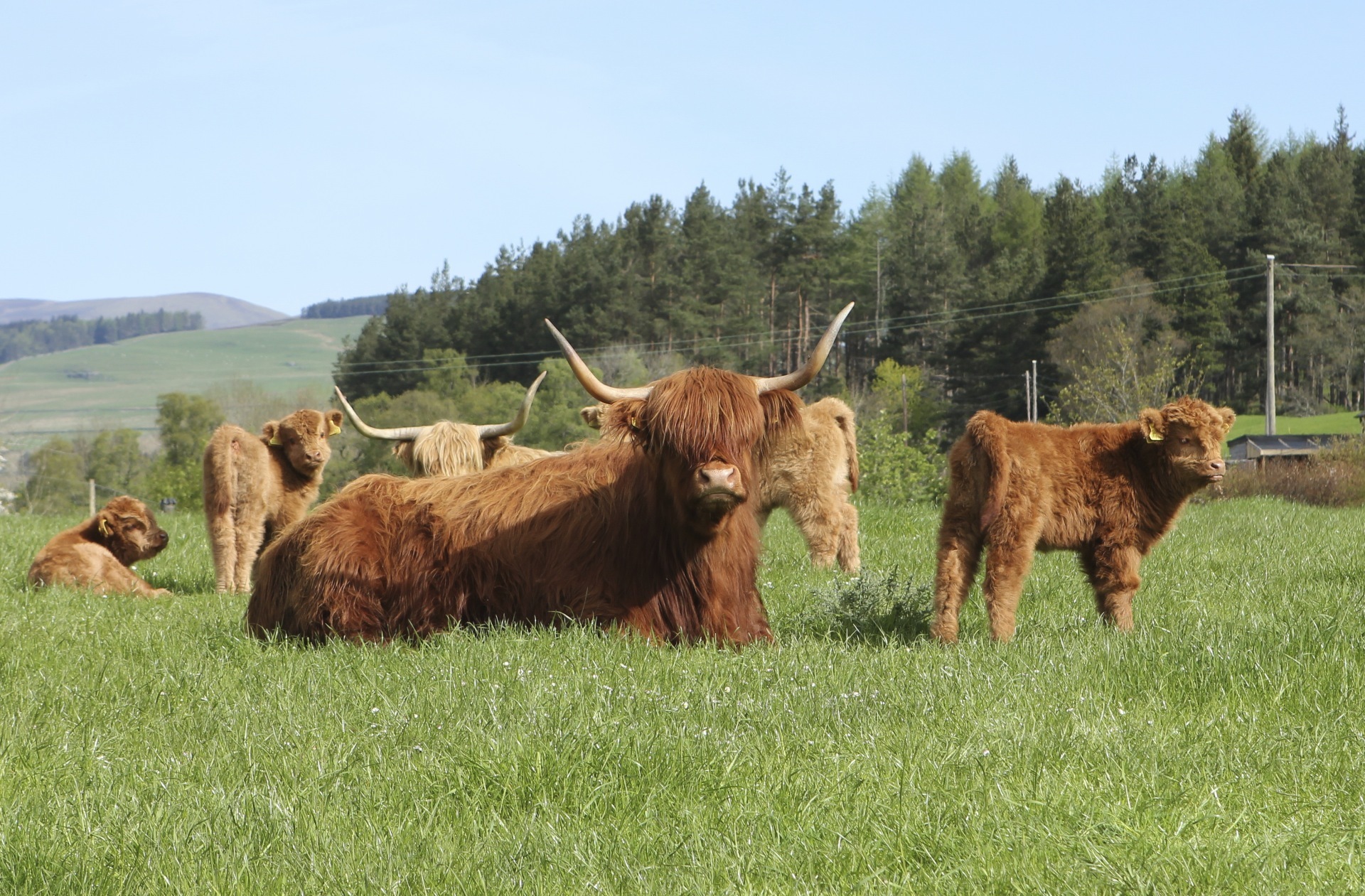 Highland cattle enthusiasts have been invited to an open weekend  in the hills of Strathardle next month.
Sir Michael and Lady Sally  Nairn of Pitcarmick Estate have organised a charity event on Balnabroich farm which will include a Highland cattle show, farm tours, garden and pinetum walks as well as a dinner and ceilidh in the evening.
The Nairns founded the Balnabroich Highlander herd  in 2010 after considering Galloways and Blue Greys as options for their outwintering cattle.
"We were attracted by the good mothering ability and the hardiness of the Highland and also by the fact that is iconic and fits in well with the long history of cattle rearing in Strathardle," said Sir Michael.
"The Highland cow is ideally suited in terms of size and weight to our upland environment. She is not as heavy as make a mess of our rough grazing and not so greedy as would eat us out of house and home. Our calving is close to 100%. We are also very impressed that the hardiness and mothering ability follows through to the first crossing with the Shorthorn."
The couple intended to start with just a bull and two in-calf heifers, but within a short time they bought a complete herd of 55 cows .
Their Highlanders are now run in two separate herds with 12 of the best cows kept for pedigree breeding.  Heifers from this elite herd  won first prizes at the Royal Highland Show, Perth Show and Dalmally in 2016 and collected the senior female and  overall senior ticket at the Stars of the Future event.
Another 30 Highland cows run with a Shorthorn bull to provide replacement heifers for the farm's 100  commercial cows.
Lady Nairn said fellow breeders have shown great support for the event over the weekend of September 8-9.
"Most will arrive on the Friday evening in time for a hog roast. The show is on Saturday morning with  Archie  McArthur from  Ormsary judging and David Leggat providing the commentary," she said.
Regular farm tours will take visitors to the farm's hill ground on a fleet of eight tractors and trailers and 240 people are expected at the Saturday night dinner  and ceilidh in the steading.
The event is being run in aid of PATCH, a charity chaired by Sir Michael Nairn, which aims to support 24/7 palliative care for patients in hospital and at home.
Admission for the open day is £5 per person with children free. Tickets for the Saturday evening are £30 for adults and £15 for children.
nnicolson@thecourier.co.uk