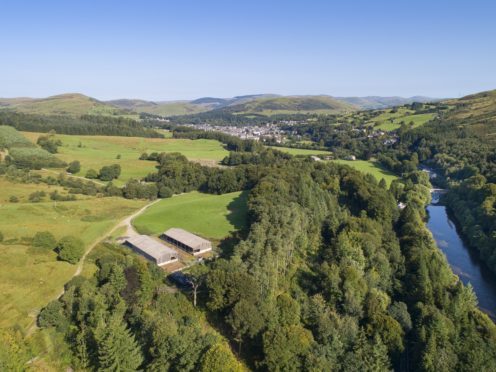 Scottish Land Commission chairman Andrew Thin has described Buccleuch Estates' treatment of a tenant farming couple as "unreasonable" in the ongoing dispute over ending the tenancy to make way for trees.
An application for planting of forestry on the upland ground previously managed for sheep by David and Alison Telfer is expected to be submitted within the next two weeks.
The Telfers have until November 2019 to leave the rest of the farm. However, Mr Thin has intervened, calling for the Telfers to be allowed to farm for another four years, until they reach retirement age.
He said: "That seems a perfectly reasonable thing to ask for. We don't have any authority to force the issue but it seems a reasonable request. I haven't seen a reasonable explanation as to why Buccleuch are not willing to do that."
Mr Thin's comments were endorsed by Scottish Tenant Farmers Association director Angus McCall, who said landowners like Buccleuch should think twice before ignoring criticism by the land commission, as it was not the first time their management style has been called into question.
He added: "It is high time that Buccleuch Estates realised the decisions they make affect the lives of individuals who have been living and working on estate land and should not just be treated as pawns in the land management game.
"The Duke himself, his CEO John Glen and their factoring team have already been harshly criticised by the local community at a meeting in February to discuss forestry proposals on the Eskdale and Liddesdale Estate. These proposals now seem to have been replaced by a policy of selling the land, much of it with sitting tenants on short-term tenancies, thus leaving removing tenants to make way for trees to the new owners."
Mr McCall added: "The incentives for planting trees are so good, landowners are looking at forestry as a preferred option.
"However most landowners are a bit more circumspect than Buccleuch and wait until a tenancy comes to an end then plant trees."
A spokesman for Buccleuch said: "Earlier this year we agreed a new lease on the low ground until November 2019, taking (the Telfers) 21 months beyond the end date of their tenancy agreement and we believed this to be a fair and reasonable approach.
"Given our intention to sell the farm, and the fact it would be grossly unfair to many other short-term tenancy holders, it has not been possible to extend the tenure of the farm further."
nnicolson@thecourier.co.uk