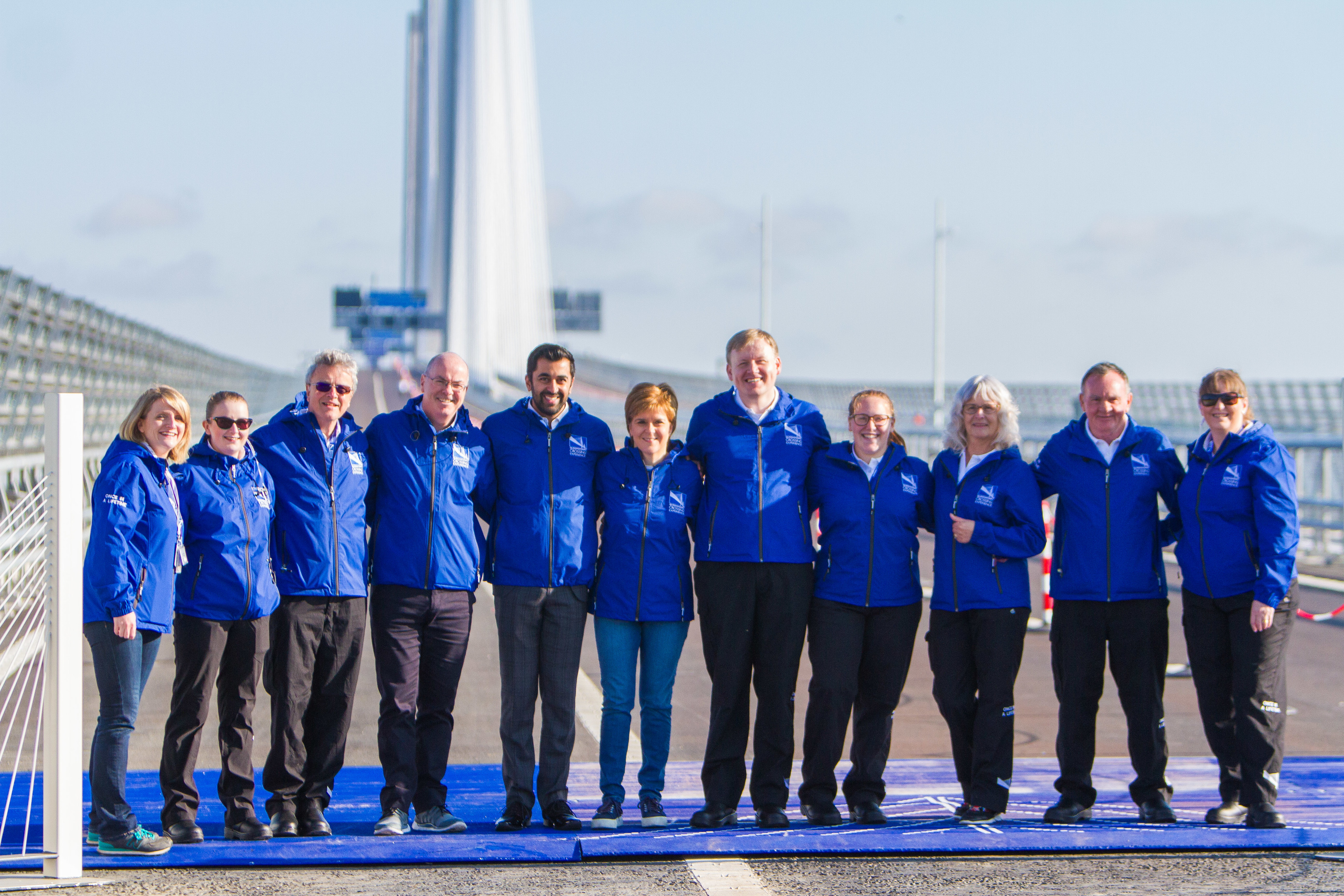 People from Tayside and Fife were among the first of more than 50,000 people to begin walking across the new Queensferry Crossing this weekend.
Families, couples and friends of all ages took to the new road bridge over the Firth of Forth for what has been hailed a "once in a lifetime opportunity".
The £1.35 billion crossing has no pedestrian walkway but has been closed to traffic in preparation for the official opening by the Queen on Monday.
Thousands were selected from an online ballot to walk across on Saturday and Sunday.
The first person to set foot on the north side was seven-year-old McKenzie Webster from Thornton, who was joined by his big brother Mitchell, 11, and grandmother Bertha Webster.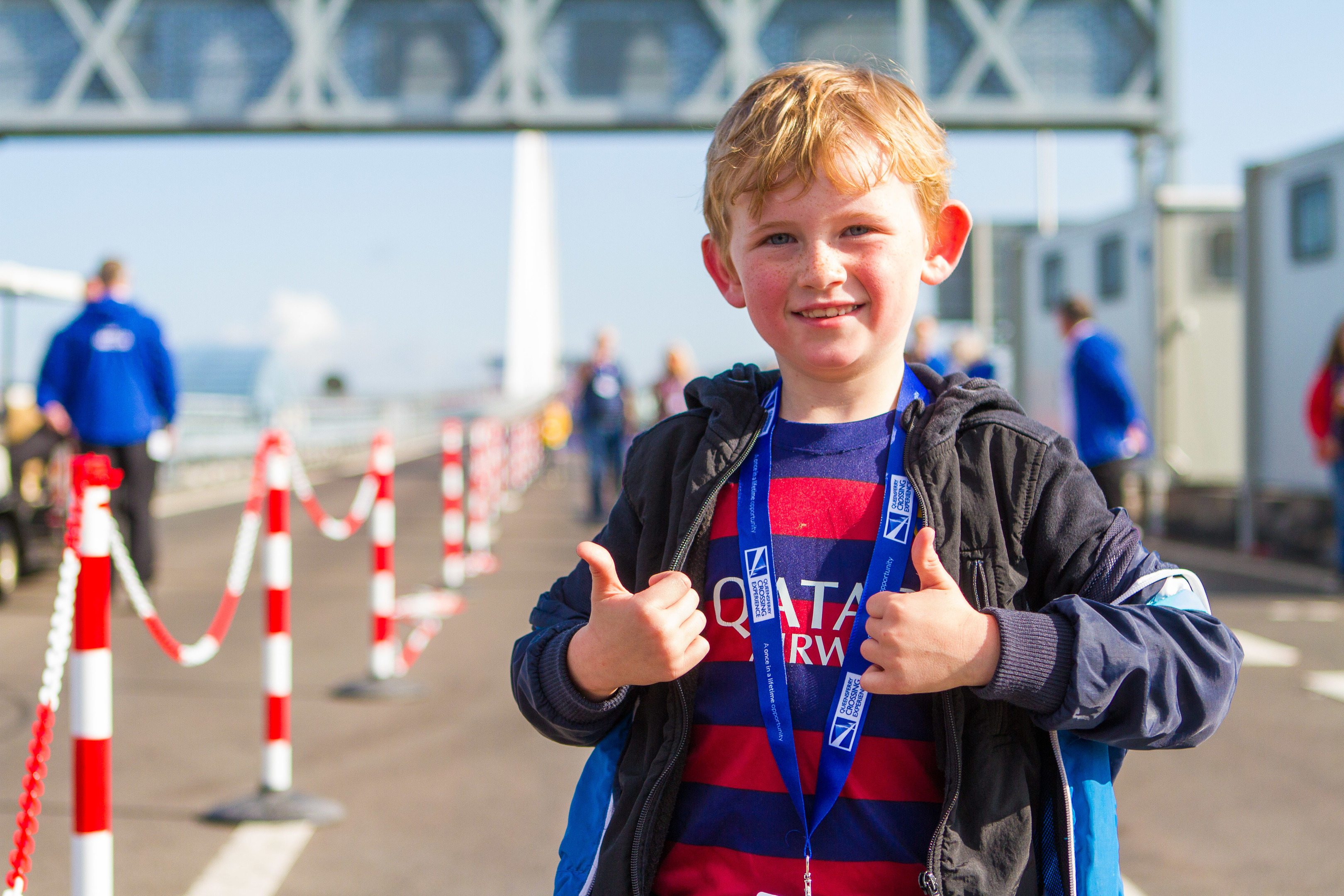 The Denbeath Primary School pupil described the experience as amazing.
"He was the first to step onto the bridge from that side and the first child to get all the way across," said Bertha.
Some of those walking had poignant reasons for taking part in the experience, including Kenny Burns from Coaltown of Wemyss.
His late father James was among the first to walk across the Forth Road Bridge when it opened 50 years ago and he wanted to honour his memory by crossing the new 1.7 mile structure.
"He was a policeman with Fife Constabulary and that's why he got to cross," he said.
"Today is in memory of him."
Peter and Sarah Hopkins from St Cyrus were keen to be involved as their daughter Stephanie helped build the crossing.
The former Mearns Academy pupil graduated from Heriot Watt University with a first class honours in structural engineering and helped create the windshields running along each side of the bridge.
Although Stephanie won't be walking until Sunday, her proud parents were joined by her grandfather – retired engineer Edward Bird who travelled from Dorset especially for the occasion.
Mum Sarah said: "It's an incredible engineering feat.
"We've watched it grow as we travelled to Edinburgh to see Stephanie and to see it finished is amazing."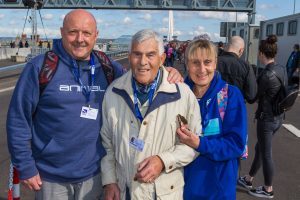 Others who enjoyed the opportunity just wanted to experience a bit of history and have fun.
Tammy and David Allford from Tayport took their daughters Robyn, 11, and six-year-old Martha and thoroughly enjoyed themselves.
"You could probably roller skate across because it's nice and flat," joked Tammy.
Martha now intends to talk about her day out at her class show and tell next week.
"We've taken lots of photos and we're going to build a bridge and make a poster about the experience," Tammy added.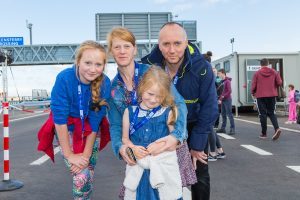 Joining the successful ticket-holders were First Minister Nicola Sturgeon and Transport Minister Humza Yousaf.
Ms Sturgeon said: "Excitement has been building steadily in recent weeks as we have watched this hugely ambitious project near completion.
"It's only right that the public get the chance of an up close and personal look at this amazing structure so they can see the stunning engineering and views for themselves.
"Walking across the new Queensferry Crossing will be a once in a lifetime experience, before it is officially opened to traffic and pedestrian access continues on the Forth Road Bridge."
The new bridge will eventually have a 70mph speed limit, although an initial 40mph limit will be imposed to take account of driver distraction.
Most of the traffic from the Forth Road Bridge will be directed onto the Queensferry Crossing and the old bridge will become a public transport corridor.