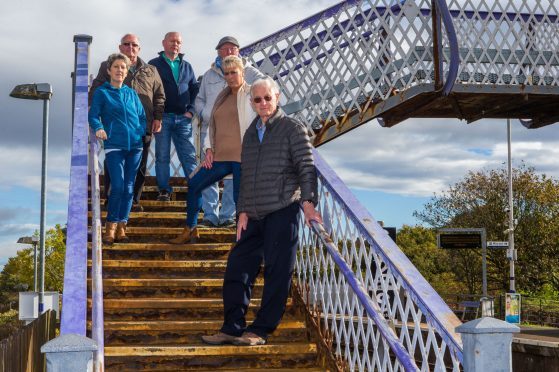 Cardenden community leaders fear a local railway bridge may need to be closed because it is unsafe.
The town's community council is calling for Network Rail inspectors to examine the footbridge that crosses the line at the local station, claiming that it is potentially dangerous.
The group said rusting pieces of metal can be seen falling off the walkway when under heavy strain, and have called for the firm to accelerate an assessment of the structure.
Though due to take place next year, the community council says that holding out for several months may be too long to wait.
David Taylor, secretary of the community council, said: "It has become a health and safety issue.
"I think it has rusted when they've put salt on it to stop people from slipping in winter. We have reported it to Network Rail but so far they have ignored us."
Located on the popular Fife Circle line, more than 60,000 passengers catch services at Cardenden railway station every year.
Despite a steady stream of improvements at the station over the years, there is evidence to suggest the footbridge has seen better days, with signs of decay on its steps.
Local councillor Rosemary Liewald said that concerns about the bridge were first expressed two years ago but that these had grown considerably given an increase in the rate of deterioration over the past six months.
Suggesting its condition could even result in it being closed, she said: "As people are walking up the bridge you can see bits of debris and rust falling off.
"The last message we had from Network Rail was that it would be looked at in 2018.
"We have a good relationship with them and don't want to lose that (but) I would like to see some sort of serious structural examination, and that might require the bridge to be closed in the meantime.
"We are not engineers but we do have serious concerns about the bridge."
A Network Rail spokesperson told The Courier three weeks of refurbishment work is scheduled to begin in January.