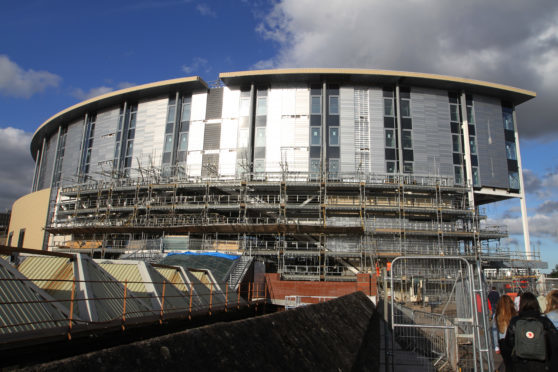 A Dundee disability charity who campaigned for a Changing Places toilet at the city's new train station said they were kept in the dark about progress on the facility.
PAMIS had asked rail bosses to provide the space, which has more room and equipment than a standard accessible toilet and is suitable for people with profound physical and learning disabilities.
ScotRail said it would look into whether there is scope to provide the facility on the platform.
However, a PAMIS spokeswoman has now revealed the organisation has not had a meeting with anyone from ScotRail or Dundee City Council since November.
She added that the organisation was finally contacted on Thursday — only after speaking to The Courier about their concerns.
Maureen Phillip, director of the Tayside branch, said: "We had a meeting back in November when we were told about the possibility of a feasibility study.
"Since then we haven't had a meeting with anyone about it, we were just briefly told it would happen.
"We weren't approached for advice on how to build such a facility.
"Of course we welcome the fact that Changing Places are now being considered, but these facilities really should be a given.
"I wonder whether there are feasibility studies into whether to provide standard public toilets?
"Being able to go to the toilet is a human right."
North East MSP Bill Bowman called the situation "embarrassing" and called for the council to commit to making sure Changing Place-standard toilets are considered at the design stage for any new public buildings.
He added: "After lobbying ScotRail and Dundee City Council to put in a toilet of this kind, and asking questions of the minister in the Scottish Parliament, it seemed to me both bodies were at an impasse.
"I have been told that a feasibility study, which no doubt made a very good photo in the press, came out of the blue.
"It now turns out that PAMIS have not been involved.
"I would have thought asking an expert who lives on your doorstep, who also happens to be a charity, would be best practice to get this right.
"Maybe it would be best for Dundee's new public buildings to get it right at the very start, instead of trying to cover up embarrassments with PR exercises."
PAMIS is a member of the Changing Places Consortium, which campaigns throughout the UK and beyond for CP toilets to be provided in all public places, including city centres, shopping centres, railway stations, airports and leisure complexes.
Dundee City Development Convener Lynne Short said: "There's been no impasse.
"The feasibility study was decided after a meeting with PAMIS.
"It was nothing to do with a PR exercise, I was at the station when they were unveiling the new waiting rooms and I was able to talk about the feasibility study.
"These things do take time — this was not a publicity stunt."
A Scotrail spokesman said  PAMIS have been — and will continue to be — involved.
A ScotRail Alliance spokesperson said: "We will be undertaking a feasibility study to investigate how we could bring a Changing Places facility to Dundee station.
"We will be working closely with PAMIS to assess how these solutions suggested by this study best meet the needs of our customers."