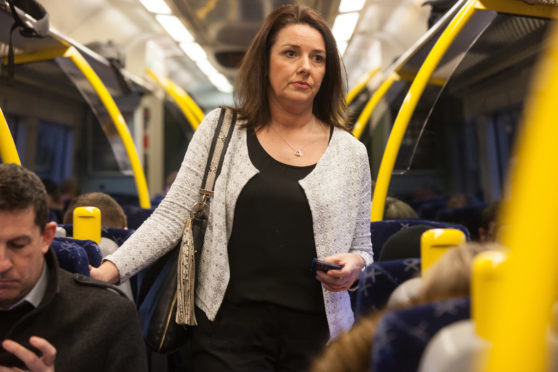 Fed up Fife rail commuters have called for an end to travel misery caused by unreliable services.
They have the backing of Kirkcaldy and Cowdenbeath MP Lesley Laird, who questioned ScotRail's ability to "turn around its performance" before the contract with operator Abellio runs out in 2025.
Action group Fairness for Fife Commuters is among those campaigning for an end to skipped stations and cancellations.
Group member June Paterson, who commutes from Kinghorn to her work in Edinburgh, said: "I pay £12.98 a day for a return ticket between Kinghorn and Edinburgh and regularly have to deal with overcrowded trains, skipped stops and cancellations.
"On two recent occasions the skipped stops meant I had to pad a £10 taxi fare home from Kirkcaldy and more money to my childminder."
Earlier this winter, passengers at Fife stations were inconvenienced when a number of trains skipped stops.
ScotRail said stops were skipped on "very limited circumstances" and the practice was "necessary to minimise further disruption for customers across the whole network".
Transport minister Humza Yousaf is considering introducing fines for rail operators who miss stops.
Mr Yousaf will consider steps for improving the rail network once the findings of the ongoing independent Donovan review, into train service performance, are known.
Mrs Laird said: "Humza Yousaf said recently he had every intention of seeing the Abellio contract through to 2025 but what I'd like to ask him this. How much grief does he expect passengers to endure until then?
The Fife MP said residents had continued to send her feedback about ScotRail services.
"Their feedback and ScotRail's shocking performance figures hardly fill me with confidence that the rail operator has or will be able to turn around its performance," she said.
"It hardly needs saying that this is an issue which can't be ignored. If improving services means using a break clause in the Abellio contract in 2019, so be it. That option should always be on the table.
"It's only by bringing the railways back into public ownership that rail services will get the investment they need and passengers will be able to depend on a reliable service, decent rolling stock and fair fares."
A Transport Scotland spokeswoman said: "In terms of train performance, it has already been well documented ScotRail is below the standard the Scottish Government requires and passengers across the country, including Fife, expect."
ScotRail said more trains would be deployed to Fife routes following the electrification of lines across the central belt and the introduction of new high speed trains, with the promise of six carriages on more peak services.
A spokesman for Abellio ScotRail said: "The introduction of these trains and the electrification of the central belt will allow us to make best use of our existing fleet and make positive timetable changes in Fife.
"Missing out stations is never done to meet targets. If a train fails to stop at a scheduled station then it automatically fails to meet our very challenging targets.
"Customers who are delayed by 30 minutes or more can claim compensation under Delay Repay by visiting our website."