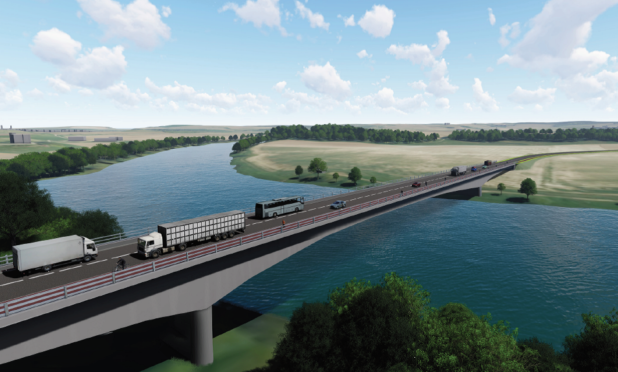 The cost of a new River Tay crossing has climbed to £120 million, it has emerged.
Ambitious designs for the long-awaited Cross Tay Link Road were unveiled to the public yesterday.
Residents are being given the chance to help shape the project, before a planning application is submitted next year.
The price of the new infrastructure was put at around £113 million when councillors were asked to approve the route in December 2016.
The estimated cost has now risen by £7 million. The new price was re-evaluated to account for construction inflation when an application was submitted for Tay City Deal funding.
The scheme will be largely funded by Perth and Kinross Council, with the remaining amount coming from the UK and Scottish Governments through the Tay Cities Deal.
People got the first glimpse of the latest designs on day one of a consultation roadshow in Perth Concert Hall.
The plans show how the new bridge will cross both the Tay and the Perth to Inverness railway line.
The project will inclide a realignment of a mile-long section of the A9 between Perth and Luncarty, as well as a new four-mile link road connecting the A9 with Stormontfield Road, A93 and A94.
The project promises improved access to Scone Palace and Perth Racecourse and aims to remove traffic from the city centre.
Roads infrastructure manager Jillian Ferguson said, if all goes to plan, construction will begin in 2021.
"Ground investigation work is under way and should be completed by the end of June," she said. "We plan to go to council later this year for approval to compulsory purchase the land required.
"This process can take a bit of time, because if there are any objections then it will need to go to an inquiry."
She said: "Once we've done all that we would hope to be on site in 2021.
"All of this is subject to funding, of course, and we would hope to get an announcement on that in the summer."
The proposals unveiled on Monday were refined following discussions with local landowners, SEPA and Historic Environment Scotland.
"We are going into consultation now to give the general public the chance to give us their feedback," she said. "We are particularly keen to hear what people have to say about potential pedestrian and cycle routes.
"So far, the feedback has been mostly positive. The most significant thing for people seems to be the improvement this will have on traffic in the city centre. We have a legal requirement to address air quality and that has been a main driver of this project."
The consultation continues on Wednesday, from 4pm to 7pm, at Luncarty Memorial Hall and on Monday, May 28 from 2pm to 8pm at the RDM Institute in Scone.