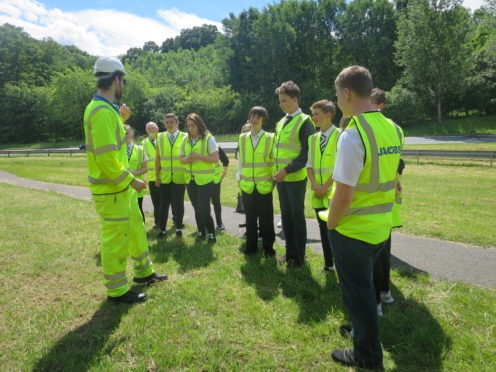 New hotels have been built for a different kind of commuter on the A9 – bees.
Pitlochry High School pupils crafted the boxes at school and helped install three of the 30 now dotted along the roadside.
It is hoped providing solitary bees – which do not produce honey – with a resting place will help them pollinate plants around the A9 and improve biodiversity.
The initiative was set up by Academy9, an educational programme linked to the £3 billion project to dual the A9 between Perth and Inverness.
Jo Blewett, A9 dualling programme manager for Transport Scotland, said: "The creation of bee hotels along the route of the A9 dualling is a great example of the many initiatives currently underway as part of this significant investment in Scotland's infrastructure.
"Dualling the A9 is not just about building a road. The programme provides us with an opportunity to educate young people in aspects of STEM (science, technology, engineering and mathematics) subjects which are relevant to the huge infrastructure project taking place near where they live and learn.
"Getting involved in ecology and the environment is certainly part of that and we have been delighted at the enthusiasm shown by the pupils when designing, building and erecting the bee hotels while developing their understanding of the importance of these pollinators in our everyday life."
Pitlochry High School students built the hotels in a craft and design class, using recycled wood.
Thirty of them have been installed between Pass of Birnam and Glen Garry, with plans for more as the dualling project continues.
Eddie Ross, of BEAR Scotland, said: "We're delighted to be involved in such a fantastic project which improves biodiversity in our trunk road side verges.
"We support environmental initiatives whenever possible. It's been great to work with the pupils from Pitlochry High School and to help spread the message about the importance of looking after our environment."