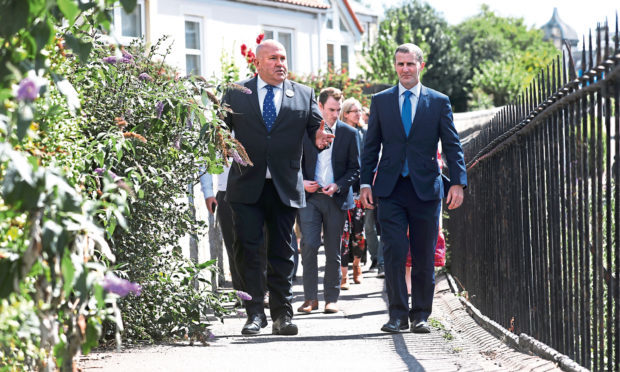 Sir, – It must be gratifying for St Andrews Rail Link campaigners that Scotland's new Transport Secretary sees fit to fund an independent appraisal for the construction of a new rail link into St Andrews despite the existence of the nearby Leuchars main line rail station supported by a regular 10-minute bus journey between the station and the town.
A Scottish Transport Appraisal Guidance (STAG) evaluation will consider all forms of transport, not just rail, and the introduction of electric buses to the route together with improved and upgraded road connections could be a positive outcome of their appraisal.
The construction of a completely new railway line into St Andrews is an extremely expensive and disruptive proposal requiring a new rail bridge spanning the River Eden as well as various cuttings and viaducts through agricultural land.
The proposed new line will adversely impact existing road networks including access to St Andrews Golf Links and The Old Course Hotel.
A new rail station with car parking will have to be built in St Andrews and this will surely increase the flow of road traffic into St Andrews.
Furthermore, there is no evidence that a rail link will actually reduce traffic flow through this historic town as is being hypothesised by the campaigners.
Therefore there is a strong possibility that the much awaited STAG appraisal could result in the St Andrews Rail Project hitting the buffers once and for all.
Allan Chalmers.
7 Links Crescent,
St Andrews.
A fair degree of confusion
Sir, – The recent heatwave has seen an unprecedented number of scare stories in the media, but perhaps the most misleading is about the number of people dying from climate-related issues.
UK Government statistics for England and Wales state that, on average over the last 12 years, 39,000 people die each July versus a much higher total of 51,000 each January.
This suggests that cold outside temperatures lead to higher mortality when compared to warmer temperatures.
The same government department also has a section on excess winter mortality.
For 2016/17 it states that England and Wales had 34,300 excess winter deaths.
The NHS website states that "Cold weather increases risk of heart attack and stroke".
Yet the climate alarmists' solution is to deploy more renewable energy.
But this will increase energy bills, therefore resulting in colder homes.
Geoff Moore.
23 Braeface Park,
Alness.
Garden was a joy to behold
Sir, – I was interested to read your article about Stuart Bannerman (Courier, August 14). who has lived in the same house all his life.
I was disappointed, however, to see no mention of this gentleman's stunning garden.
I used to live nearby and on many occasions spent my time waiting for the bus outside his house enjoying the riot of colour he created throughout the seasons.
Weeds need not dare show their heads in his pristine paradise.
Truly, it was an absolute joy to behold.
Frances Menter.
2 New Road,
Broughty Ferry.
Determining the realities
Sir, – Perusing letters to the editor and editorials are a highlight of my daily breakfast reading, although some of the contents are often politically fictional and misleading to anyone not fully conversant with the facts surrounding many issues.
A recent Courier editorial highlighted Mhairi Black MP's comments on Westminster (Courier, August 6).
It suggested they were merely a soundbite and claimed that she, along with any like-minded colleagues, should simply endeavour to address what they perceive as anomalies.
This would be a straightforward strategy were it not for the fact that any SNP MP, or indeed any co-operation of Scottish MPs, is routinely vastly outnumbered, whatever the issue, making democracy in this Parliament a perennial joke where Scotland is concerned.
This was, to my mind at least, clearly the purpose of Miss Black's comments.
Meanwhile, Joseph G Miller (Letters, August 8) highlights, at long last, the now centuries old problem Scotland has in developing our economy.
Given Scotland is the last colony of the British Empire we have suffered continuously from the loss of the country's assets since Culloden.
This, as Mr Miller correctly asserts, includes the larger employers together with the brain drain of our more able citizens and families.
The underlying year on year activity can only be described as asset stripping, but is never recognised as such and Union supporters never address this problem.
While I clearly agree with Mr Miller's comments I would respectfully wish to clarify, in line with the premise of this letter, that the full facts are not represented correctly.
It is worth noting there are around one million Scottish-born citizens living in England (none of whom was allowed to vote in the independence referendum), while there are just under half a million English-born residents in Scotland, together with a sizeable population of non-UK residents, all of whom were permitted to vote and was shown to skew the outcome.
On the other hand the EU referendum denied the vote to non-UK residents.
Why was this?
Hugh Cameron.
33a Thomas Street,
Carnoustie.
'Snowflakes' call the shots
Sir, – Recent letters have courageously criticised the faux outrage which greeted Boris Johnson's comments on the ban introduced by some European nations to wearing the burka in public.
I must say I thought he was in line with the British liberal tradition in saying what he disliked about this alien cultural "statement" yet he advocating it be tolerated save in a few, defined situations.
The core of his argument was that we shouldn't the ban the niqab/burka even if it is alien to our culture and arguably a symbol of female oppression because to do so would itself be illiberal. But, he pointed out, where communication was necessary between people in an "official" situation (for example a court, classroom or surgery), people must remove their veil and communicate like everyone else.
To the snowflake generation, however, everything is now seen through a multicultural prism so that being tolerant means being non-judgmental and not offending anyone.
But this is profoundly illiberal and seriously curtails our freedom of speech.
Criticism of other cultures on our campuses today results in the absurdity of the speaker being no-platformed or even sacked.
Rev Dr John Cameron.
10 Howard Place,
St Andrews.
Truth hidden among claims
Sir, – I remember a fairly recent feature on BBC's Countryfile programme showing harrowing footage of mountain hares being shot in a mass cull on an east Scotland moorland estate.
The public backlash after the programme went out even prompted a harsh response from the First Minister.
So the latest findings of Dr Adam Watson that our mountain hares have declined to disturbing levels being made public has brought the inevitable denial and counter claim from, among others , land managers of moorland estates expressed via their regular spokesperson.
Goodness knows how anyone is supposed to draw any conclusion from all this.
To settle any doubts as to the truth of the matter I propose that both parties agree to a lie detector test – and chuck in some sodium pentothal for good measure –so we can get to the bottom of this controversy.
So , on the one hand we have Dr Adam Watson, who is an internationally renowned expert on Scottish wildlife, including mountain hares, with a lifetime of environmental and conservation research work under his belt.
On the other, a spokesperson who often champions moorland groups and shooting estates and whose past statements have regularly been suspected of being either inaccurate or misleading.
I know who my money is on .
David Mitchell.
6 Henry Street,
Kirriemuir.