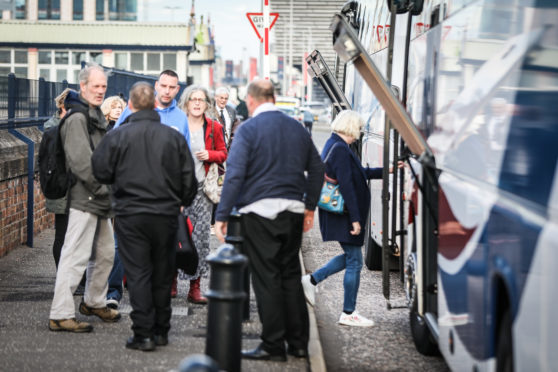 Rail commuters have expressed their frustration after a train derailed in the Mearns, cancelling services between Dundee and Aberdeen into a third day.
Line between #Aberdeen & #Dundee remains closed this morning as worknto re-rail train at #Stonehaven continues.

When clear, Rail Accident Investigation Branch will complete its investigation and we will assess damage & repair track.

Replacement buses are still in operation. pic.twitter.com/fFSeVeZT4x

— NetworkRail Scotland (@NetworkRailSCOT) October 12, 2018
There has been major disruption across the east coast following the incident in Stonehaven at about about 5pm on Wednesday.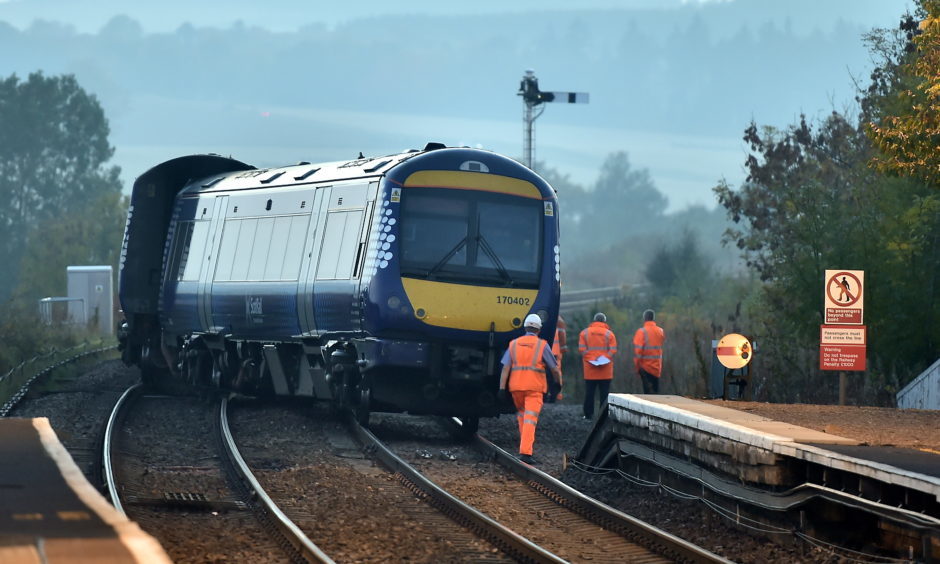 All journeys heading north of Dundee were cancelled as engineers dealt with the aftermath of the train coming off the tracks.
The Rail Accident Investigation Branch (RAIB) also began investigations on Thursday.
No passengers were on the train and no one was injured as a result of the accident. However, services remain suspended on Friday morning.
Two journeys heading south of Dundee on Thursday, the 8.17am to Glasgow and 9.07am to London, were also cancelled, adding to the disruption at the city train station.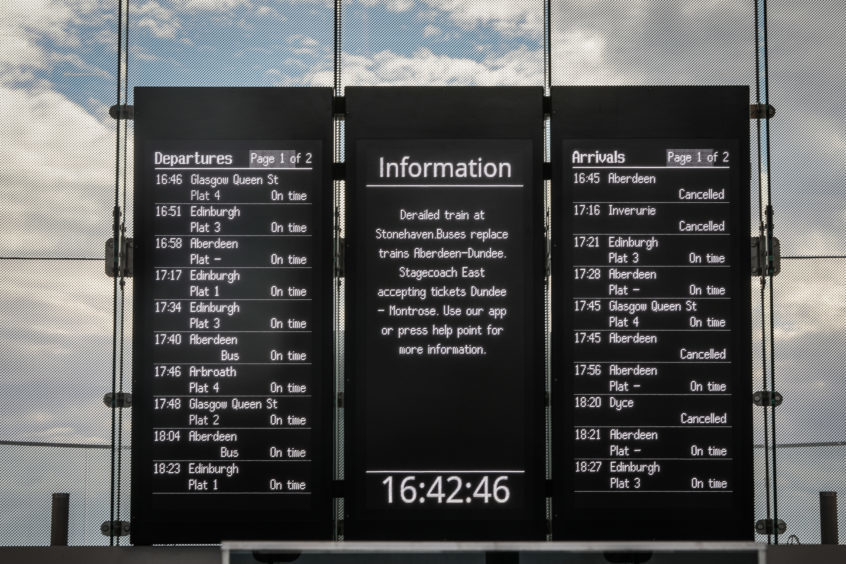 There were also cancellations in Fife, with one passenger labelling the service "shocking".
Further to the derailment at #Stonehaven, @raibgovuk investigations have reached a point where we can begin the task of re-railing the train.

Once re-railed & clear of site we will then assess damage to track estimate how quickly we can repair damage & get trains moving again pic.twitter.com/Dth1cYuWsW

— NetworkRail Scotland (@NetworkRailSCOT) October 11, 2018
A fleet of replacement buses was hastily drafted in to take travellers between Dundee and Aberdeen, but confusion arose for travellers unfamiliar with Dundee Railway Station.
Many complained about poor directions or an absence of any guidance at all.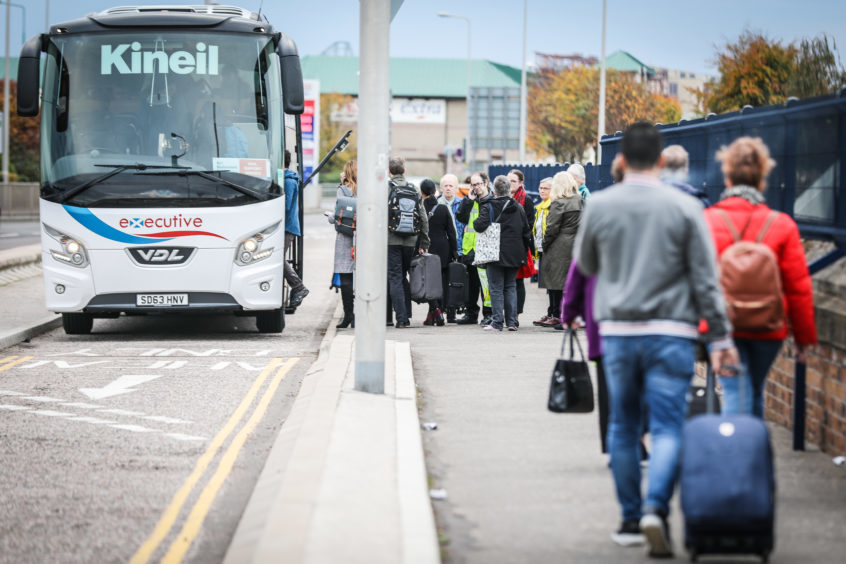 Morag Mackie, who was returning from holiday in Majorca with her husband, said: "The staff only said to turn right at the top of the stairs.
"We didn't know where exactly to get our bus and we could have missed it.
"It is a pest, but we just want to get back to Aberdeen now."
My 70 year old mother-in-law has been left standing outdoors at an exposed bus stop in Dundee for over an hour, after her @ScotRail train to Aberdeen got turned back. Mismanagement bordering on negligence not to prioritise the vulnerable @EveningExpress @PressandJournal pic.twitter.com/NKOrQb8gCM

— Aron Smith (@TheBruthaVoodoo) October 10, 2018
David Akinola and Liam Calder, who were heading to Aberdeen from Glasgow, also said staff hadn't been clear enough with directions.
David said: "We haven't been told much. Nobody told us where to get the bus.
"It seems to be chaotic at the moment."
In Fife, one traveller spoke of her anger at the lack of information as she tried to take her family to visit the V&A.
Sarah Moyles was trying to get a train from Inverkeithing to Dundee, only for it to be cancelled one minute before its expected arrival.
"The station could not tell us anything," she said.
"To say I was unhappy would be an understatement.
"We were told the next train from Edinburgh to Dundee would make a stop. It didn't.
"It's utterly disgraceful. We didn't even receive an apology. The ticket guys look brow beaten and sadly they are used to breaking the bad news."
Why am I being bussed from Edinburgh to Dundee? The derailment is in Stonehaven? Trains are getting north to Dundee? @LNER pic.twitter.com/zDBJdR0zHp

— Gail Valentine (@GailsForceWins) October 11, 2018
A ScotRail spokesman said: "We are sorry to customers for any disruption to their day and share their frustration.
"Anyone delayed by 30 minutes or more can claim compensation through our Delay Repay Guarantee. Just keep hold of your ticket and claim on our website or mobile app."
The havoc began on the day ScotRail showed off its new high-speed train on the east coast line, only for it to break down near Ladybank in Fife for about 40 minutes.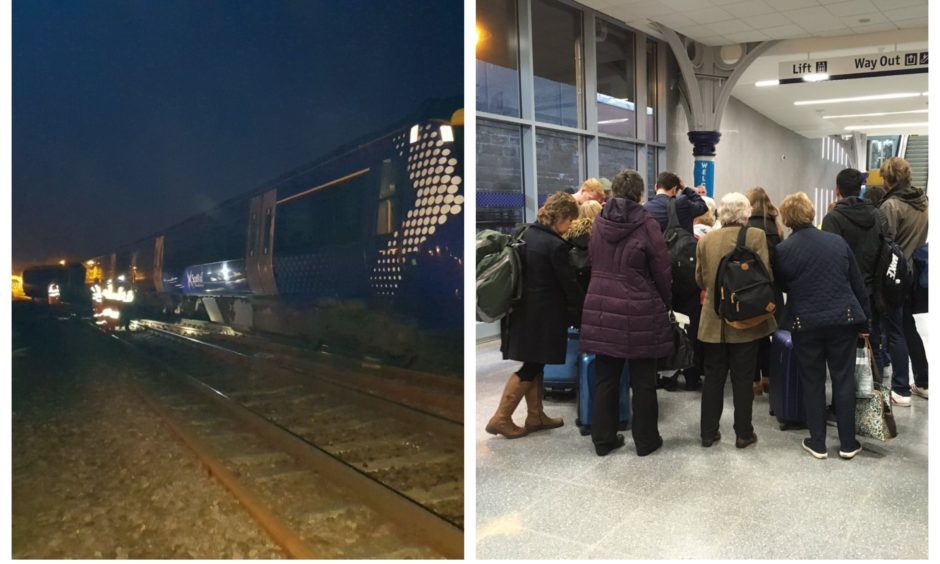 Updating customers on Thursday night, ScotRail said: "Buses will continue to replace trains on this route.
"This follows the low-speed derailment of a train at Stonehaven. There were no injuries and the train was not in passenger service.
"The Rail Accident Investigation Branch remains on-site to investigate the incident. Once that's complete, Network Rail engineers will use specialist lifting gear to move the train back onto the track.
"Once the train has been removed, engineers will then inspect the track beneath for damage and carry out repairs. This is a complicated and detailed process.
"We're sorry to customers for the disruption to their journey."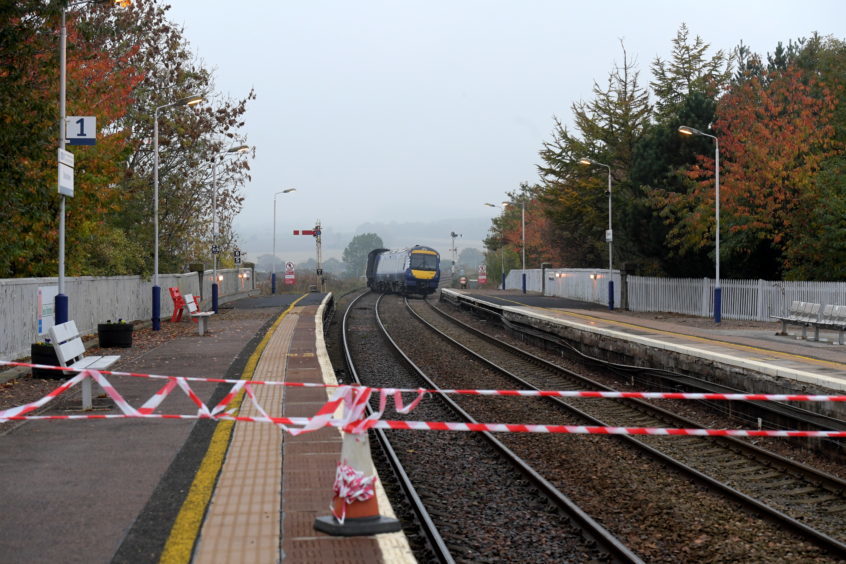 RAIB inspectors were deployed to #Stonehaven to gather evidence as part of a preliminary examination following the derailment of a passenger train.

— RAIB (@raibgovuk) October 11, 2018
Network Rail said: "Further to the derailment at Stonehaven, RAIB investigations have reached a point where we can begin the task of re-railing the train.
"Once re-railed and clear of site we will then assess damage to track estimate how quickly we can repair damage and get trains moving again."