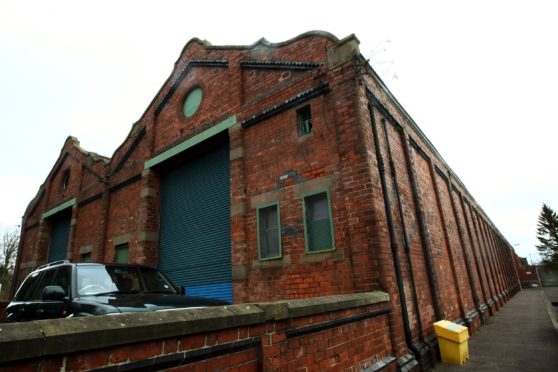 Bosses of Dundee Museum of Transport have vowed to keep fighting to secure the millions in funding needed for its new premises.
The museum was dealt a blow when a £2.4 million grant application to the Heritage Lottery Fund was rejected, meaning plans to renovate and move into the former Maryfield Tram Depot had to be put on hold.
The museum, which acquired the increasingly dilapidated depot in 2014, remains based in a temporary rented building at Market Mews in Market Street.
Trustees of the tourist attraction have had to go back to the drawing board to decide its future and held a public consultation event on Wednesday at Arthurstone Community Library in Stobswell.
Speaking at the event, vice-chairman of the charity Peter Webber sought to allay any fears that the museum could close.
He said: "The reason we are here today is that funding hasn't come through either for remedial work or renovation of Maryfield.
"But we are still trying. It's not about whether we have a future, it's about what it will look like.
---
>> Keep up to date with the latest news with The Courier newsletter
---
"We are here for the long term — so for the next five, 10, 20 years. It is absolutely guaranteed by the trustees. That's a total commitment."
He added trustees are now looking at various options, including alternative applications for funding from other sources, as well as another refined application to the Heritage Lottery Fund.
The museum is becoming an increasingly popular attraction and has already seen 12,000 visitors so far in 2018, an increase of 2000 compared to all of 2017.
Museum manager Samantha Walker said feedback from the dozens of people who visited for the consultation had given her a "morale boost".
She said: "We are determined. To stay at the current building is absolutely not an option.
"What has been positive is the feedback we have had at this event. It has been a bit of a morale boost if anything. People are passionate about the museum."
She added that the organisation has been advised on why the funding bid failed.
"The lottery were concerned that it's a big ask for a small organisation.
"They have in the past given us £15,000 in funding to help strengthen.
"We're still implementing the strategy that came out of that project. They would like to see more skills among our trustees and more skills among our volunteers.
"One of the concerns from the lottery would be that for an organisation entirely made up of volunteers, how would we manage a £3 million project?"