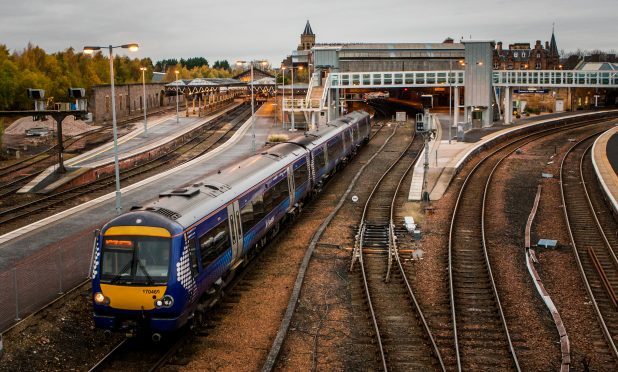 ScotRail is under fire for a tiny timetable tweak that has nearly doubled the price of a busy inter-city service from Perth.
New changes introduced by the rail operator have brought forward the 9.15am service to Glasgow by one minute.
But because the train now departs outwith off-peak times — the cut-off is 9.15am — it costs passengers more than £30 for a return ticket, rather than just over £17.
Customer Ken Ferguson, who regularly uses the service, said he was stunned to be asked to pay nearly double the usual price.
"I was planning to take a trip into Glasgow on Monday to see some friends," he said.
"When I asked for a ticket for the 9.14am service, the guy at the counter actually said: Are you really sure you want to do that?
"I couldn't believe it was going to cost me nearly double for almost exactly the same service. I refused to pay.
"And to make matters worse, the next train to Glasgow had been cancelled."
Local MSP Murdo Fraser, who last week called on the Scottish Government to put pressure on ScotRail after a weekend of widespread travel disruption, said: "ScotRail's much publicised new timetable already plunged passengers into travel chaos last weekend and now we have passengers having to fork out almost double to take the same journey.
"A train leaving at 9:14am cannot reasonably be considered peak-time and I would encourage ScotRail to look at the pricing of this particular route."
The MSP added: "Scotland's trains are a complete mess and passengers are bearing the brunt of an inconsistent approach to timetabling and customer service."
Meanwhile, Mid-Scotland and Fife MSP Alexander Stewart said he had already received complaints from constituents about the new times.
"Many concerned residents of Perth have contacted me to express their anger, disbelief and despair at these new ScotRail timetable changes," he said.
"They are ill thought-out changes, which will have a detrimental effect on both peak and off-peak journeys to and from Perth and will put nearly everyone at a severe disadvantage."
The Conservative MSP added: "These are not customer-focused changes, they are ScotRail-focused changes and my constituents are being forced to suffer further undue and undeserved hardship whilst paying good money to ScotRail for its increased fares and woefully inadequate service."
A ScotRail spokesman said: "The timetable improvements will deliver faster journeys, more seats, and more services for customers. The changes do mean that some services are departing a few minutes earlier or later than they used to.
"We encourage customers to buy tickets in advance of their journey whenever possible to take advantage of the savings on offer. We have made extra advance tickets available for this particular service."
Commuters across the country took to social media to voice their concerns about the new timetable changes, which they said led to overcrowded carriages and cancelled services.