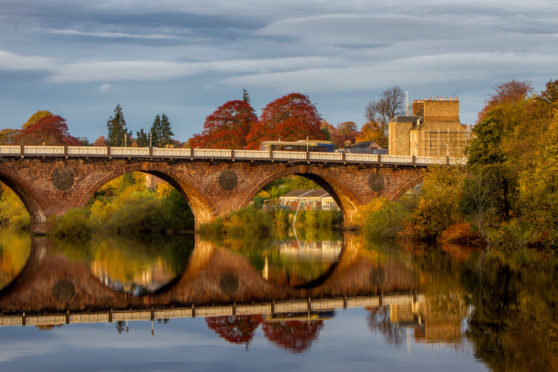 Council bosses have come under fire after they closed a busy Perth road in order to install safety bollards along a historic bridge — only to have to reopen it with the works left unfinished.
Perth and Kinross Council said it had been forced to scrap the project because the depths below the pavement were "not as drawings of the bridge had led us to believe."
The Perth bridge, which takes traffic from Tay Street to the Bridgend area of the city, was closed on May 7 and reopened two weeks later.
The council confirmed yesterday that the works had been postponed until new designs can be created.
Congestion is already a major issue in the locality, and Scone and District Community Council says it is concerned that more road closures will be needed.
Spokesman Donald McKercher said: "The signs are away and the road is reopened now, but there are no bollards.
"There are holes cut out in the pavement where it looks like they would be installed, but there's nothing there yet.
"The roadworks cause disruption and it will be frustrating if they have to go back and close the road again."
The crossing, which dates back to 1771, does not have sufficient support beneath its footpaths to carry the weight of modern vehicles.
The local authority agreed last November to install metal bollards, measuring almost a metre in height, to keep motors from serving off the pavement and causing a collapse.
Mr McKercher said signs went up three weeks ago to say the crossing would be closed for a fortnight for the installation and locals had hoped the reopening would mean an end to the disruption.
"The bridge was down to one way traffic during the day every day except for when there were events at Perth Racecourse," he said.
"If that's what they've got to do, then that's what they've got to do. The sooner it's done, the better.
A Perth and Kinross Council spokesperson said: "The depths below the footway were not as drawings of the bridge had led us to believe.
"As such, further investigations are necessary to inform revised design works. Two listed building consent applications have been submitted – one approved in December 2018, and the second in April 2019 to accommodate a variation to the initial proposal.
"Revised timescales will be determined depending on the further design works."