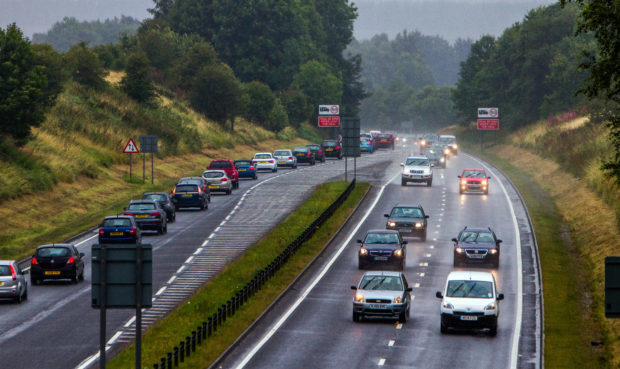 An 80-year-old hit and run farmer who smashed into the back of a camper van with his tractor has been allowed to keep driving.
Alasdair Pollock caused more than £1,000 worth of damage to the camper van by ploughing into it while it was broken down at the side of the road.
The mechanic who had been testing the faulty van saw Pollock's tractor shunt it forward and then watched as the farmer ignored him and drove off.
Pollock, of Stanley, admitted driving carelessly on the A9 on September 3 and crashing into the van and then failing to stop and report the incident.
Depute fiscal Catriona MacQueen told Perth Sheriff Court yesterday the camper van owner had given it to a garage because of a gearbox problem.
She said the mechanic had taken it out for a test drive, but the problem had forced him to pull into the side of the road near the entrance to Pollock's farm.
She said: "He managed to get off the A9 and leave it in a space at the side of the road near the junction to Luncarty and the entrance to the farm.
"A tractor being driven by the accused appeared on the farm track and on to the public road beside where the van was parked.
"It was clearly trying to gain access to Luncarty. The mechanic believed there was sufficient room for the tractor to pass.
"However, the tractor continued and the mechanic heard a loud crunch and the camper van shunted forward one or two feet.
"The mechanic put his arms up gesturing for the accused to stop but the accused kept going, pushing the camper van further forwards."
Pollock then managed to manoeuvre the tractor around the camper van and drove off. He was traced by police around a fortnight later.
Pollock's solicitor told the court his client had been driving for around 60 years but he had another careless driving conviction within the past three years.
He said Pollock was in "excellent" health and did not pose a danger to other road users because of any age-related deterioration in his driving ability.
The lawyer told the court losing his driving licence through a disqualification would be "devastating for his morale" after the recent loss of his wife.
Sheriff William Wood imposed eight penalty points and fined Pollock £720, telling him the incident was made more serious because he had driven off.