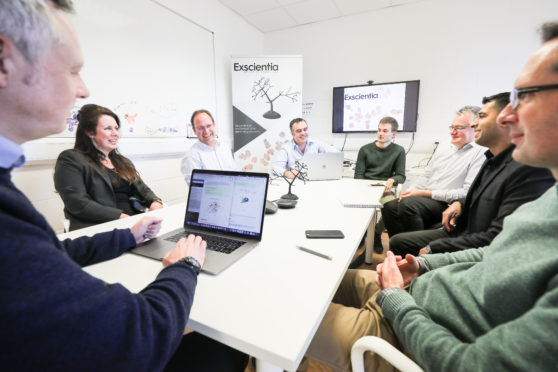 A Dundee life sciences firm could be valued at more than £1 billion if it lists on the stock exchange, a financial analyst has claimed.
Dundee University spin-out company Exscientia is a world leader at using artificial intelligence (AI) to automate drug design, which speeds up the development of drug candidates.
A new report by equity analyst Ian Jermin of Allenby Capital noted that a "similarly-sized" rival was recently valued at $2.1bn.
Exscientia was valued at £100 million in a funding round last year but several major deals with global pharmaceutical firms have propelled the firm's value.
In March Exscientia said it had received an upfront payment of $25m to enter a new partnership with American biotec Celgene and potentially much more if there were successful drugs as a result of the tie-up.
A collaboration with Roche, announced in January, is worth up to 67 million Swiss francs (£53.5m) with additional commercial milestone and royalty payments.
Exscientia has also entered into multi-million pound deals with Evotec, Sanofi and GSK.
The analysis states: "Together these collaborations offer the potential for Exscientia to earn at least circa £320m in upfront and in some cases milestone payments but do not include future royalties on any successful products resulting from the collaborations."
The report said Exscientia could be worth more than £1bn if it floated, "taking this into account and the $2.1bn valuation of direct competitor and similarly-sized Benevolent AI".
Founded by Professor Andrew Hopkins, Exscientia has as an office in the Technopole incubator off Hawkhill and opened a sister office in Oxford in 2017.
It secured a $26m cash injection in a funding round in January which it said would help it to expand its capabilities, develop its platform and build its proprietary drug pipeline.
Mr Hopkins, who is the chief executive, is thought to own the largest stake in the company, although the company has not yet released documents relating to its latest funding round.
Exscientia claims its drug discovery platform reduces the time required to discover pre-clinical drug candidates 
by 75%.
Mr Hopkins said in March: "AI combined with human creativity can significantly accelerate the drug discovery process and thus drastically improve access of new drugs to the market."
No one from Exscientia was available to comment yesterday.