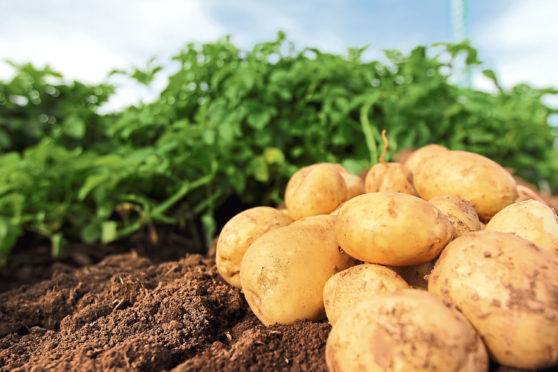 As the potato industry comes to terms with the loss of diquat and the likelihood CIPC will follow, core chemicals and possible alternative solutions will be the focus at today's Potatoes in Practice event at Balruddery Farm on the outskirts of Dundee.
A number of plots at the largest field-based potato event in the UK will demonstrate alternative desiccation methods, and Greg Dawson of Scottish Agronomy will discuss current trials looking at alternative haulm-destruction methods for high-grade seed crops.
---
Courier Farming is now on Facebook
---
"The loss of diquat is a real problem for the industry, for all varieties, but particularly for those indeterminate varieties with vigorous canopies," said Mr Dawson. "We need new products or methods that promote rapid haulm kill to reduce the potential for disease developing in store.
"Currently there are no chemical treatments which are as effective as diquat at killing off the mature leaf.
"Potential alternatives such as Gozai (pyraflufen-ethyl) and Spotlight Plus (carfentrazone-ethyl) are mainly used for stem destruction."
At the event Mr Dawson will discuss trials looking at burndown alternatives, including those taking place on AHDB's Strategic Farm network, and at a separate seed potatoes site which Scottish Agronomy is overseeing.
"We know that in future we will need a multi-pronged system for successful burndown," he said.
"Our site is looking both at alternative chemical methods, as well as mechanical possibilities including flailing and root under cutting."
Also covering desiccation will be Russell Whiteford of Belchim Crop Protection, who will run a workshop at the event.
"I'll be suggesting that a more holistic view of crop agronomy with regard to desiccation will be vital without diquat.
"This particularly relates to crop nutrition, field fertility, crop vigour and variety," he said.
Today's event at Balruddery Farm, Invergowrie, is organised and hosted by the James Hutton Institute in partnership with AHDB Potatoes, SRUC (Scotland's Rural College) and Agrii.
nnicolson@thecourier.co.uk