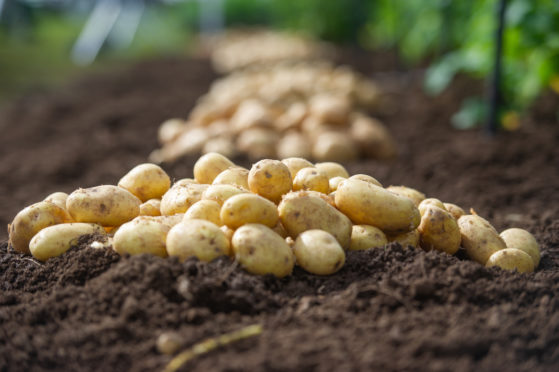 A "game-changing" project for seed potato producers is one of six projects to share new grant funding of £438,000 from the European Knowledge Transfer and Innovation Fund through the Scottish Rural Development Programme (SRDP).
The Tuberzone project, centred on Montrose-based Grampian Growers, Scotland's Rural College (SRUC) and Angus-based Soil Essentials, has received £74,712 to help growers determine the ideal burn-down date for the variety, Gemson, by using the latest satellite technology.
Two fields wree involved in trials last year using a combination of aerial drone footage and manual trial digs, and this year the project has been scaled up to 78 fields stretching from the Black Isle to southern Perthshire.
Grampian Growers managing director Mark Clark said the wider industry and other potato varieties stood to benefit from the trials.
"This is about utilising new smart technology to replace manual digs and visual assessment," he said.
"Satellites are now doing 85% of what the drones were doing and eventually drones will be entirely replaced."
Other projects to share the funds include a beef marbling project, delivered by the Scottish Agricultural Organisation Society (Saos) and SRUC, which has been awarded £49,000 to use new techniques to identify the best beef animals in a herd. SRUC/Sac has also secured £74,429 for a project that will assess the nutritional status of the suckler cows both pre-calving and post-calving and link this along with changes to body condition scores and fertility.
Funding of £97,466 has been awarded to SRUC and DLT/Blockchain to work on a system to provide reliable traceability and provenance for gluten-free oats.
An SAOS livestock performance programme has secured £60,873 to increase the resilience and production efficiency of the Scottish suckler herd by piloting the use ScotEID data to analyse and calculate key management decisions on a day-to-day basis.
In the pig sector, Wholesome Pigs Ltd has won funding of £81.314 to pilot the elimination of Porcine Reproductive and Respiratory Syndrome (PRRS) from the Moray Coast and refine the techniques that can be applied to the rest of the country.
nnicolson@thecourier.co.uk