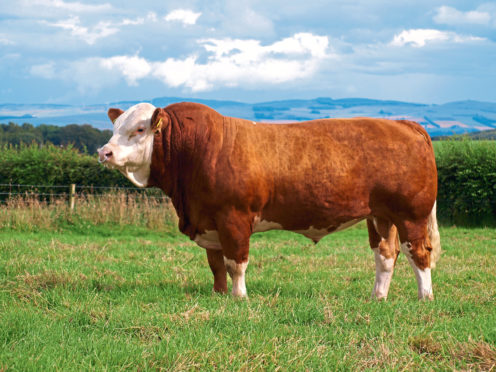 The reputation of Incheoch genetics attracted buyers from Ireland, Wales, Wiltshire and Caithness to the McGowan family's 12th on-farm sale of rams, bulls and heifers in Glenisla.
Husband and wife team Neil and Debbie McGowan and their extended family use EID technology and EBVs to help produce stock on their 485-hectare upland farm.
Their breeding policy appeared to pay off at the sale, with a top price for Incheoch Jenson, a polled Simmental bull with strong maternal EBVs, which made 6,000gns.
He was bought by Alnham Farms in Northumberland.
At 4,800gns, Fulton Ronald, Duntuim, Aberfeldy, bought Jarvis, a homozygous polled bull, and a total of seven bulls averaged £4,320.
The McEwans of West Mains of Colliston, Arbroath, bought the top pen of 18-month-old Sim Luing bulling heifers at £1,275, and 24 heifers averaged £1,073.
Prices paid for the 38 Texel shearlings were up £9 on the year, and averaged £968.
A top price of 2,000gns was paid for the high-indexed Texel shearling by Neil Crighton from Berwick upon Tweed.
A total of 39 Lleyn shearlings levelled at £1,063, up £130 on the year, with a top of 2,400gns paid by Roseberry Estates for Incheoch Hercules.
nnicolson@thecourier.co.uk