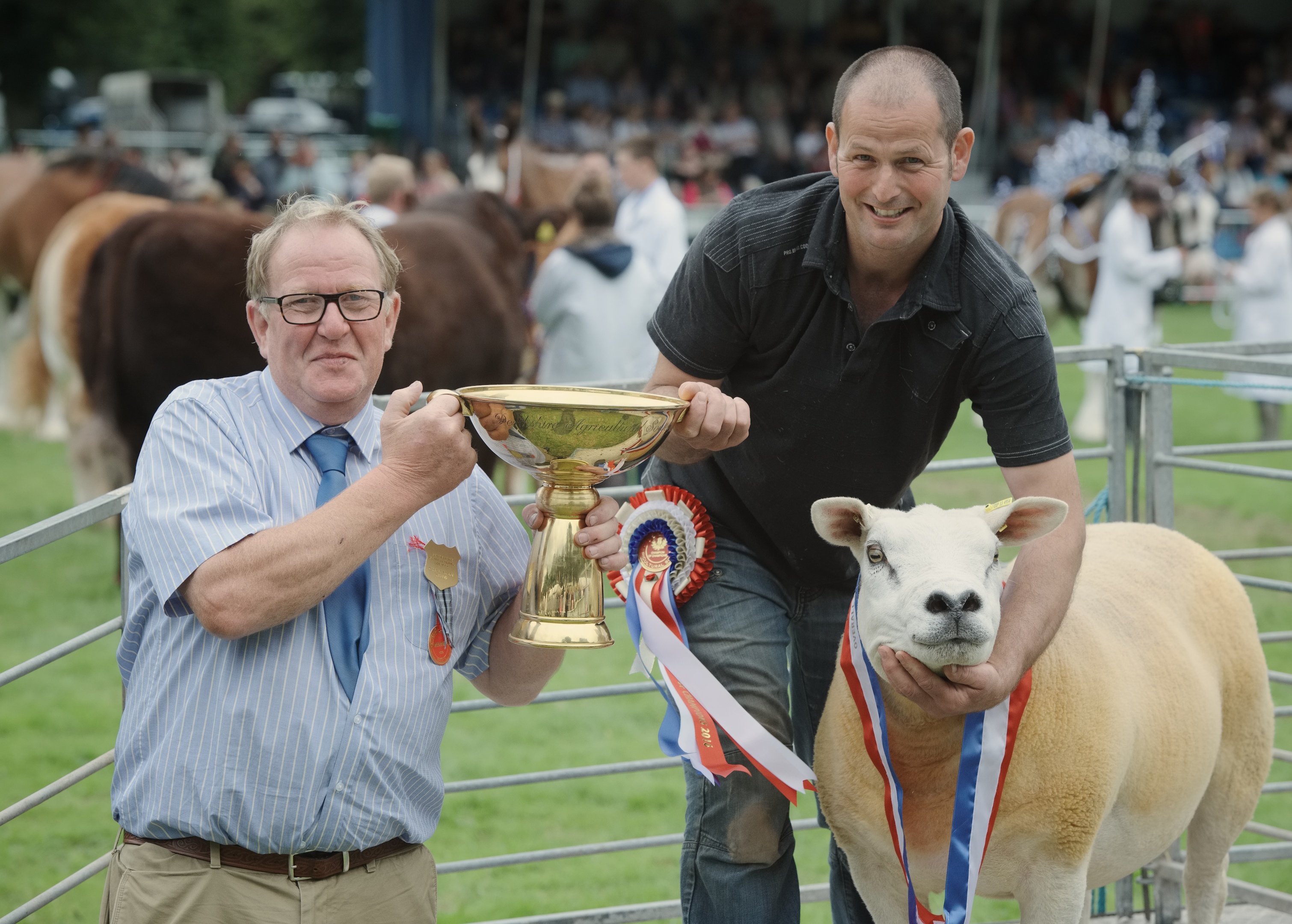 Championship quality cattle, sheep, goats and native horses were preened, paraded and took centre stage on a perfect Perth Show day.
Judges and show organisers described the livestock as outstanding; entries were impressive and there was enthusiastic competition in dozens of individual breed championships.
Perthshire Agricultural Society chairman, Hector Campbell said this year's emphasis on locally-produced food had enhanced the event and attracted a new audience but he described the traditional judging and parading as the highlight of the day.
"We've got stock here which has been to other major shows throughout the country," he added.
"And the top animal on the show field has a handful of character and a body to match."
Mr Campbell was referring to the champion of champions rosette winner which was a stocky two-shear Texel ewe shown by Errol farmer Robert Cockburn.
This daughter of Baltier Rascal and out of a dam by Knock Papoose won over the cattle, native horse and goat champions.
Mr Cockburn, who received 145,000gns for a tup lamb at a breed sale at Lanark in 2014, was delighted with the Perth honour.
"She's a very good sheep, and breeding well," he said.
Interbreed sheep judge, Tom Paterson, a noted Blackface breeder who has judged many interbreed sheep championships in Ireland, said the ewe had "length, good gigots and great character." And he added that out of any breed, she was a winner.
The show's patron, John McGregor was given the honour of judging the beef interbreed and chose as his winner the Limousin breed champion, Poolehall Iris from Bannockburn breeders, D McBeath and S Jessop of Lower Greenyards farm.
Mr McGregor said the two-year-old cow was an outstanding animal and one of the best he had seen.
"She made it an easy decision," he added.
Iris is no stranger to rosettes as she has won championships already this year at Ayr, the Royal Highland Show, the Great Yorkshire show and she was also intermediate female champion at the breed's national show at Carlisle.
In reserve interbreed place was the commercial champion, Honey Dime, a Charolais cross Limousin from Wilson Peters which has dominated the show circuit this summer.
Honey Dime is by Carwood Elgin and will be going to the Winter Fair at the end of the year.
In contrast the sheep interbreed reserve champion was the north-type Blackface which was on her debut show outing. She came from Glenlivet, and the flock of R Duncan of Achdregnie.
The native horse interbreed award was won by the Highland stallion, HS of Fourmerk from G M Baird, West Whitefield, Burrelton
The champions
Cattle
Beef Shorthorn
Champion – M.D. McMillan, Moneydie Roger, Luncarty, Perth with yearling heifer, Coldrochie Grace Beauty by Knockenjig Foremost and out of Coldrochie Grace Beauty. First show outing.
Reserve – Major JPO Gibb and C Gibb, Glenisla House, by Blairgowrie with 16-month-old bull, Glenisla Jackpot by Broughton Park thunder and out of Glenisla Desiree. Second at RHS in young bull class.
Aberdeen Angus
Champion – Donald Rankin, c/o Rettie, Aberdona Mains, Alloa with three-year-old cow, Retties Lady Ruth by Rawburn Elysium and out of Wall Lady Ruth. Champion at RHS and Great Yorkshire, reserve interbreed at Black Isle.
Reserve – Donald Rankin with yearling heifer, Weeton Princess Chartreuse by Retties JFK and out of Blelack Princess Chartreuse. First at RHS and junior champion Great Yorkshire.
Highland
Champion – Mark Brains, 10 Mill Street, Millfield, Sunderland with three-year-old cow, Ezra of Earn by Josh of Earn and out of Floraidh of Earn. Champion at the Great Yokshire in 2015 and 2016.
Reserve – Ian and Mary Adams, 24 Beech Tree Road, Banchory with three-year-old cow, Frangag Dubh of Cladich by Seonaidh Mor of Ardura and out of Frangang 10th of Torloisk. Champion at Echt, Banchory , New Deer and Highland cattle club east area show.
Hereford
Champion – J M Cant and Partners, Easter Knox, Arbirlot, by Arbroath with 15-month-old bull, Panmure 1 Mumford by Panmure 1 Karl and out of Panmure 1 Plum. Junior champion RHS, reserve supreme Scottish national show.
Reserve – John A Cameron and Son, Balbuthie, Kilconquhar with 22-month-old bull, Baldinnie 1 Clinton by Baldinnie 1 Orient and out of Baldinnie 1 Chico 2nd. First at RHS.
Charolais
Champion – Jim Muirhead, Firhills Farm, Letham Grange, by Arbroath with two-year-old heifer, Firhills Jasmine by Maerdy Grenadier and out of Ugie Erin. Second at RHS and champion of champions at Angus.
Reserve – R Aitken, 6 College Terrace, Methven, Perth with three-year-old cow, Lourie Ideal by Clyth Diplomat and out of Lourie Faye. Second at RHS.
Simmental
Champion – Heather Duff, Pitmudie Farm , by Brechin with three-year-old cow, Pitmudie Eleanor by Omorga Achilles and out of Sarcombe Princess-Kleeb. Won first prizes at shows last year, first outing this year.
Reserve – TA and E Henderson, 1 Dargill Farm Cottage, Crieff with two-year-old heifer, Annick Trixabelle 15th by Annick Claymore and out of Annick Trixibelle 8th. Champion at Stirling and Braco. Reserve champion at Dunblane.
Limousin
Champion – D McBeath and SL Jessop, Lower Greenyards Farm, Bannockburn, Stirling with two-year-old heifer, Poolehall Iris by Haltcliffe Ben and out of Wilodge Flawless. Champion of champions at Ayr, reserve champion RHS and Great Yorkshire.
Rerserve – Ronald Dick, Mains of Throsk, Stirling with three-year-old cow, Ronick Intrigue by Rathconville Eugene and out of Ronick Doreen. Reserve interbreed Braco, champion at national championships at Haddington, reserve Gargunnock.
Any other native breed
Champion – A Mylius and Partners, St Fort Estate, Newport on Tay with Lincoln Red bull, St Fort Rolex Exhibitor by Norton Beau and out of St Fort Orchid. Breed champion and reserve intebreed at the Great Yorkshire in 2015 and 2016.
Reserve – James Cameron and Valerie Orr, 1 North Nevay Cottages, Eassie, Forfar with Irish Moiled heifer, Knowehead Holly by Curraghnakeely Simply the Best and out of Knowehead Jane. Reserve female at Fife and third at Balmoral as a yearling.
Any other continental breed
Champion – David and James McKerrow, Nochnary Farm, Freuchie with 16-month-old British Blue heifer, Nochnary Katie by Cromwell Gunner and out of Nochnary Ebony. Reserve interbreed at Fife and third at RHS.
Reserve – B and K Webster, Forter Farmhouse, Glenisla with yearling British Blue bull, Strathbogie Kansas by Bedgebury Flat Out and out of Strathbogie Delta. Fourth at Stars of the Future in 2015.
Commercial
Champion – Wilson Peters, Cuilt Farmhouse, Monzie, Crieff with 15-month-old Charolais cross Limousin heifer, Honey Dime by Carwood Elgin. Reserve champion Kirriemuir and West Fife , third at RHS.
Reserve – Stewart and Lynsey Bett, Castleton Farm, Airth, Stirling with unnamed yearling heifer bought from Blair Dufftown, Huntly.On her show debut.
Sheep
Border Leicester
Champion – S and A Watson, Culticheldoch Cottage, Muthill with a gimmer by Didcot Drambuie and out of a dam by Eildon Eager.
Reserve – A Haggart, Muirmouth, Madderty, Crieff with a ewe lamb.
Suffolk
Champion – Robert Bryce, Chalmerston Farm, Chalmerston Road by Stirling with a home-bred gimmer by Cairnorrie Olympic Bolt and out of a home-bred ewe by Cairnorrie Campbell. First at Stirling.
Reserve – Gordon A Mackie, Drimmie Farm, Rescobie, by Forfar with a January-born ram lamb by Strathbeg Alan and out of a home-bred ewe.
Blackface North type
Champion – R S Duncan, Achdregnie, Glenlivet with a gimmer by a Tom Adams tup.
Reserve – R S Duncan with a three-crop ewe by a £6000 Tom Adams sire. First outing.
Blackface South type
Champion – Tay and Torridon Estates, North Amulree Farm, Dunkeld with a two-crop ewe by an £11,000 Midlock sire. Champion at Alyth and Kirriemuir.
Reserve – Major James Duncan-Miller, Remony, Aberfeldy with a two-shear Auldhouseburn-bred tup.
Any other sheep
Champion J and E Lyle, Cottage 2, Nether Pratis Farm, Leven with a Blue Texel gimmer by Beili [CORRECT] Blue and out of a Shearstone ewe.
Reserve – Robert Morris, Over Buttergask Farm, Coupar Angus with a Kerry Hill ewe. Reserve at Alyth.
Bluefaced Leicester
Champion – M and C Drummond, Cassington, Maybole with a gimmer. Champion at Dalrymple.
Reserve – A and J Adam, Newhouse of Glamis, Glamis, Forfar with a three-crop ewe by a Middledukesfield sire and out of a home-bred ewe.
Jacob
Champion – Linda McKendrick, Bankhead Farm, Peat Inn, Fife with a ewe lamb by Blackbrook Fireballs and out of a home-bred ewe. Reserve champion Alyth.
Reserve – G Connor and S Dalrymple , Dun-Mor, Auldhill Road, Bridgend, Linlithgow with an aged ram, Dunmore Ace by Edingale Harlem. Champion at Haddington, Fife and Great Yorkshire. Reserve champion RHS,
Charollais
Champion – Thomas A Sands, Southfield, Abernyte, Inchture with a ram lamb by a Cannharrs tup and out of a home-bred ewe. First at Alyth.
Reserve – Thomas A Sands with a ewe lamb with the same breeding. First at Alyth.
Texel
Champion – Robert Cockburn, No 2 Hill Cottage, Errol with a two-crop ewe by Baltier Rascal and out of a dam by Knock Papoose.
Reserve – R Orr, Halbeath Farm, Dunfermline with a gimmer by Hartside Volt.
Beltex
Champion – Ian Reid, Isla Cottage, Methven, Perth with a one-crop ewe by Artnagillan Top Dog.
Reserve – Bryan Wylie, Balbrydie Farm, Kirriemuir with a ram lamb by Broxley Wishful Thinking.
Lleyn
Champion – Messrs Finlay McGowan, Incheoch Farms, Alyth with a gimmer by Incheoch Legend and out of a home-bred ewe.
Reserve – D and B Henderson, Nether Toucks, Dunnottar, Stonehaven with a shearling by a Johnstone tup which was champion at Perth in 2013.
Zwartbles
Champion – Nicola Henderson, Whitehouse Farm Cottage, Touch, Stirling with a shearling, Killymallaght Coolio by Broomfield Ben . First at Braco and Stirling.
Reserve – Nicola Henderson with a ram, Torrinyard Arran by Broomfield Trickster.
Hebridean
Champion – J and M Cuthbert,Ardoch House, Claysyke Farm, Fossoway with a ewe.
Reserve – Euan Dunbar, Ardgaith Farm, Errol with a ram. Male champion at RHS.
Cross sheep
Champion – Kirsty Guthrie, Cuiltburn Farm, Muthill, Crieff with Beltex cross fat lambs. Champion at Braco.
Reserve – J D Steele, Goddens Farm, Glencarse with Charolais cross Mule ewe lambs
Horses
Clydesdale
Champion – Thomas Clark and Son, Muirton Stud, Abbey Farm, Madderty with yearling filly, Muirton Melba by Muirton Sabre and out of Muirton Megan. Champion of champions at West Fife and champion at Angus.
Reserve – C Young, Hall Farm, by Ayr with yeld mare, Forneth Lucky Daisy by Collessie Whinhill President and out of Blueton Princess. Champion and reserve interbreed at Wigtown.
Highland
Champion – Messrs G M Baird, West Whitefield, Burrelton, Blairgowrie with 11-year-old stallion, HS of Fourmerk by Kestrel of Fourmerk and out of Elisedean. On his first show outing.
Reserve – Messrs G M Baird, West Whitefield, Burrelton, Blairgowrie with mare, Queencake of Whitefield by Matador of Whitefield and out of Kate of Whitefield.
Shetland
Standard champion – Louise Wilson, Cassindilly Farm, Ceres, Fife with four-year-old mare, Cassindilly Roxy by Southfieldgate Valiant and out of Millhouse Rhythm. Champion at Fife.
Reserve – Mrs M Warren, Damleys Cottage, Milnathort with three-year-old colt, Clibberswick Lancelot by Loanin Blackfoot and out of Clibberswick Scarlet.
Miniature champion – Alichbrae Shetland Ponies, West Craigvannie Cottage, Crieff with five-year-old stallion, Kerswell Merlot by Kerswell Morse and out of Kerswell Moonlight. Reserve supreme at the National Stallion Show.
Reserve – Findlayson, Duncanstown, By Dingwall with nine-year-old Millicent of Martinmere by Sparky of Martinmere and out of Rhapsody Too.
Goats
Champion – Campbell Family, The Byres, 1 Brunton Farm, Torphicen, Bathgate with four-year-old female, Lovelsglen Donner by Ladeside Carrick and out of Lovesglen Comet.
Reserve – Campbell Family with goatling, Lovelsglen Pantalaimon by Linnavon Deill and out of Lovelsglen Dasher.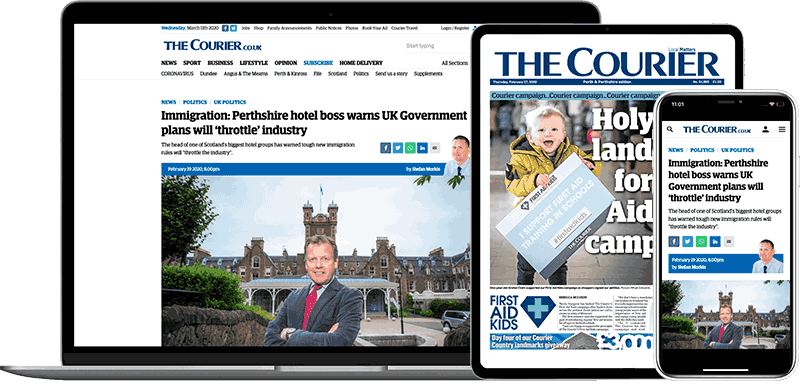 Help support quality local journalism … become a digital subscriber to The Courier
For as little as £5.99 a month you can access all of our content, including Premium articles.
Subscribe