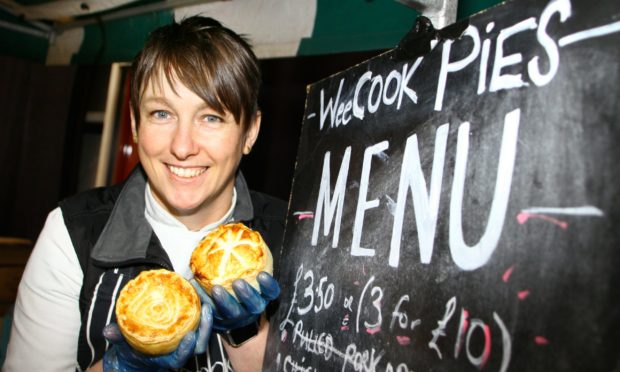 Hayley Wilkes realised her ambition to be her own boss and founded WeeCook Kitchen in Carnoustie.
Why did you start in business?
I left my home in Wales when I was 18 and did lots of varied work, gaining vocational qualifications along the way, but had a dream of having my own restaurant which would welcome everyone and specialise in tasty, fresh food.
It had always been my lifelong ambition to be my own boss and have a business where I could offer a service to the community.
How did you get to where you are?
It's taken a lot of perseverance, hard work, taking chances, being brave, having a team of hardworking individuals working with me and, most importantly, the support and encouragement of my wife.
I started out gaining chef qualifications and working in hotels and restaurants before taking the scary step of starting out on my own as a freelance chef, catering for private clients and sub-contracting to event companies.
How has the business been impacted by coronavirus?
It has been challenging, it's changed our lives.
We had to adapt not only to the additional measures necessary for the safety of our staff and customers but also to new ways of working with suppliers and the many other services we took for granted.
We started growing our own herbs, doing our own laundry and had to be much more self-sufficient.
We even adapted the roles of our front of house staff to become administrators and delivery drivers. Although it seems quieter in the restaurant, we are busier now than we have ever been.
Who has helped you along the way?
We've had great support from Business Gateway from the start but especially during Covid-19. When we were planning to reopen, they referred us to Jane Duffy at NHS Healthy Working Lives who has provided invaluable support with establishing our health and safety policies and risk assessments. I wanted to ensure we were doing everything properly and had the welfare and safety of customers and staff at the forefront so we could reopen with confidence.
Also, our landlord gave us a payment holiday which was a kind and generous lifeline.
What has been your biggest mistake?
Not capitalising on the opportunities to grow the pie delivery and takeaway business sooner.
Lockdown forced me to start trialling ways of delivering our products further afield. We also adapted our menus for takeaway and offered free local delivery.
What has been your greatest achievement?
Getting married, my wife is my rock.
What are your hopes for the future?
I'd like to open multiple sites for pie production and a hospitality training and development kitchen for apprentices.
Are you hoping to recruit in future?
Yes, we've actually recruited two new staff during lockdown and have plans to recruit again in the next few months.
What is the hardest thing about running your own business?
Not having a normal social life, sometimes none. It's a lifestyle, not a job.
Do you have any advice for aspiring entrepreneurs?
Dream it, be brave and do it – keep going even when others try to stop you.