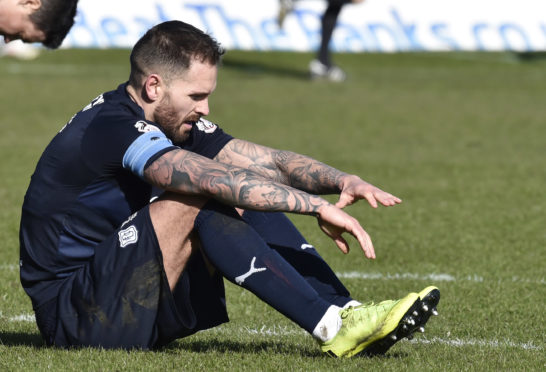 As big a blow as Sunday's late, late defeat to Celtic was, Dundee players and fans have to do their best to make sure their glass is half-full.
There is no doubt it has been a tough few weeks.
From beating Livingston and looking as if they might pull clear of St Mirren and Hamilton, they've gone on a run of defeats and are now only a point above the Paisley Saints and six behind Accies.
I must admit I didn't see the Hamilton wins against Aberdeen and Hearts coming. Fair play to them.
But despite the turnaround, Dundee still have plenty to be positive about.
I'd all but written them off before Christmas.
The squad wasn't anywhere near good enough.
This team is miles better than then and they did really well to keep Celtic quiet for so long on Sunday.
Jim McIntyre has spoken a lot recently about not converting good attacking situations into goals and you can understand why.
Before the winner, Dundee probably had the best chance in the game. Scott Wright's shot just before half-time was a perfect height for Scott Bain. If he'd kept it lower it would have been a goal.
Obviously Andrew Nelson coming back in for the St Mirren game would be a huge boost.
He's an out and out striker with an eye for a goal.
Fingers crossed that a free weekend will help get him fit for the big game at Paisley next Saturday.
I'd like to see him linking up with Kenny Miller.
Kenny's hold-up play was excellent against Celtic. It helped get Dundee up the pitch.
I always think he's at his best playing one-twos around the edge of the box and I've got a feeling he has got some crucial goals left in him for the run-in.
I've read that the Dundee players have targeted at least six points from their last three games before the split.
That seems about right. It might not be needed to stay in front of St Mirren but six points is a significant gap Hamilton have opened up.
If Dundee are to have a realistic shot at avoiding the play-offs, they'll have to make sure that doesn't get any bigger.
I think six is the biggest it can be to have a chance of getting above Hamilton in the run-in.
* I think criticism of Neil Lennon's goal celebration was unfair.
If he had been antagonising Dundee fans, then that would have been an issue but he was running to celebrate a crucial goal with his own supporters.
It's that sort of passion that makes him a winner.
* Dundee United needed that win against Ross County.
But they'll need a lot more than that if they are to catch the Championship leaders.
The fixture list has handed them a chance to put some pressure on, with two games to be played before County next have a league game.
And they have to win both.
Even if they do, though, County are still strong favourites to take the title.
They don't strike me as the type of side that will collapse.