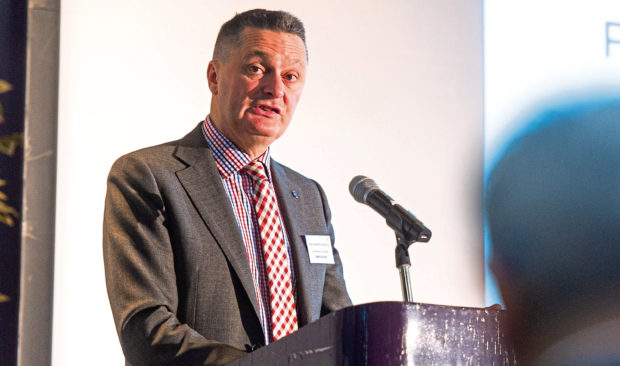 The former principal of Dundee University walked away with six months' salary after quitting within a year of arriving.
Professor Andrew Atherton was in charge of Dundee University for just 11 months before parting ways with the university earlier this month.
It has now been confirmed Prof Atherton, who was on a salary of £254,000 a year, received six months' wages in lieu of notice.
He received a contractual notice payment of £127,250 plus pension contributions of £26,903 and another £8,565 in respect of outstanding leave entitlement.
Prof Atherton was suspended in September in a row over rent at the luxury university flat in which he was staying off Dundee's Perth Road.
It also emerged a number of members of staff also made complaints about bullying to the university.
Prof Atherton took over as principal and vice-chancellor of Dundee University in January.
As well as his basic salary, his remuneration package included around £44,000 a year in pension contributions.
Additionally, he received a £40,000 " disruption allowance" to help cover the cost of moving to Dundee from the north of England, where he had been vice-principal of Lancaster University.
However, more than half of this has been subtracted from the money Prof Atherton is to receive in his contractual notice payment.
If an employee does not complete 24 months' employment, 1/24th of any relocation package will be recovered for each full month outstanding.
As Prof Atherton only worked for 11 months, he owed the university 13/24ths of the £40,000, which comes to £23,419.
All payments made to Prof Atherton are subject to tax.
This, coupled with the money clawed back from his disruption allowance,  means the total sum Professor Atherton will receive is just under £70,000.
Conservative North East Scotland MSP Bill Bowman said: "This saga has been hanging over a brilliant institution for months now.
"These are deeply unfortunate circumstances. l hope all the appropriate procedures have been followed and approvals received for the terms of the departure.
"But perhaps it is best to draw a line under the matter, and move on. I am confident the university will attract a field of highly-skilled applicants to be the next principal."
The university said Prof Atherton had stepped down from his role after it became apparent his aspirations were different from the university's "vision for its future and the values is holds" but did not comment further.
Earnings
Basic salary – £254,000 a year, or £21,166 a month.
Contractual notice payment of £127,250.
Outstanding leave entitlement £8,565.
Disruption allowance £16,581 (£23,481 of original £40,000 paid to Professor Atherton recouped from contractual notice payment).
Assuming Professor Atherton received 10 months' salary, his total earnings from the university in 2019 come to £364,056 before tax, excluding pension contributions.
This works out at just over £10,000 a week for the time between his official start date of January 1 and his suspension on September 13.