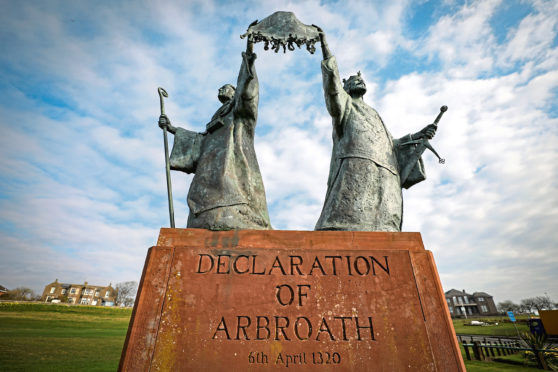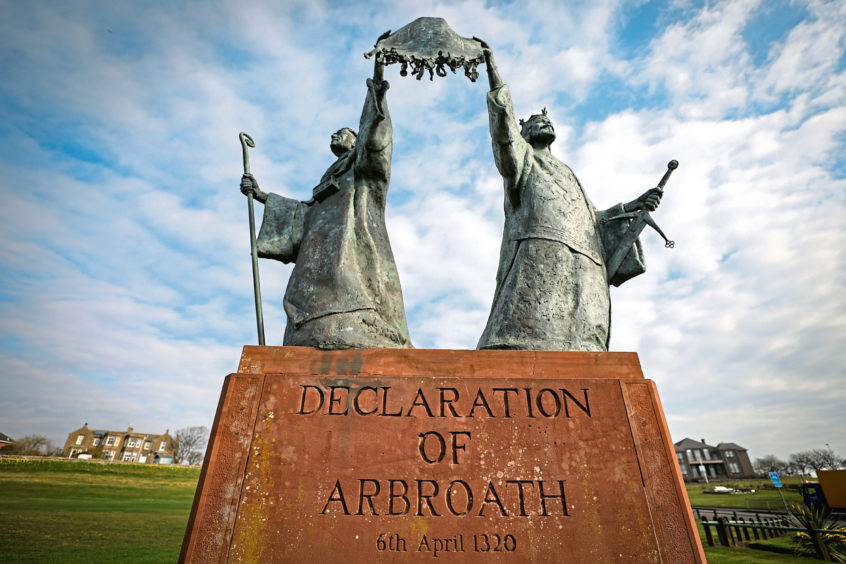 A Tayside educated entrepreneur who engraved minute text from the Declaration of Arbroath on his company's silicon chips in the USA has told how he was influenced by Scotland's "symbol of freedom" when he set up his innovative business 15 years ago.
In an exclusive interview with The Courier from Silicon Valley, California, former Blairgowrie High School pupil Andrew Walker explained how he decided to call his company Schiltron Corporation in tribute to the battle formation used by the Scots in the 13th and 14th century wars of independence.
The Dundee University physics graduate, who got into the silicon chip industry after leaving Scotland in 1985, said he was inspired because the schiltron was supposed to be an innovation by a relatively weak power.
While initially defensive, it could be turned into an attacking formation that could ultimately lead to success – a notion that he encapsulated in his approach to business.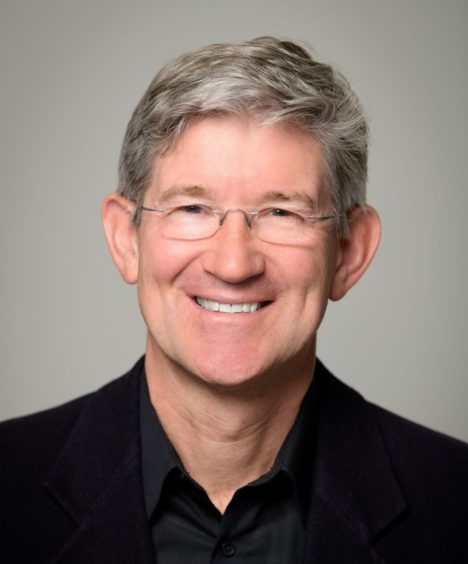 "When I designed the company's silicon chip I included the text from the Declaration of Arbroath in both Latin and English on the chip itself," he said, speaking ahead of the 700th anniversary of the Declaration of Arbroath on April 6.
"The text is small enough that it can fit across the width of a human hair.
"The reason I chose to put that on the chip was to me the Declaration was a symbol of persistence, perseverance and independence.
"On the Declaration itself, I think my interest in it started growing after I left Scotland in 1985.
"It became a symbol of freedom to me personally. I don't mean this in any political way but more about a personal journey. It resonated strongly when I came to Silicon Valley in 1994 because of the start-up mentality all around.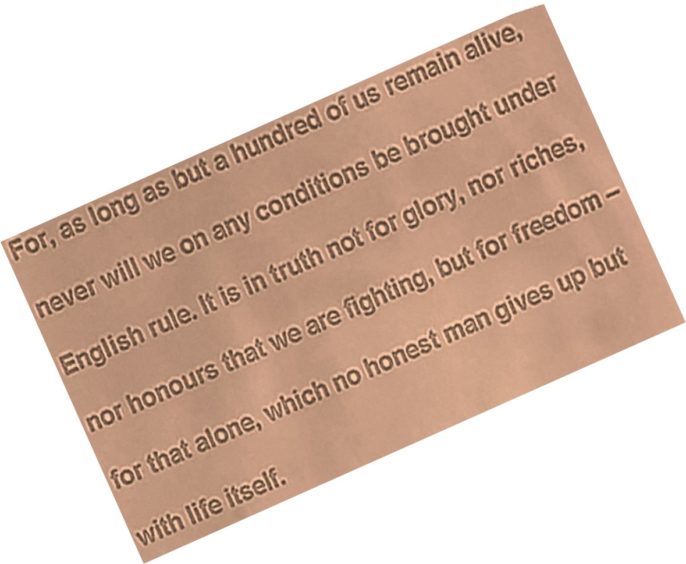 "It's all a bit contrived but it has gone down well here."
Born in Pakistan in 1962, Andrew's parents were Scottish and Dutch missionaries in the Church of Scotland. His dad lives in Coupar Angus while his mum passed away last year.
Andrew grew up in Blairgowrie and Rattray where he attended Rattray Primary and Blairgowrie High School.
After graduating from Dundee University with a physics degree in 1985, he took up his first job with Philips Research Labs in Eindhoven, Netherlands.
There he met his Brazilian wife and they moved to Silicon Valley in California in 1994. The couple, who have two children, have been there ever since.
Andrew explained that he started the Schiltron Corporation in 2005 in Mountain View, California – part of Silicon Valley.
It was started to develop new ways of building a special type of a silicon memory chip called Flash memory.
"Flash memory is the chip in your mobile phone that stores photos and so on," he explained.
"I managed to attract financial backing to build a silicon chip prototype and to apply for patents protecting the idea.
"The company is still in existence after 15 years with several patents to its name. It has always been a 'one-man-band'.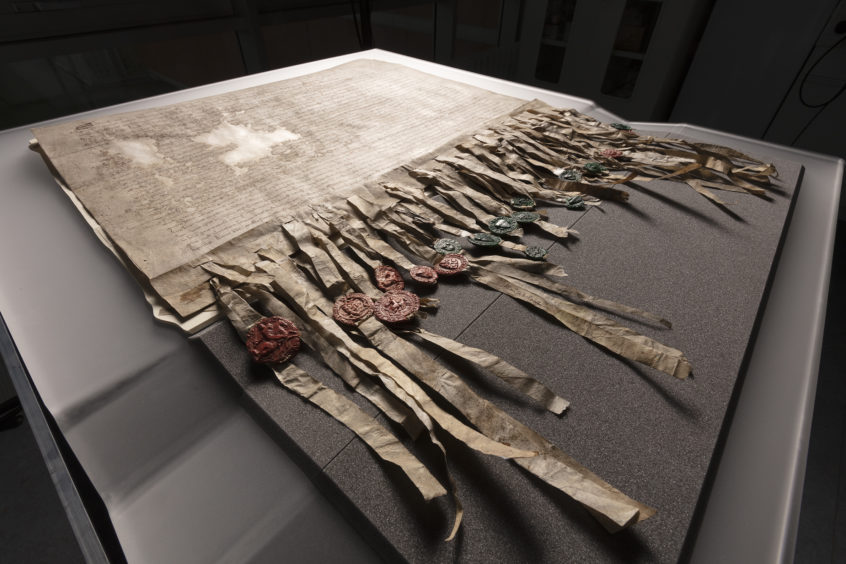 "But it appears that the large silicon memory chip manufacturers may soon have to use, uses variations of what Schiltron invented. This is where the patents may come in handy soon!
"The idea is that the small company, Schiltron, chose to develop and patent an idea to take on much larger powers.
"The patents are initially defensive in that they allow you to work on something more or less unhindered.
"Once the bigger companies come round to the idea themselves, Schiltron has the ability to use the patents as an attacking formation.
"In addition, Silicon Valley is synonymous with the feisty small start-up mentality. As such, many aspects of Scottish history form great analogies."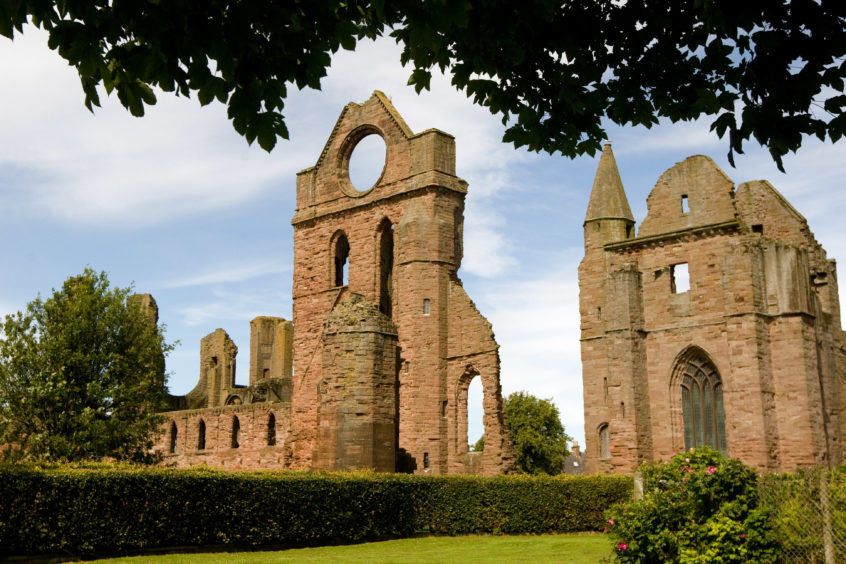 Andrew said that having initially called the chip he designed "Stirling Bridge", it was straightforward to add in the various Declaration of Arbroath layers that then got processed in the silicon fabrication facility in San Jose.
As the silicon wafers moved through the various steps in the factory, he took pictures of the text which includes the famous quote: "For as long as one hundred of us shall remain alive, we shall never in any wise consent submit to the rule of the English, for it is not for glory we fight, nor riches, or for honour, but for freedom alone, which no good man loses but with his life."
Andrew is proud that the National Archives of Scotland now have some of the silicon wafers he made with the Declaration on them, having reached out several years ago and asked.
He is also pleased to be included in an episode of Billy Kay's BBC Radio documentary series The Declaration – marking the 700th anniversary of the Declaration of Arbroath – which airs on BBC Radio Scotland at 1.32pm on April 6, 7 and 8.