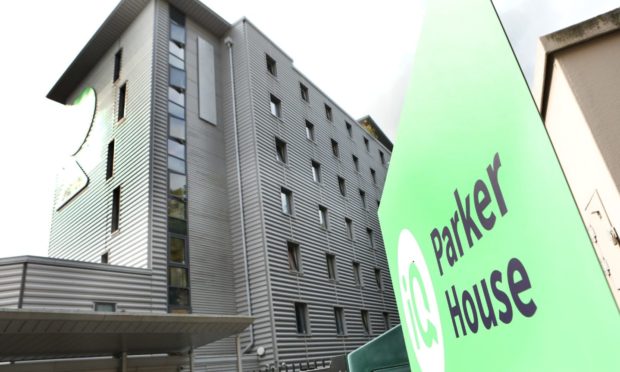 The Dundee student coronavirus outbreak has spread to a second halls of residence in the city.
The public health Incident Management Team has confirmed one student living in Abertay's Meadowside Halls has also tested positive for the virus.
Nearby pub the Captain's Cabin has also closed on a voluntary basis while health officials investigate of a number of cases of Covid-19 linked to the bar.
The high-end Meadowside student block, which contains flats with ensuite bathrooms for 69 students, is located on Bell Street, only a few hundred yards from the university's main campus.
Testing kits are being delivered to all the hall's residents.
Around 500 students in Dundee's Parker House are still self-isolating after health chiefs confirmed the outbreak had grown from three positive cases yesterday to 45 by 4pm on Friday afternoon.
Dr Daniel Chandler, head of the incident management team, said they were managing a "a small number of outbreaks across Dundee which have links to the student community."
He said tests were now underway in Meadowside Halls with more Parker House results expected soon.
"I would expect to see the number of positive cases linked to Parker House rise as results come in," he said.
Meadowside Halls contains eight flats with 69 en-suite rooms. Each flat, which cost £116.74 per week to rent, has nine bedrooms and a shared living area.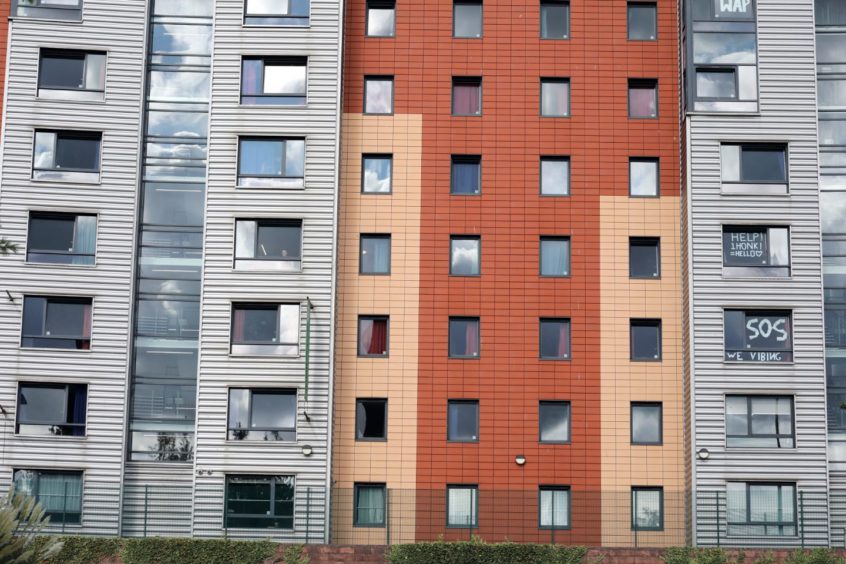 Sean Bennett, 27, co-owner of the Captain's Cabin said he had decided to close his pub as a precautionary measure after learning students, who had later tested positive, had visited his premises.
He said: "We have been open since July with no issues and no spikes and no cases, but as soon as schools and universities open there is a spike and pubs have become the easy option to blame."
He said he had been told at least two Covid-19 positive students had been in the pub, with his staff taking tests today.
"I am 27, so I have a lot of friends who are students, and my social media is full of people having these house parties, yet pubs are hit with the blame.
"I have no plans to reopen until it's a valid option. We will test staff, do a deep clean and then see where we are," he added.
A dad of an Abertay student in Parker House, who wished to remain anonymous, said not all the students in the building felt well-supported as the outbreak continued to develop.
He said the experience has been "very stressful" on his family.
He said: "We are stuck, aren't we? We have had our problems tackling loneliness and depression and this comes on top of all of that. I know how vulnerable young people can be going away from home for the first time.
"It's a nightmare. We're just glad he's got the support of his friend and we are keeping in constant contact with him," he added.
Euan Lee, 21, originally from Edinburgh, was one of the first students to receive a positive test result.
He said: "I have not encountered any animosity towards me or any panic.
"I've had loads of messages from people just asking how I am. I don't feel particularly unwell at all, I was a little sluggish to start but I am perfectly well."
First minister Nicola Sturgeon has asked all students in Scotland not to visit pubs and cafes this weekend after similar outbreaks across the country.
Dundee University's welcome and fresher's week is due to begin on Saturday with some events already cancelled due to the changing guidance,
A Dundee University spokesman said the majority of its events had already been planned to take place online, but some events had been cancelled "due to the changing guidance."
He said: "Particularly in light of the extra measures all universities and the Scottish Government have asked students to adhere to this weekend," he added.
PICTURES: Locked down Dundee students get free copies of The Courier after messages displayed on windows