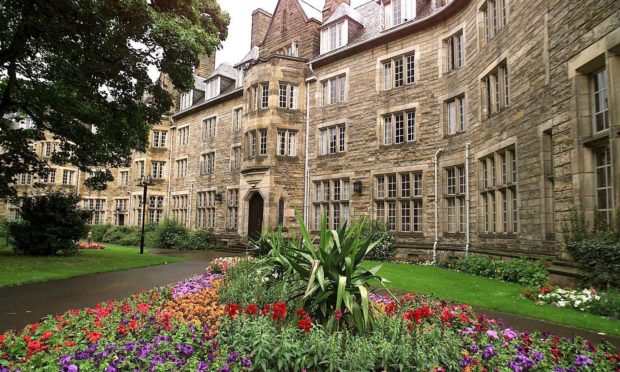 St Andrews University has been hit by a "sudden and significant" Covid-19 outbreak amongst students.
Eleven students living in four halls of residence and private accommodation in the town have tested positive for the virus, while more than 40 others are understood to be self-isolating.
In an email sent to all students, University Principle and Vice- Chancellor Sally Mapstone described the development as "extremely concerning", adding that it was "very likely" that the outbreak is linked to the new UK strain of the virus.
She also warned that more positive cases could be confirmed in the coming days.
"I am sorry to report to you that we have learned of a sudden and significant increase in Covid infections amongst students currently in St Andrews," Professor Mapstone wrote.
"At this stage we have 11 confirmed cases affecting students living in four halls of residence and private accommodation in town, and more than 40 isolating.
"You will know that for many weeks, with your help, we have kept Covid levels here very low, so this rapid increase in transmission is extremely concerning.
"Unfortunately, we expect to see the number of confirmed cases rise over the next few days. It seems very likely that this is the new UK variant strain of Covid."
Students are also now being urged to stay in the town and not travel during the Spring break.
Even if students were feeling well they have been advised that  there is a "very significant risk" that they could carry the virus on to family and friends.
News of the outbreak comes just weeks after dozens of students breached Covid regulations by attending a party at a St Andrews University halls of residence.
Police Scotland confirmed it was investigating the incident after up to 40 students attended the illegal gathering  in one block at David Russell Apartments.
Just days later St Andrews University's Covid helpdesk sent an e-mail to every undergraduate they thought to be in town encouraging them to book a test to prevent the spread of the virus.
Commenting on the situation unfolding at university, NHS Fife Director of Public Health, Dona Milne, said the spike in new cases was likely to have been a result of the indoor gatherings.
She said: "We are working closely with our colleagues at the University of St Andrews and Fife Council's Environmental Health Service to limit the opportunity for further spread of the virus.
"Over a number of months we have seen relatively low levels of Covid-19 within the University, and this is testament to the actions of the vast majority of the student population who appear to have adhered to the public health measures in place to protect us all.
"It is clear, however, that in a small number of instances over recent weeks, the protocols in place have not been followed, particularly around gathering indoors, and it is very likely that the recent sudden increase in positive cases are a direct result of this.
"It is easy to think that as more and more people are vaccinated, and the number of Covid-19 cases reduces, that the virus is no longer a threat – that could not be further from the truth.
"Covid-19 remains highly infectious and even those who are otherwise well can become seriously ill after contracting the virus.
"It is vital, therefore, that even as the restrictions ease, we continue to follow the control measures in place if we are to supress the virus and prevent the numbers of people becoming unwell unnecessarily."
North East Fife MP, Wendy Chamberlain said news of the outbreak was "concerning" and highlighted to people that they must "remain vigilant and disciplined within the existing restrictions".
She added: "While it's reassuring to hear that many people have been identified and are therefore isolating, now is the time that we encourage as much asymptomatic testing as possible to find those currently not showing any signs of having the virus and stop any more community transmission.
"I'd like to offer my thanks to the students and the university for keeping the virus rates so low for so long, and for their continued work to do so."
St Andrews Councillor, Jane-Anne Liston, herself a former student at the university, said everything possible had been done by the university to warn students of the continued need to follow restrictions.
"News  of the confirmed cases is a disappointment especially as the vast majority of students have followed all of the restrictions and requirements.
"I'm sceptical whether the party is the cause of this rise in cases  as that was now over six weeks ago.
"However, regardless of the cause, I'd urge students to keep following the advice both from the University and nationally."
Coronavirus in Scotland – track the spread in these charts and maps